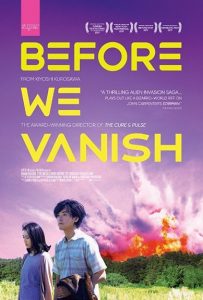 Co-written by Tomohiro Maekawa, Kiyoshi Kurosawa and Sachiko Tanaka, Before We Vanish chronicles the story of three aliens who visit present-day Earth in order to prepare for their planned invasion, only to be faced with many hurdles that allow for an (missed) opportunity to reveal the beautiful complexity that is modern human life. (FEA 3/5)
Review by FF2 Intern Farah Elattar
Although the viewer never sees the aliens in their true form, the film begins by showing the three extra-terrestrials taking over bodies in order to be visible to the human eye. The bodies of "Shinji Kase" (Ryuhei Matsuda), "Amano" (Mahiro Takasugi), and "Akira" (Yuri Tsunematsu) are chosen by the aliens as the human vehicles they will use in order to gather information about what they refer to as human conceptions. Their mission is to collect meanings of terms such as "self," "work," or "family" and send them to their home planet in order to begin the invasion process. In order to do so, they each find a human guide who must help through the sometimes-violent obstacles they may face. In Shinji's case, the alien relies on his estranged wife, "Narumi" (Masami Nagasawa). Amani and Akita use a lonely, troubled journalist, "Sakurai" (Hiroki Hasegawa). Together, both the aliens and their human companions face many obstacles that make this film an action-filled thriller that seems to have taken on more than it can handle in its feature-length running time.
A blockbuster-type film, Before We Vanish definitely shows skill in its cinematography and its overall beauty and smoothness. Many scenes feature beautiful, vivid coloring that accurately reflected the emotions felt by the characters. For example, Narumi's colorful drawings contrast with the grayness of the couple's house, perhaps reflecting an imbalance between her desires and the reality of her married life. Kiyoshi Kurosawa also uses the film as an opportunity to capture the beauty of quotidian life in Japan, both in its simplicity and in its modernity. Shots of sunny, peaceful suburban neighborhoods as well as loud and busy city streets show the diversity of milieus in Japan — each conveying a certain beauty that Kurosawa captures perfectly, by maintaining a certain feeling of realism even in a sci-fi film. This feeling of hyperrealism complements the journey the viewer embarks on, since the film's universe combines human and extra-terrestrial, in order to create a world that lies somewhere in the middle, where both species can communicate.
While the film does set the scene for what may be an in-depth exploration of language and meaning, it never truly delivers — devoting too much of its time to world-building, and not enough exploring that world. It touches on very philosophical topics, such as the concept of the self, or that of possession, but does not take any time to explore their rather complex meanings. Instead, the aliens ask their subjects to picture the concepts, so that they can then steal the mental image. Nevertheless, the viewer does not get the chance to see that image, turning such concepts into questions that receive no consideration throughout the rest of the film. One might say that Kurosawa is counting on the viewer to determine their personal view on the topic. However, one is not given the chance to contemplate it due to the fast-paced nature of the film. What is the self? What is love? What is happiness? Those are just some of the questions Before We Vanish brings about, without giving the viewer the chance to think about them.
In essence, Before We Vanish does indeed leave you wondering, but not about the content it introduces. Instead, the viewer is left wondering whether they saw an action film, a sci-fi film, or a very rapid attempt at introducing philosophical questions to its audience.
© Farah Elattar (2/5/2018) FF2 Media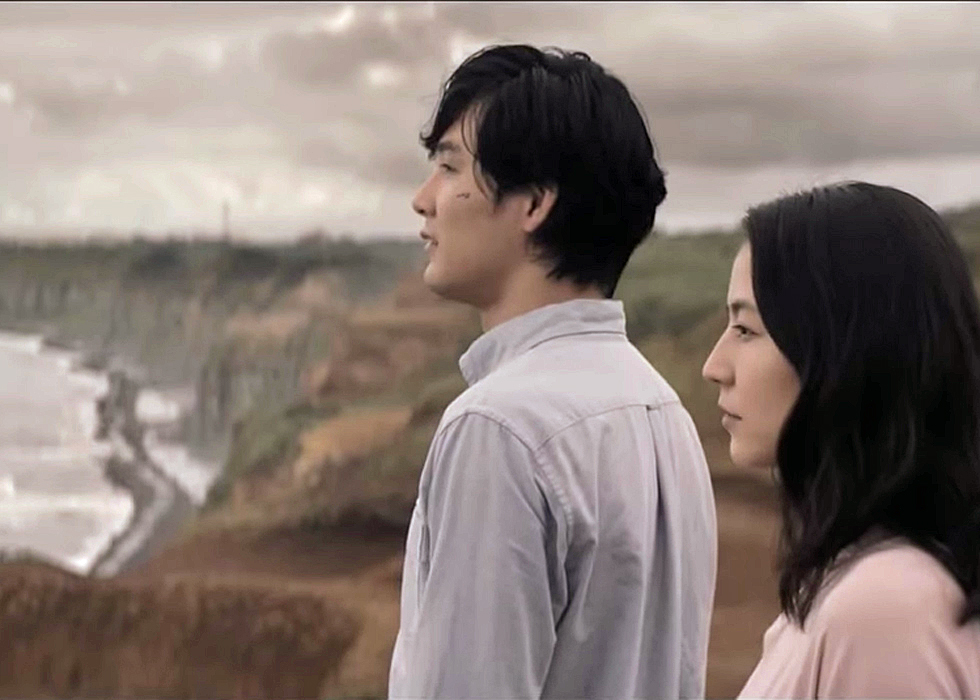 Top Photo: Poster for Before We Vanish.
Middle Photo: Masami Nagasawa and  Ryûhei Matsuda in Before We Vanish.
Bottom Photo: Masami Nagasawa and Ryuhei Matsuda in Before We Vanish.
Photo Credit: Super LTD (2018)
Does Before We Vanish pass the Bechdel-Wallace test?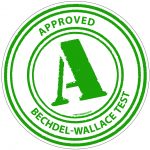 Technically, yes.
There is one scene where Narumi and her sister discuss her troubled relationship with her family; however, it is very brief and does not contribute to the narrative in a major way.