Shining Moon stars Ricardo Herrera and Pablo Sotomayor Prat as two jobless, gay Chilean actors who are offered roles in a theatrical film as aging cross-dressers. Originally titled El Destello De La Luna, the piece is an art house film co-written by Gustavo Letelier and Victoria Wharfe McIntyre. (KIZJ: 3/5)
Review by FF2 Associate Katusha Jin
"Renato" (Ricardo Herrera) is a theatre actor whose work is fueled by his passions and beliefs. As a very serious and experienced performer, he relies on using a part of himself from within to drive his characters. His performances are dramatic and tug on serious topics of life and dreams. Renato is in a black box theatre with "Ivan" (Pablo Sotomayor Prat), his lover, who is filming Renato's monologue performance of Act I. However, before they manage to move on to the second act, the filming is abruptly interrupted by "Pedro" (Patricio Muñoz (VI)), the theatre manager. Pedro is highly dissatisfied with Renato's work and shows impatience towards the actor's dramatic, artistic performance. Pedro demands that the actor take his head out of the clouds and stops droning on about dreams; the reality is that the piece needs to be more fun or it won't sell. Renato refuses to surrender and firmly stands his ground that the focus should be on creating good theatre, rather than making money.
Meanwhile, Ivan steps out to have a quick intimate moment with his second lover, "Danilo" (Nicolas Najle), before returning to the stage to defend Renato. Despite speaking up for Renato, it is clear later on in the dressing room that the relationship between the two lovers is unstable. Back at the apartment, Ivan describes that any relationship between two men should be both different and special. He admits that he has wandering affections, but it is a preventative measure to keep their love passionate, special, and alive. He fears that by sticking only to each other, their relationship will fall into the trap of being ordinary and mundane.
After some writing and thinking, Renato quits the acting gig at the theatre. He decides he must stay true to himself and not risk his artistic integrity. Now he is a jobless actor with a lover who often spends the night elsewhere. Yet, just as it seems like all is going downhill, an opportunity comes knocking at the door. "Anibal" (Maximiliano Meneses) is a director who has a bold idea for a film. Claiming that Renato was recommended as the perfect lead role, he pitches his story about Lola and Ana, two aging former drag artists. Whereby Ivan, the less experienced actor, keeps pressing Anibal for a role in the movie, Renato is less than impressed and rejects the role immediately. Ivan points out that Renato's decision is prejudiced and highly hypocritical. After much debate, Renato revisits the script. The role of Lola becomes one where Renato must not only use a part of himself for the character, but rather he must fight the part of himself that holds the deeply set biases.
Shining Moon is an unusual, quirky film, which uses awkwardness as a stylistic choice. It uses slow motion, plays famous sections of classical music, and has a few scenes where dramatic lines of poetry are typed out onscreen. At first, this was uncomfortable, but it grew on me as the entire movie took on a more dramatic, stage-like quality, rather than your traditional cinema style.
Although there were some questionable performances from other actors, Herrera and Sotomayor Prat offer compelling performances with a chemistry that grows on the audience. Letelier and Wharfe McIntyre write the two main characters well, but the latter half spends too much time on the film inside the film. They weave in a few strands of comedy nicely to contrast the more serious themes of the country's repressed past. Shining Moon is not one for the masses, but it tackles some big topics and does hold its own unusual, awkward, theatrical style.
© Katusha Jin (3/8/18) FF2 Media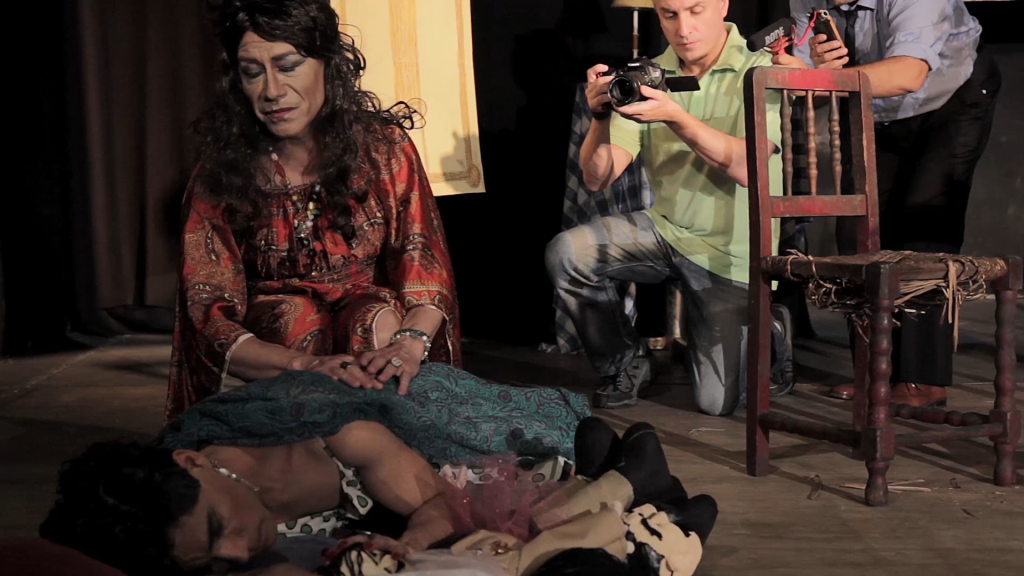 Top Photo: "Renato" (Ricardo Herrera) writing at home.
Middle Photo: Renato and "Ivan" (Pablo Sotomayor Prat) rehearsing a movie scene at home.
Bottom Photo: "Anibal" (Maximiliano Meneses) films a scene with Renato and Ivan.
Photo Credits: Amerindia Films
Does Shining Moon pass the Bechdel-Wallace test?
No.
This movie is about men. With a small cast, it comes as no surprise that there is no dialogue between women.