Review of Dear Dictator by Eliana Levenson
Though the premise and cast promise a clever satire, Dear Dictator from writer/directors Lisa Addario & Joe Syracuse falls short of delivering anything more than an ambling high school comedy knockoff. (EML: 3/5)
Review by FF2 Associate Eliana M. Levenson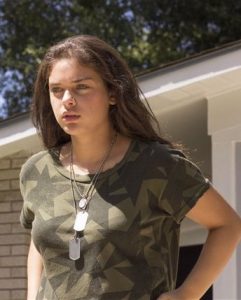 "Tatiana Miles" (Odeya Rush) doesn't fit in. She's unlike her man-obsessed, desperate mother, "Darlene Miles" (Katie Holmes) who keeps falling for the wrong guy. She's unlike the girls at school who run the high school caste system. So, when Tatiana is required to write a letter to someone she admires for a school assignment, she chooses a dictator.
"General Anton Vincent" (Michael Caine) is the bumbling idiot of a dictator of some undisclosed nation. Vincent is neither feared nor loved by his people, and finds comfort in his correspondence with an American teenager.. So, when Vincent's regime is overthrown, he seeks refuge with the only person he believes understands him, Tatiana.
Hiding in Tatiana's garage, Vincent is determined to return to his country, believing his "comrades" will come rescue him and help him take back his power. However, it is clear from the onset that nobody is coming to Vincent's aid.
Meanwhile, Vincent's presence in the household leads to "improvements" for the two Miles women, although beyond the home-cooking it's unclear if either woman is actually better off. Darlene forms an attachment to Vincent, replacing the unhealthy male relationship in her life with…well, this unhealthy relationship with a wanted man twice her age, but at least Vincent doesn't make her let him lick her feet right? But perhaps, when all is said and done, Vincent does help Darlene remember to value & believe in herself.
With his pen-pal, Vincent pushes Tatiana to be a true "rebel" and take control of her high school, devising a three step plan ripped off from Mean Girls. The plan, of course, gets Tatiana power but doesn't get Tatiana what she really wants, and leads to Tatiana's best friend "Denny" (Jackson Beard) attempting suicide. However, this doesn't seem to have any real repercussions on Tatiana's relationship to Vincent, and definitely doesn't lead to a better understanding of Vincent's backstory.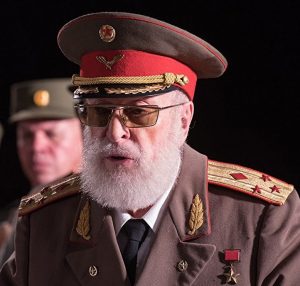 With Dear Dictator, writer/directors Lisa Addario & Joe Syracuse have brought together a seemingly all-star cast for a fun, clever film. Sadly, everything simply falls short. Caine seems out of place, playing an under-defined role whose motivation and backstory are muddy at best. Holmes' performance feels more like something you'd see in a beginner's acting class, trying too hard to fit an archetype without ever fully feeling believable as the actual woman.
Basically, Dear Dictator is clever premise that feels painfully derivative of more successful high school satirical comedies. When the plot isn't a rehash of another film, the comedy is forced, coming from a place of trying to get a reaction then genuinely motivated by the characters or the storyline. The characters are underdeveloped, which hurts the plot since so much of the story revolves around buying into the relationship between dictator and teenage rebel. With all the best intentions, Dear Dictator never fully finds itself and remains doomed in "student film" world rather than true Hollywood indie.
© Eliana M. Levenson FF2 Media (3/18/17)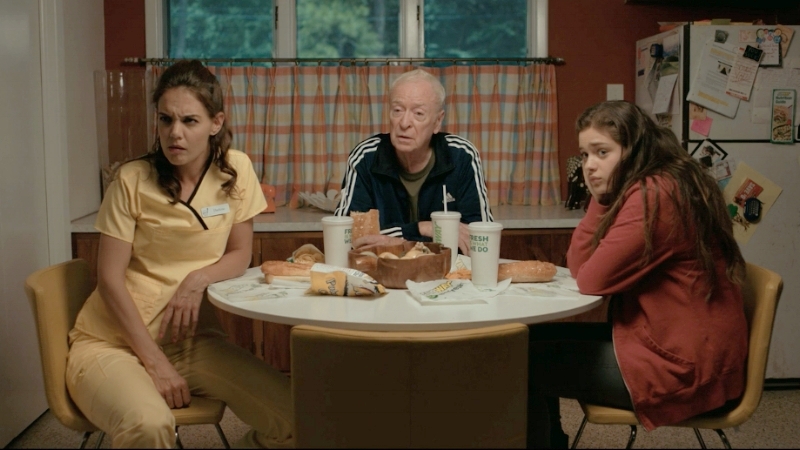 Top Photo:  "Tatiana" (Odeya Rush) shows off her rebellious teenager-dom with dog-tags and a camo shirt outside her suburban home.
Middle Photo: "General Anton Vincent" (Michael Caine) gives a speech as dictator of his country. 
Bottom Photo: "Tatiana" (Odeya Rush), "Darlene" (Katie Holmes" and "Anton Vincent" (Michael Caine) sit around the kitchen table in the Miles' home.
Photo Credits: Cinedigm Entertainment Group 
Q: Does Dear Dictator pass the Bechdel-Wallace Test?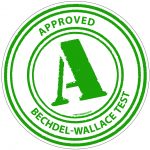 Sure does! During her overthrow of the school power structure, Tatiana has conversations with the girls she's destroying that are completely unrelated to men.