Co-written by Geneva Robertson-Dworet, Tomb Raider is a reboot of the film franchise based on the video game of the same name. "Lara Croft" (Alicia Vikander) leaves her home in London in search of the island off the coast of Japan where her father disappeared seven years ago. In an ensuing action-adventure story that soon expands far beyond her family, Lara's bravery and stubbornness are tested over and over again. Since the action of Tomb Raider depends mostly on incoherent natural obstacles or puzzles, it's hard to feel really pulled along by the story. Still, a charismatic heroine and a father-daughter arc keep us invested. (AEL: 3/5)
Review by FF2 Intern Amelie Lasker
"Lara Croft" (Alicia Vikander) is adventurous and stubborn: she races around London on her bike, gathering money so she can keep boxing at her athletic club. Her guardian, "Ana Miller" (Kristin Scott Thomas), urges her to sign the papers for her father's inheritance, but Lara agrees only reluctantly. Although her father, the famed adventurer "Richard" (Dominic West), has been missing for seven years, Lara doesn't want to believe he is really dead.
By taking the inheritance, Lara unlocks a series of clues her father left for her in the event of his death. Most importantly, he has requested that she burn his notes on Himiko, a mythical queen of the island of Yamatai. Here Lara makes the first of a series of decisions which are courageous, but also perhaps unjustifiably risky: she doesn't burn the papers, but instead takes them with her to find the island where her father disappeared.
Lara first goes to Hong Kong, where she tracks down the ship that her father was trying to buy. There, she finds "Lu Ren" (Daniel Wu), who is similarly young, reckless, and in possession of a new inheritance, though his meekness makes him a good foil for Lara. Together they discover that both of their fathers disappeared at the same time, and they take off on Lu's ship to find Yamatai and learn what happened there.
When they crash onto the shore of Yamatai in their inadequate ship, the new friends are quickly separated. Lara wakes up in a tent, face-to-face with her villain. This is "Mathias Vogel" (Walton Goggins), who has been on this island for seven years searching for Himiko's tomb, and who claims he killed her father. The papers Lara was supposed to burn are now in the villain's hands, and he's planning to open the tomb, take its wealth, and unleash on the world whatever it is that Richard gave his life to keep contained.
Lara is a worthy heroine, clever and courageous, and Alicia Vikander's hard grace suits the character well. Scenes of younger Lara shooting arrows or listening to stories with her father make for a good underlying thread of family, sacrifice, and superhuman responsibility. Although there's room for development of Lara's character, since this story is a look into her past and the beginnings of her adventuring career, that development doesn't seem to happen. Lara is headstrong and hardened from the first frame in which she appears.
The plot's momentum doesn't carry incredibly well, unfortunately, and that's because Lara's obstacles, so important in an action movie, are weak. In the first half of the film, Lara is constantly fighting chance encounters and environmental challenges: the rough sea landing at Yamatai, a mugging on her arrival in Hong Kong, a fall into river rapids inevitably leading to a dramatic waterfall. In the second half, Lara must make her way through a series of puzzles and physical challenges to enter the tomb and solve its mysteries. It feels like a movie that came from a video game. The emotional motivation is there with the father-daughter story, but it's not enough.
© Amelie E. Lasker (3/20/18) FF2 Media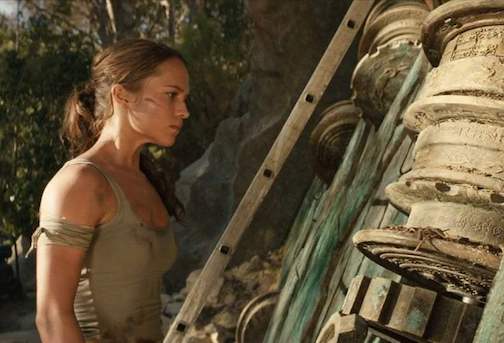 Top Photo: Alicia Vikander as "Lara Croft."
Middle Photo: Dominic West as "Richard Croft" and Maisy De Freitas as "Young Lara."
Bottom Photo: Alicia Vikander as "Lara Croft."
Photo Credits: Graham Bartholomew
Q: Does Tomb Raider pass the Bechdel-Wallace Test?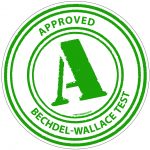 Yes.
In a conversation between the only two named female characters, Lara's guardian Ana urges Lara to sign the papers to accept her father's inheritance. Lara doesn't want to do it, because it would acknowledge that her missing father is dead, but Ana emphasizes how much Lara could do with such a large fortune.