Susan Walter's All I Wish struggles to find its footing with uneven performances, choppy transitions, and a cliche storyline. Still, as a voice for middle-aged women, struggling to find their way, Walters has opened the door. (EML: 3/5)
Review by FF2 Associate Eliana M. Levenson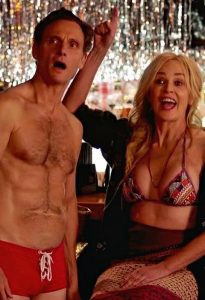 "Senna Berges" (Sharon Stone) is turning 46. She's in bed with a man about half her age when her mother calls, always the first to wish her a happy birthday. Senna's boytoy offers birthday plans that involve day drinking at a nearby bar, but Senna gently pushes him out of the house with the arrival of her best friend, "Darla" (Liza Lapira).
Senna notices that Darla is wearing an engagement ring, and she is annoyed that her friend didn't mention it before. It's clear Senna is the "sad/single" friend. After some squealing over the ring. Darla mentions a friend of hers who has recently moved to town, but Senna isn't interested in a setup. Nope. Senna is perfectly happy in her life of meaningless flings with men much younger than her. Senna is also lying to herself, at least that's the subtext running throughout almost all of Senna's conversations around the state of her life. 
After hanging with Darla, Senna meets her mother for lunch at a country club. As is tradition, Senna's mother, "Celia" (Ellen Burstyn) gives Senna a gift that, while loving, reveals Celia's disappointment in her daughter's lifestyle. While Senna and Celia are clearly close, there is a divide between Celia's old money sophistication and Senna's bohemian charm.
Although nearly 50, Senna has made no moves to pursue her goal of being a designer. Instead, she works as a buyer for a store that has no interest in the fashion-forward items Senna keeps trying to introduce into their inventory. In fact, the store owner is so fed up with Senna's refusal to simply purchase the items that she knows the clients will actually buy that she fires Senna.
Even though Senna just wants a quiet night in for her birthday, Darla takes her to a bar where a surprise party is waiting. Senna makes the rounds but quickly removes herself from the party to drink alone at the bar. She's approached by a man named "Adam" (Tony Goldwyn) who starts chatting her up. He tells her that he's just moved from Boston and that his friend begged him to come to this woman's birthday party as a setup.
Of course, Senna instantly realizes that Adam is the man Darla had mentioned earlier, but Adam is oblivious to the fact that Senna is the woman he was meant to meet. So, Adam continues to put his foot in his mouth, insulting the woman he's being set up with (who is actually the woman he is talking to) and all in all making things progressively worse. Finally, Senna reveals that she's the desperate friend Darla had wanted Adam to meet, and Adam leaves in a hurry.
But, of course, this is just the start for Senna and Adam. Year after year, on Senna's birthday, the two find themselves back in each other's lives. As Senna approaches fifty and beyond, her birthday becomes the centerpiece for her personal growth in her career and her love life.
In the vein of One Day, Walters' All I Wish follows the model of catching up with the characters on the same day every year. While this structure is challenging, it can offer some reprieve from bogging the audience down with the classic romantic-comedy and coming-of-age motifs that have become standard by just popping in and out of the characters' lives. However, All I Wish misses the mark as each of the yearly vignettes only shows the classic "film" moments. In fact, if you wrote down all the scenes that make up a romantic-comedy or coming-of-age film, you'd be able to cross off every single one by the film's end.
But, one thing rescues All I Wish from falling into the crevice of writer-director derivative films, and that's the much-discussed age switch of the film's protagonist, Senna. Actress and producer Sharon Stone made headlines with All I Wish when she insisted that writer/director Susan Walter change the age of the main character from a twentysomething to a woman approaching 50. In doing so, Stone added a layer to what would have otherwise been a rip-off film by providing a voice to women who have long been excluded from the narrative.
Middle-aged women have few opportunities for leading roles in Hollywood films, but hopefully with All I Wish, flawed as it is, that will soon change. The fact that Senna often has male counterparts who are not traditionally "age appropriate" makes it even better.
© Eliana M. Levenson (4/3/17) FF2 Media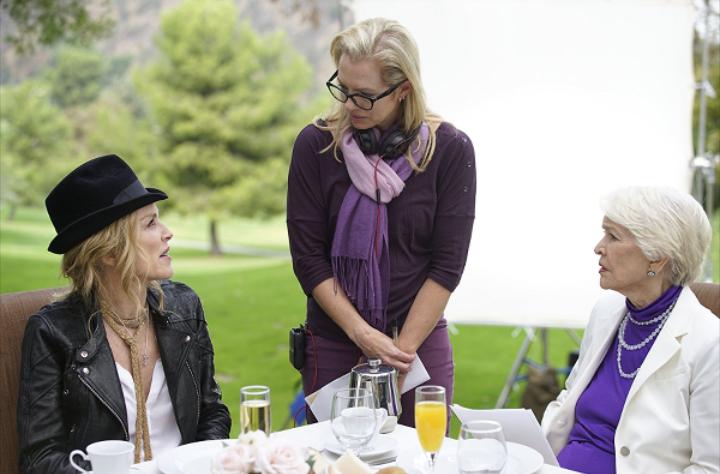 Top Photo:  "Senna" (Sharon Stone) & "Adam" (Tony Goldwyn) on one of Senna's infamous birthdays after a beach day mishap.
Middle Photo: Stunning on the beach, "Senna" (Sharon Stone) celebrates her birthday with her closest friends.
Bottom Photo: "Senna" (Sharon Stone) and "Celia" (Ellen Burstyn) receive direction from writer/director Susan Walters.
Photo Credits: Paladin 
Q: Does All I Wish pass the Bechdel-Wallace Test?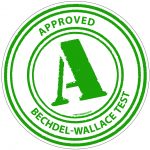 Yes it does!
The recurring motif of mother/daughter birthday lunches (especially one revolving around the fact that Celia can see Senna's nipples through her shit) makes All I Wish pass the Bechdel-Wallace test with flying colors!