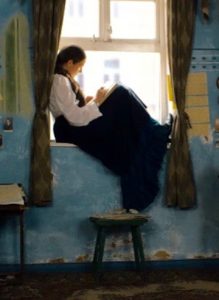 Lou Andreas-Salomé: The Audacity to Be Free is a debut narrative feature from filmmaker Cordula Kablitz-Post. Andreas-Salomé was one of the first female psychoanalysts and also an author of fiction and philosophy. Until the end of her life, she insisted on living exactly the scholarly life she wanted. Undoubtedly, early 20th-century western Europe was a wonderful place for her to do so, with contemporaries like Friedrich Nietzsche (Alexander Scheer), Sigmund Freud (Harald Schrott), and Rainer Maria Rilke (Julius Feldmeier) all present to be Lou's close friends. At this time, though, the life Lou wanted was also incredibly difficult, and Lou constantly had to forego love or vulnerability of any kind in order to keep her freedom.
A gentle score and soft, dreamy flashbacks give this film the feel of a period romance, though the story's loyalty to Lou's own obstinate personality ultimately makes it a fascinating character study. Well done, Lou Andreas-Salomé! (AEL: 4/5)
Review by FF2 Intern Amelie Lasker
Lou Andreas-Salomé (played by Katharina Lorenz) wants to live in Berlin with her best friends Paul Rée (Philipp Hauß) and Friedrich Nietzsche (Alexander Scheer). It's the perfect plan: they'll live together as friends and share ideas constantly. Whether the plan is naïve or brilliant, it's impossible in turn-of-the-century Europe for men and women to live together. It's also impossible because the fragile egos of her philosopher friends can't hold up against such circumstances. Nietzsche especially can't imagine living with a beautiful woman and not getting to take possession of her.
From Lou's youth in Russia, her mother Kuise (Petra Morzé) always wanted her to get married, to live a secure and traditional life. Lou had other ideas: she wanted to play outside, to go to bookshops and study classical philosophy, and to never get married. When her father died, teenaged Lou (Liv Lisa Fries) lost her faith in God, but her intellectual curiosity only grew.
Lou becomes a renowned author, and, eventually, a psychoanalyst as well. She marries her friend Friedrich Carl Andreas (Merab Ninidze) out of convenience, and buys herself several more years of freedom to pursue her passions. She is constantly reminded, though, that this lifestyle she has chosen is deeply lonely. Lou wants to avoid taking on the role of wife and mother, and all that that role entails in her society. This means she can't live a family life of any kind. 
The one person who captivates Lou's heart is poet Rainer Maria Rilke (Julius Feldmeier). His soft manner endears her to him, and the pure emotion in his poetry is refreshing. For a fleeting summer, Lou lets herself feel love.
In Nazi Germany, when Lou is much older (now played by Nicole Heesters), a troubled young man, Ernst Pfeiffer (Matthias Lier), appears at her doorstep, begging her to give him some therapy sessions. Once again, Lou must hold a friend at a distance because of societal circumstances. It's risky to practice psychoanalysis, to reveal oneself in the public eye, or to associate oneself in any way with Jewishness in the height of Nazism. Still, Lou allows Pfeiffer to help her write her memoirs, and with him she takes stock of everything she's lost and gained in the extraordinary life she chose.
I found it frustrating at first to watch a movie about an author and philosopher that has the feel of a period romance, but I've since realized that the romantic feel is completely necessary. In the society in which she lived, Lou was constantly forced to make the choice between personal relationships and intellectual freedom. This is a beautiful and tragic character portrait of someone who always chose freedom, no matter what the cost.
© Amelie E. Lasker (4/23/18) FF2 Media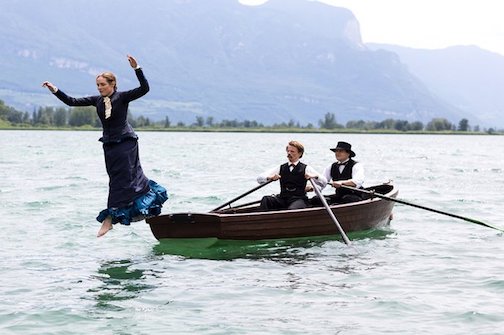 Top Photo: Katharina Lorenz as Lou (21-50 years).
Middle Photo: Julius Feldmeier as Rainer Maria Rilke.
Bottom Photo: Katherina Lorenz as Lou, Alexander Scheer as Friedrich Nietzsche, and Philipp Haußas Paul Rée.
Photo Credits: Cinema Libre Studio
Q: Does Lou Andreas-Salomé pass the Bechdel-Wallace Test?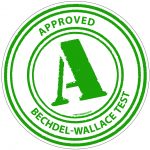 Yes!
Though Lou's friends and teachers are men due to the social climate in which she lives, Lou has some of her most intense conversations with her female family members.