Acclaimed French filmmaker Claire Denis's newest feature, Let the Sunshine In (Un beau soleil intérieur), shows divorced artist "Isabelle" (Juliette Binoche) floating from romance to romance, trying to find a meaningful connection. She dates, among others, a busy married man, a brooding actor, and a sentimental art curator. Through a repetitive narrative cycle and an intimate arc portrayed by lead actress Binoche, Denis explores how depressing and isolating the search for love can be. (AEL: 3.5/5)
Review by FF2 Contributing Editor Amelie Lasker
When we first meet "Isabelle" (Juliette Binoche), she's sleeping with married "Vincent" (Xavier Beauvois). She begs him to care for her, to call when he says he's going to call, but even while making love, she seems detached. She is frustrated with being a half-love, the side bit of "charm" to his marriage. Later, after things have ended and Isabelle has repeatedly refused Vincent's attempts to reconcile, he calls her, and implores, "We can't throw this out with the dirty dishwater!" She hangs up, and turns over languidly on her bed.
Isabelle doesn't forget that love, but she doesn't make an effort to save it, either. We see her next in a bar with a handsome, brooding actor (Nicolas Duvauchelle). He seems closed off, and Isabelle is disappointed, but then he invites her out, and she is relieved, at least temporarily. They blunder through every junction of the evening: she almost sends him away without inviting him in for a drink, and then she doesn't; they almost don't sleep together, and then they do. At their next meeting, the actor tells Isabelle that night should never have happened, though it's not quite clear why. Isabelle really likes this one, but he is confused and troubled. The relationship ends before it can really begin.
There are other loves, and sometimes they catch on for a while, while sometimes they don't. We learn little about Isabelle's family, her disposition, or her work as an artist. Mostly we just get a disappointed and lonely Isabelle, frustrated at her own dependency on these shallow romances, and all the more dependent for it.
Let the Sunshine Inis not easy to watch. It's not that it's too jumbled or complex. In fact, some of the dialogue is so natural that it breaks my heart. The miscommunications and vulnerabilities of romantic beginnings are acutely real. The full thread, though, comes out long and depressing. Isabelle moves from love to love, so that each time she throws herself into something new, it only makes us more skeptical as her witnesses. Her lovers don't even all have names. The second main romance is only credited as "the actor."
Maybe this is the point. Juliette Binoche's acting, her wearisome cycle of hope and disappointment, makes for a fascinating arc to watch. Maybe Claire Denis wants to make a point about projection or immaturity, about the ways in which people talk right past each other when they are trying too hard to fall in love. This level of critical awareness isn't obvious, though, and for the length of the movie itself, I'm just looking for a human relationship, and I never see one.
© Amelie E. Lasker (5/23/18) FF2 Media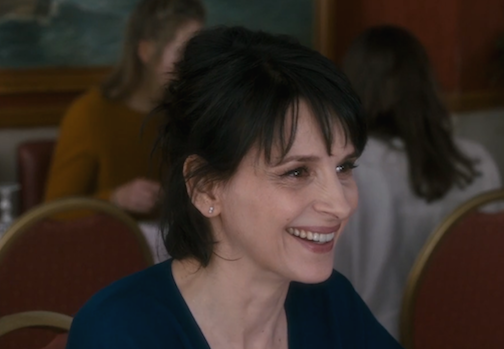 Top Photo: Juliette Binoche as "Isabelle."
Middle Photo: Juliette Binoche as "Isabelle" and Nicolas Duvauchelle as "L'acteur."
Bottom Photo: Juliette Binoche as "Isabelle."
Photo Credits: Christine Tamalet
Q: Does Let the Sunshine In pass the Bechdel-Wallace Test?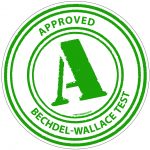 Yes, but just barely.
Isabelle meets with artist "Maxime" (Josiane Balasko), and they talk very briefly about their professional ties before they move on to talking about Isabelle's ex, Françoise.
Isabelle and her friend "Ariane" (Sandrine Dumas) discuss their love lives together in detail. I'll say this conversation passes the test, since it's more focused on Isabelle's perspective on her life than on any individual man.