Directed by Julie Cohen and Betsy West, RBG recounts both the professional and personal aspects of legendary Ruth Bader Ginsberg's lifelong legal fight for equal rights and justice in an inspirational and heartwarming documentary that will have you laughing, crying, and ready to re-tackle the world. (DLH: 5/5)
Review by FF2 Intern Dayna Hagewood
While it's true that most Americans know who Ruth Bader Ginsberg is, this intimate glimpse into her life and struggles offers a holistic view of her experiences that is as insightful and educational as it is captivating.
Perhaps the best parts of RBG are the segments from Ginsberg's personal life — using extensive photos and film clips — that shape the documentary and work to humanize her. We already know that she has had a triumphant legal career when we walk into the theater, but we likely don't know much about her relationships with her family, her surprising friendship with Antonin Scalia (her ideological opposite on the Supreme Court), or the details of her workout routine.
Thanks to RBG, Ginsberg is not simply a piece of our history; she is a fleshed out woman with passions, family, close relationships, and big personality (though not in the way that we tend to think).  RBG gives us more than we've ever known about Ginsberg, and somehow still leaves us ready and yearning for more.
The film opens with a barrage of voice-over quotes from various men citing their distaste for Ginsberg, matched up with the austerity and dominance of the legal buildings of Washington D.C.
Not only does this opening powerfully frame Ginsberg's constant battle for equality, it situates us directly in the context of what it is like for a woman to challenge the patriarchal norms of our society, especially in the legal world.
While this is obviously a continuous thread throughout the film, Ginsberg's successes and tribulations demonstrate appropriate ways to combat male-dominated society. We discover, case by case, how Ginsberg slowly (and painfully) set up her own argument about gender equality. By selecting certain cases to represent in court, she chipped away at the blatant patriarchy present on the bench, one successful case at a time.
Co-directors Cohen and West structure their film around these poignant cases, and they assemble Ginsberg's argument chronologically for the viewer just as she built it for the judges on the all-male Supreme Court in the 1970s. This is one of the greatest strengths of the film, as the cases snowball in significance and ultimately add up to many of the laws that we (thankfully) have in place today.
In addition to revisiting the cases, Cohen and West add interviews from those involved in order to add differing viewpoints on both Ginsberg and the atmosphere at the time. This helps to further emphasize the impact of the Weinberger v. Wiesenfeld case; Ginsberg took on an unlikely case where a man was discriminated against, simply to demonstrate that "gender based discrimination hurts everyone."
While Ginsberg's story is now one for the history books, watching it all play out (intercut by details of her childhood in Brooklyn as well as descriptions from friends who recount her time at law school as a mother) is incredibly emotional and impactful. Ginsberg's petite stature and hard-hitting work ethic are not only admirable, but epic in contrast to the world that she was up against.
The filmmakers echo this impact via various techniques, most notably when Ginsberg repeats the words of her dissents and statements over her own voice years earlier. This makes a strong argument for the increasing relevance of Ginsberg's fight; these are still current issues and the work is not over even though time has passed and laws have shifted. She is still fighting to be heard and to change the course of history, and she will, so long as she can "do it full steam."
RBG truly has something for everyone: the sentimentalist, the romantic, the historian, the feminist, the politician, the film-goer, the women, the men, and all those in between can leave the theater feeling slightly more confident in the world. If Ruth Bader Ginsberg earned a seat on the Supreme Court against every single odd, what is stopping the rest of us from getting out there and pursing what we love?
© Dayna Hagewood (6/21/2018) FF2 Media
Featured Photo: RBG at her desk, where she spends most of her time.
Top Photo: Ruth Bader Ginsberg.
Middle Photo: RBG working out in her Super Diva sweatshirt.
Bottom Photo: "Equal Justice Under the Law," the US Supreme Court Building.
Photo Credits: CNN Films and Wikipedia (bottom photo)
Does RBG pass the Bechdel-Wallace Test?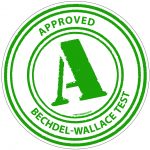 One million times over.
In present tense interviews, her girlfriends describe her school years.
In film clips, we see RBG on stage in several public Q&A sessions with NPR's Nina Totenberg.
In several warm scenes, RBG and her granddaughter Clara Spera — who is also an attorney — discuss personal and professional memories.
And of course, all the way through the film, two female filmmakers are interviewing famous women like Gloria Steinem 🙂