In this documentary, director Lorna Tucker preserves the integrity of Vivienne Westwood — both the person and the brand — by telling the story that Westwood herself wants told, keeping the focus on the designer's artistic and political visions as well as her fierce energy. (RMM: 4.5/5)
Review by FF2 Associate Roza M. Melkumyan
Born in the small village of Tintwistle, England in 1941, Vivienne Swire wouldn't take on the now-famous name of Westwood until her first marriage to Derek Westwood in 1962. But Vivienne couldn't care less about all that "boring" stuff. When director Lorna Tucker asks her to talk about her early life and first marriage, Vivienne rolls her eyes in agitation. She can think of a million more interesting things to talk about.
So filmmaker Tucker skips to the next chapter in Westwood's life — the beginning of her fashion career. After divorcing Derek (her first husband), Westwood became romantically and creatively involved with Malcolm McLaren, manager of punk rock band the Sex Pistols. She made clothes for McLaren's London boutique, creating pieces with bold colors and plaids, and their overall shock-value provided the visual  punch that ushered in the Punk Era. In this way, Westwood came to embody punk's heart and soul, which was characterized by anarchy and unrest. It was all about subverting societal norms and raising a flag for those who didn't fit in.
Westwood relationship with McLaren was, ahem, "tumultuous." Westwood describes him as jealous and emotionally abusive. When they parted ways, McLaren told Westwood that she would never be successful without him. Little did he know! Despite her ups and downs, Westwood continued to design bold clothes showcased in shop after shop throughout the United Kingdom and then across the globe.
In the present day, Westwood continues to struggle to maintain creative and managerial control over her ever-growing company. While more shops are opening worldwide, she wants to downsize and preserve her total executive power. She wants to make sure that each article of clothing that goes up for sale is something she believes in. Never one to sit in silence, Westwood takes charge, halting expansion and making it clear that she is the boss.
Her second husband — former fashion student Andreas Kronthaler — seems to be the only person who understands her creative vision as well as her brand. Kronthaler keeps things on the runway and in the design studio in check while Westwood takes on the role of activist (protesting for political causes like the Campaign for Nuclear Disarmament and climate change) and making daring new clothes that reflect her views.
Driven by Westwood herself, this documentary takes its shape from her own values of punk, fashion, and activism. From the beginning, director Lorna Tucker recognizes Westwood's fierce individualism and independence, and she skips the aspects of her subject's life that Westwood herself has deemed boring out of respect. Intercut with footage of her fashion designs throughout the decades, Tucker includes clips from London's Victoria and Albert Museum, where a refined and extremely "ladylike" employee with gloved hands carefully lays out some of Westwood's iconic designs, treating them as the priceless works of art they clearly are now. Tucker's understated irony here is delicious, as this reverent treatment of Westwood's designs clashes so obviously with her own headstrong personality and disdain for reverence of any kind.
Still, the very fact that pieces of Westwood's work now reside at the prestigious V&A Museum is a testament to their historical and cultural significance. Throughout history, Vivienne Westwood has stood as a beacon of bold individualism and a living rejection of all that society deems to be correct. In this documentary, the narrative of such history is light, fast-paced, and vibrant rather than weighty, slow, or dull.
With a woman like Vivienne Westwood as its focal point, how could a film produce anything less? In Westwood: Punk, Icon, Activist, director Lorna Tucker pays homage to Westwood's spirit, and delivers a stellar documentary.
© Roza M. Melkumyan (7/6/18) FF2 Media
Featured Photo: Westwood strikes a fierce pose on the runway.
Top Photo: Westwood participates in an anti-fracking protest.
Middle Photo: Vivienne loves her bananas.
Bottom Photo: Westwood and husband Andreas get to work.
Photo Credits: Finished Films
Q: Does Westwood: Punk, Icon, Activist pass the Bechdel-Wallace Test?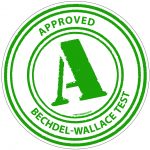 Yes!
This documentary is ALL about Vivienne Westwood and many women are delighted to talk about her (and many men are too).