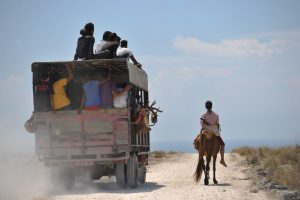 Garnering five wins and twelve nominations, Director Mouly Surya brings to the screen Marlina the Murderer in Four Acts. Marsha Timothy dominates the screen as "Marlina", a grieving widow who is pushed from vengeance and empowerment after being attacked in her own home. Set in the desert-like hills of an Indonesian island, Surya's film is an unusual, quirky Western. This is a tale guided by women as they journey through rape, murder, and birth, in search of justice and redemption. (KIZJ: 5/5)
Review by Contributing Editor Katusha Jin
The setting sun scatters its rays of light over the hills of drying grass and bare trees. A motorbike rumbles in the distance and rides through the stretch of land, closing in on a small dwelling. The motorcyclist parks his bike in front of the hut and walks in. This is "Markus" (Egy Fedly), and he is inviting himself into the home of "Marlina" (Marsha Timothy).
Marlina — the eponymous subject of Marlina the Murderer in Four Acts — is a recent widow, who is saving money for a traditional Sumba burial for her late husband. Her husband's body sits in the living room covered by cloth. Knowing her husband is dead, Markus makes himself very much at home. Amidst his demands for betel leaves, coffee, and chicken soup, he also notifies Marlina that his bandits will soon join him to rob her of all her livestock and rape her.
Marlina is now in an extremely vulnerable position without anyone to protect her well-being from these seven bandits. However, this does not stop her from poisoning the majority of her attackers, and beheading Markus mid-rape. After committing these murders, the widow wraps up the bloody head in a plastic bag and so begins the second act: her journey to the police station.
Whilst waiting for the bus, Marlina bumps into "Novi" (Dea Panendra), a very pregnant and overdue young woman. Novi is on her way to find her husband, who has disappeared and is unreachable by phone. She starts sharing her experiences with pregnancy until it is revealed that Marlina lost her baby during the eighth month. When the driver arrives and refuses to take Marlina because of the bloody head in her bag, she takes a sword up to his throat and threatens him to keep driving. At the police station, the sweaty, rowdy policemen take turns playing table tennis as Marlina sits and waits to be called in. Marlina describes her story to the police officer, but soon realizes that this alone will not give her the justice she is looking for. And that's just two of these outstanding four acts!
Filmmaker Mouly Surya gives consistent and clear direction, enabling her cast and crew to piece together this unique film. Marsha Timothy — in the lead role of Marlina — is sublime on screen. The clear sense of power and decidedness in her actions as Marlina are very attractive for the audience to follow. Her onscreen counterpart, Dea Panendra is as humorous as she is brave in her portrayal of "Novi".
The score has a cyclical rhythm that propels the audience through the narrative unfolding on screen. Surya's primary direction for composers Yudhi Arfani and Zeke Khaseli was to avoid retelling what could already been seen. They followed this direction very well, and their music gives this film its personality and offbeat tone. A careful balance of tension and relief is created, and despite the seriousness of the matter at hand, the music brings in humor.
Surya's film depicts a perfect balance of serious actions, with deadpan comedic portrayals. It will make the audience sit upright, wondering what is going to happen next?
© Katusha Jin (6/22/18) FF2 Media
Featured Photo: "Marlina" (Marsha Timothy) and "Novi" (Dea Panendra) waiting for the bus .
Top Photo: A bus of people on the streets of Sumba.
Middle Photo: Marlina at the Police Station.
Bottom Photo: Marlina beheading "Marcus" (Egy Fedly).
Photo Credits: Icarus Films (USA) and Kimstim Films (USA)
Q: Does Marlina the Murderer in Four Acts pass the Bechdel-Wallace test?
Yes.
Marlina and Novi talk about pregnancy whilst waiting for the bus. When Marlina first reaches the police station, she also talks to "Topan" (Safira Ahmad) about ordering special chicken satay off the restaurant menu.