The brilliant Debra Granik directs Leave No Trace, a moving look into the life of a father and daughter living in the forests of Portland, Oregon, until a simple mistake must force them to choose between vastly different worlds. Adapted from Peter Rock's novel My Abandonment, the story captivates its audience the moment the first shot of lush green forest graces the screen. Granik's realist, almost documental style of directing immerses you into the world of Will (Ben Foster), Tom (Thomasin Harcourt McKenzie), and the beautifully brutal choices they must make to stay alive. (MTP: 5/5)
Review by FF2 Intern Maiya Pascouche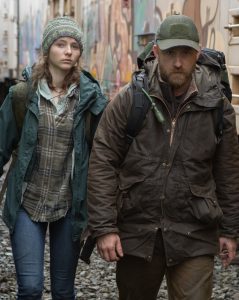 The love of a parent and a child knows no bounds and director Debra Granik's newest film, Leave No Trace, explores that theme through the eyes of Will, a veteran with PTSD and a single father who has raised his daughter Tom, an intelligent thirteen year old, in the wilderness. Granik takes her audience on a heartwarming, yet suspenseful journey after the pair are forced to relocate back into society.
Leave No Trace opens on the luscious green trees of Portland as the pair forage and exist within their own private home inside the park. Granik's wide angle shots of the gorgeous, open landscape parallel the freedom of their life; open, free, and all their own.
Their relationship is clearly special from the first few moments. Living alone, the pair has bonded so closely that they speak their own language with signals and glances.  Granik manages to catch these moments when Will and Tom gesture to say "pass me the salt" or "I love you." The most adorable signal between them is a puckered smooch they send to each other whenever they separate.
This separation is what ignites the film's initial conflict as Will and Tom are found by authorities and sent into relocation services and to a tree farm where they must start to assimilate into society. Will and Tom react very differently to their new life amongst society. While Will struggles with his PTSD and cannot seem to make any connection with to other people, Tom opens up to her neighbors and even attends a 4H club meeting.
Instead of making a story about PTSD, Granik manages to focus the narrative on the father/daughter relationship. As Tom adjusts to normal life, she is forced to make sacrifices for Will's freedom and mental health. There are moments in the film where people question Tom about whether or not she is okay or safe just because she is an older man and they want to protect her when in fact, she is the one protecting him.
The devotional bond between the two is indisputable. They do everything for each other because without each other, they would be lost. However, by the end of the film, we see the transformation from depending on each other to choosing what is best for each individual. The love still exists, their journey's just change.
Granik has made an absolutely stunning film that highlights what an inseparable bond a father and daughter can have. As a woman who is lucky enough to call her father one of her best friends, I was incredibly moved by Will and Tom's relationship. Granik's subtlety, specificity, and love for the characters and their world is what brought this movie to the top of my recommendation list. Thank you Debra, you've made a masterpiece.
© Maiya Pascouche (7/2/18) FF2 Media
Photos courtesy of Bleecker Street
Q: Does it pass the Bechdel-Wallace test?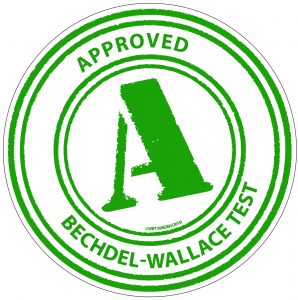 Yes! Even though the film does focus mainly on the relationship between father and daughter, Tom has meaningful conversations with the women she meets along her journey about things other than men. Yay!