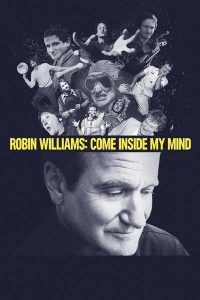 Through an expansive collection of archived videos, photos, and audio from the infamous comedian's life,
Robin Williams: Come Inside My Mind
(directed by Marina Zenovich) gives an intimate look into Williams' life and legacy. Be prepared to laugh, cry, and binge all your favorite Robin Williams films after watching this. (4.5/5)
If you are a fan of Robin Williams (and how could you not be?) this is a must see. Zenovich uses archival footage, clips from his work, and audio from throughout his life to paint a portrait of the comedian and dive beyond his erratic characters and stage presence. The viewer is granted access to pieces of Williams' life, building a montage of his mind in an attempt to gain even a vague understanding of his brilliance.
Due to his father's job, Williams' constantly moved throughout his childhood, so he grew up a lonely introverted child. His mother, a proclaimed "comedy maven," was always the entertainer of the family and exposed Williams to the joy of comedy from a young age. Still, he didn't begin to study acting until college, where he took the only class at an all boys school that had girls- improvisational theater.
From that point on, it was clear that Robin had a special talent, and we get to watch the highlights of his life as he continues his career. The simple editing style allows the pieces of his story to fall together, rather than directly trying to force an understanding of him, allowing his story to speak for itself. With the ups and downs of his life the film teeters between exuberance and sorrow, and I found myself either laughing or crying for most of it. The unavoidable grief of Robin's 2014 suicide looms over our heads, but Zenovich doesn't allow this melancholy to overwhelm the film, instead making it more of a celebration of his life than a memorial.
Zenovich manages to bring you into Robin Williams' life without exploitation or prying into his past. The documents she provides raise more questions than they answer, but in the end I feel I understand Williams and his work on a more personal level. In the same way that I find joy in his acting and comedy, Robin Williams: Come Inside My Mind was a nostalgic pleasure to watch.