Generation Wealth is Lauren Greenfield's latest photo essay, documentary, and personal memoir that studies our culture of excess and our vicious obsession with all things money can buy. (DLH: 3/5)
Review by FF2 Intern Dayna Hagewood
Generation Wealth begins right in the thick of ultra decadence and extreme wealth, and even compares our current economic state with the fall of Rome. Flashes of dream-like houses, wild Vegas parties, and artificially enhanced bodies burst across the screen while Greenfield establishes her project.
Though Greenfield's study of wealth is extremely well-documented and interesting, she attempts to capture too much in this documentary (even though that very effort appropriately matches the excessive images we see). The film jumps around from interview to interview, intercut by her own reflections about her life and the process of her obsession with a wealth-centered lifestyle.
The film contains jaw-dropping, disgusting, and heartbreaking stories from those that have let capitalism (and the impacts of it) rule their lives. Whether these people are motivated by appearances, thrill, or the mere grandiosity of wealth, we hear their stories of rise and fall.
This is one of the greatest strengths of Generation Wealth, as we feel personally invested in the lives of Greenfield's subjects, even though they are not usually accessible to those on the fringes of that culture.
For example, one of her main subjects is Florian Homm, an ex-hedge fund executive and banker that was pursued for extradition. Though he proudly mentions that he hardly spent time with his family, had affairs, and was obsessed with making more money, Greenfield captures a crack in his voice towards the end of the film that suggests that wealth isn't all it seems to be.
Greenfield skillfully details the stories of many similar cases: children of the rich and famous that either succumb to a life of unfulfilled thrill chasing or decide to pursue simple pleasures instead, a woman that cannot afford the medical makeover she undergoes, and a businesswoman that was unable to become pregnant because she worked 100 hours a week throughout her child-bearing years.
While these personal accounts do certainly ground the film in a central theme, it often seems as if Generation Wealth is unsure of what it is trying to accomplish. We see the rich and unapologetic mingled with those brought up on privilege that desire simplicity and wish to forget about their upbringing. We see those that regret their wealth, and a few that don't seem to give it a second thought.
We also receive an inside look into Greenfield's life as she grapples with her own obsession; she worked through most of her own children's upbringing and missed out on stronger connections with her family.
While her subjects are certainly related through a stint of wealth and obsession, the film also attempts to examine capitalism's impact on our society through other means including sex, the com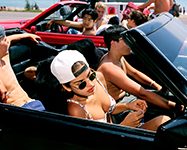 modification of bodies, economics, psychology, The American Dream, and image and status.
It seems that Generation Wealth would make a wonderful episodic documentary series, but struggles to pack all of the material necessary to give such a grand subject justice in a feature-length film. At times, it feels jumbled and too packed with deviations to achieve the punch it deserves.
It is also worthy to note that Greenfield only focuses on the extremes. She includes photographs from a National Geographic trip in rural Mexico, and jumps directly to bumping Las Vegas parties and rich LA kids. There is no in between subject, there are no normally functioning upper-class interviewees. To her credit, Greenfield does acknowledge this in the film, but it seems painfully obvious that this is a portrait of outliers, and suffers slightly from lack of representation of the gray areas.
And yet, the film is extremely powerful. Greenfield's overarching point does certainly come across, and the film functions as a poignant warning signal for those that believe money is the solution to all of their problems.
She shows those that "have it all" according to societal standards, but are brutally struggling to maintain their basic humanity and morality.
And so, Generation Wealth, though not as tight as it could have been, does succeed in teaching us a universal lesson that we seem to have forgotten in our current scramble for more; we must be conscious of our perceptions of how our society functions and what we decide is truly valuable.
© Dayna Hagewood (7/26/2018) FF2 Media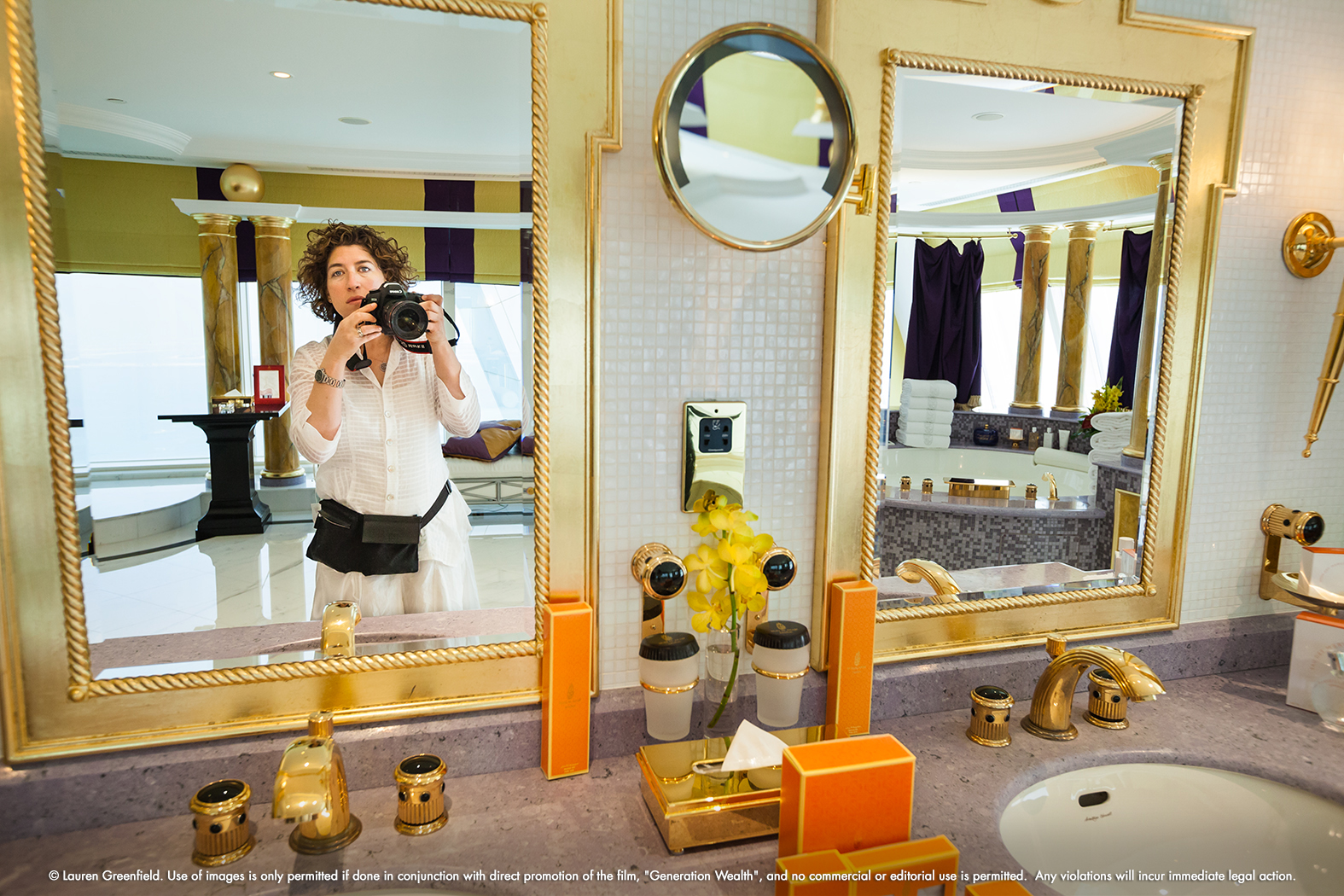 Featured Photo: "Hedge-fund manager Florian Homm, 55, Frankfurt, 2014. Homm was on the FBI's Most Wanted list for defrauding investors of $200 million."
Top Photo: "Limo Bob, 49, the self-proclaimed "Limo King," Chicago, 2008. An entrepreneur who builds and rents exotic limousines, Bob wears thirty-three pounds of gold and a full-length fur coat given to him by Mike Tyson."
Middle Photo: "Mijanou, 18, who was voted Best Physique at Beverly Hills High School, at Senior Beach Day, Santa Monica, California, 1993."
Bottom Photo: "Lauren Greenfield photographs in the Presidential Suite at the Burj Al Arab hotel, Dubai, UAE, 2009."
Photo Credit: Amazon Studios, Lauren Greenfield
Captions courtesy of Amazon Studios, Lauren Greenfield.
Does Generation Wealth pass the Bechdel-Wallace test?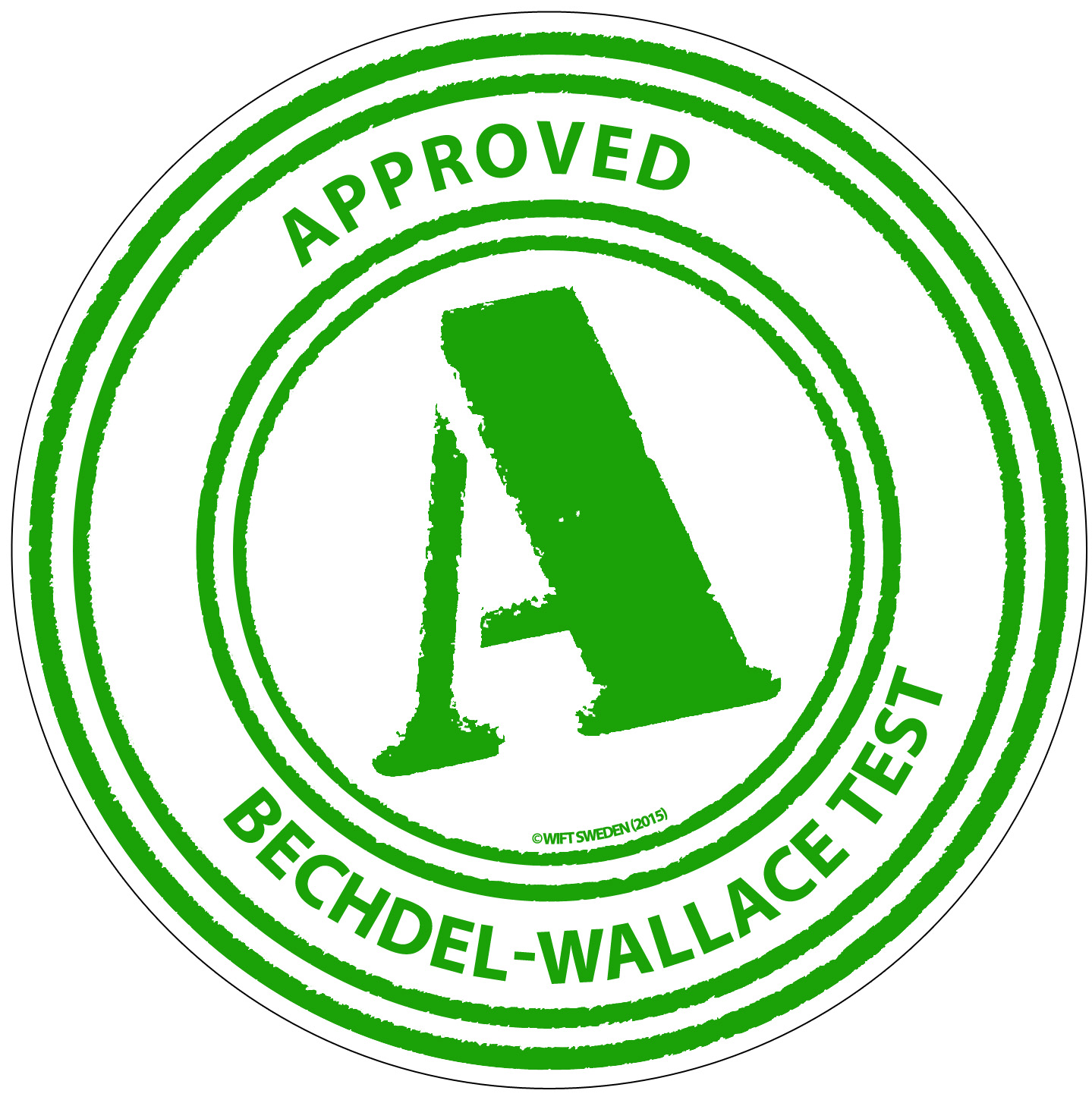 Yes. Greenfield interviews her mother and many other women telling their stories in a back-and-forth style that is particularly powerful.