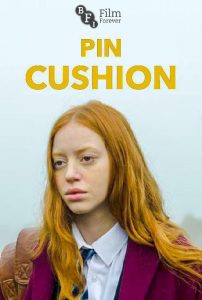 Fitting in is hard. In Director-Writer Deborah Haywood's movie, "Pin Cushion", Joanna Scanlan and Lily Newmark star as a mother and daughter who start out as loving best friends. However, their move to an unwelcoming town drives a divide between the two. Now, without each other's support, they are left as alone as ever to face the wrath of a town of 'mean girls'. Haywood forces the audience to see the ugly and extreme effects that bullying can have for both children and adults alike. (KIZJ: 4/5)
Review by Contributing Editor Katusha Jin
In the dark hours of a crisp, chilly day, "Iona" (Lily Newmark) and her mother, "Lyn" (Joanna Scanlan), sit in the front seats of a moving truck. Iona's multi-colored beanie cushions her head as rests her head on the window, watching the roads pass by. Lyn, in her unique cat hat, also blissfully watches the outside whilst periodically checking on her pet budgie. With a potted plant and a caged budgie on their laps, the pair eagerly awaits their arrival in the new town—a place where they can have a fresh start together.
The mother and daughter dance around their new quirky living room in pajamas before heading off to the streets to peer at cats, and prepare for Iona's first day at school. Everything seems to be going smoothly, until on their way back, they bump into two young boys who unapologetically attack Lyn with hurtful comments. Lyn is a woman who struggles with self-confidence on a daily basis. She has a hunched back, and wears special shoes that adjust for the different lengths of her legs. To calm the troubled mother, Iona offers a cup of warm tea. However, this is merely the beginning of a series of bullying events that will take place.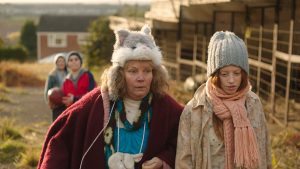 On the first day of school, Iona meets the schools mean girl trio—three fashionable, fearless, and 'cool' girls, headed by "Keeley" (Sacha Cordy-Nice). After misunderstanding the questions by these mean girls, Iona is laughed at for her naivety. Proving their point, the innocent girl mistakes the laughter for acceptance and begins to follow their example in a one-sided bullying, 'frenemy' relationship.
Suddenly feeling the strong urge to fit in, Iona starts to secretly date a boy and sneaks out to meet up with him under the pretense of helping her classmates with homework. She starts to wear makeup, attend parties, and keeps more and more secrets from her mother, tainting their once trusting relationship. Meanwhile, Lyn is faced with her own troubles. When a neighbor refuses to return a stepladder, Lyn is unable to stand up for herself. Lyn tries to find a group to fit in with and attends a number of meetings, but her efforts are fruitless. As the mother and daughter hide their struggles from each other, the divide between them grows. The beautiful bond they once had begins to crumble.
Deborah Haywood directs the two leads very well, as their acting carefully reflects the changes in a person after experiencing bullying. Joanna Scanlan and Lily Newmark have great chemistry, and portray different ways of coping with bullying extremely well. Their accurate depictions form the barebones upon which the story of the movie is built. The cinematography by Nicola Daley and production design by Francesca Massariol gave the film its cold, disheartening, and ostracizing tone throughout. The writing was to the point, but became a little repetitive for the supporting characters. I really enjoyed seeing the development of the two leads, but would have also enjoyed more growth and change in the many supporting characters.
© Katusha Jin (7/20/18) FF2 Media
Top Photos: Pin Cushion poster photo.
Middle Photo: "Iona" (Lily Newmark) and "Lyn" (Joanna Scanlan) walking back home.
Bottom Photo: Lyn trying to be accepted in a friendship group.
Photo Credits: Rob Baker Ashton, Parisa Taghizadeh, Mark Tillie
Q: Does Pin Cushion pass the Bechdel-Wallace test?
Yes, the mother and daughter talk about their bird, cats, baking for school, and various other things.