Directed by Marc Turtletaub and co-written by Oren Moverman and Polly Mann, Puzzle Pis a captivating, delicate film about a housewife and mother who, taken for granted in her home, finds her passion and her calling in solving jigsaw puzzles that take her beyond her house and neighborhood. (FEA 4.5/5)
Review by FF2 Intern Farah Elattar
Puzzle stars Kelly Macdonald as "Agnes," a conformist Christian housewife and mother who limits her life to pleasing her husband "Louie" (David Denman), preparing meals for the family, and going to church, where she meets female friends who seem to share the same outlook on life as her own. She lives in Bridgeport, Connecticut (within commuting distance to/from Manhattan), but never even bothers to take the train and explore beyond her set limits, out of fear and general inability (or unwillingness?) to interact with people outside her immediate circle. Conversations with her two sons and their friends reveal that she does not know much about the world, and that much of her knowledge is based either on what her Church teaches, or what she finds out from her family. Her connection to the outside world is feeble.
On her birthday, Agnes receives a jigsaw puzzle, which she starts to assemble immediately after the party. Her dexterity surprises even her, as she is able to assemble the 1000-piece puzzle in a remarkably short amount of time. This newfound talent starts taking her beyond her the box she had put herself in. She boards the train to Manhattan determined to buy another puzzle from the same store her gift puzzle came from, and once there she finds out about a man who is looking for a "puzzle partner." This one small step–boarding the train in Bridgeport for the one hour trip to Manhattan–sets her on a journey that ultimately leads her to a certain feminist consciousness. Gradually, Agnes comes to realize that the world is so much more than what her Catholic faith–and her natural reticence–made her think it was.
Puzzleis extremely successful in building up the character of Agnes, a role that Kelly Macdonald truly owns. Right from the beginning, the monotonous routine of her life is shown very cleverly, through the preparation for and execution of her own birthday party. She hangs the decorations, makes the cake, vacuums, and cleans up after the guests, even though it is supposed to be her night. She even asks Louie if he is having a good time. Her role in the family is very clear from the beginning: she is more of a robot that keeps the household together than a person who can be a source of intellect and conversation for her children. Macdonald's tics, expressions, and overall demeanor suit the character perfectly, and depict the life of a machine-like woman confined by her own faith.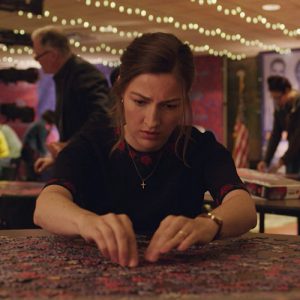 The screenwriters also refuse to create a typical antagonist, someone to blame for all of Agnes's problems. Instead, all the characters are quite nuanced, in a way that is comparable to real life more than to a typical Hollywood film structure. Even Agnes's traditional, "man-of-the-house" husband, is very gentle with her and tries to understand (after a fit of rage) where her frustration with life is suddenly coming from. "Robert" (Irrfan Khan), her puzzle partner, is also portrayed as charming but flawed. Robert became a millionaire based on one highly successful invention, which led him to a life of boredom and free time (a lifestyle not necessarily appealing to me). That Agnes is fascinated by him is obvious, but she–like we do–clearly sees his limitations.
Screenwriters Mann and Moverman do not leave a single character underdeveloped in this cleverly developed film. "Ziggy" (Bubba Weiler) and "Gabe" (Austin Abrams) play important roles in Agnes's journey as they also pave their own. The fact that her sons are now of age also contributes to Agnes's sudden frustration with the status quo. These characters are, just like Louie and Robert, given enough screen time to appear fully human. Belonging to a younger generation, they aid Agnes in understanding that there is much more to the world than what she knows. They help her understand technology, which opens a communication line with Robert. They can see the generational gap between them and their mom, and help Agnes realize that today's age is not one where a woman is necessarily ill-disciplined if she does not spend all of her time with and for her family.
The writers also use the motif of religion to their advantage, as it is a symbol of both Agnes's entrapment and her liberation. Her encounter with Robert, the puzzle partner, coincides with Ash Wednesday, which marks the beginning of Jesus Christ's journey to rebirth. The script is clever in its depiction of Agnes's transformation. Puzzle is very low-key and subtle, and does not rely on heavy dialogue in order to show Agnes's evolving character. Instead, after some encounters with Robert, she displays an increasing desire to move into a bigger world.
Puzzle is a success in character-building and narrative structure. Most importantly, it succeeds through its subtlety. There are no direct "aha" moments or cliché speeches about rebirth and empowerment. Instead, the film offers a fresh take on character development. It is neither grandiose nor emotionally loaded. It is a depiction of the delicacy of everyday life, of the small moments that can transform us in ways we cannot predict.
I recommend Puzzle for a nice, quiet day, when you want to appreciate the beauty in the subtle moments of life.
© Farah Elattar (8/11/2018) FF2 Media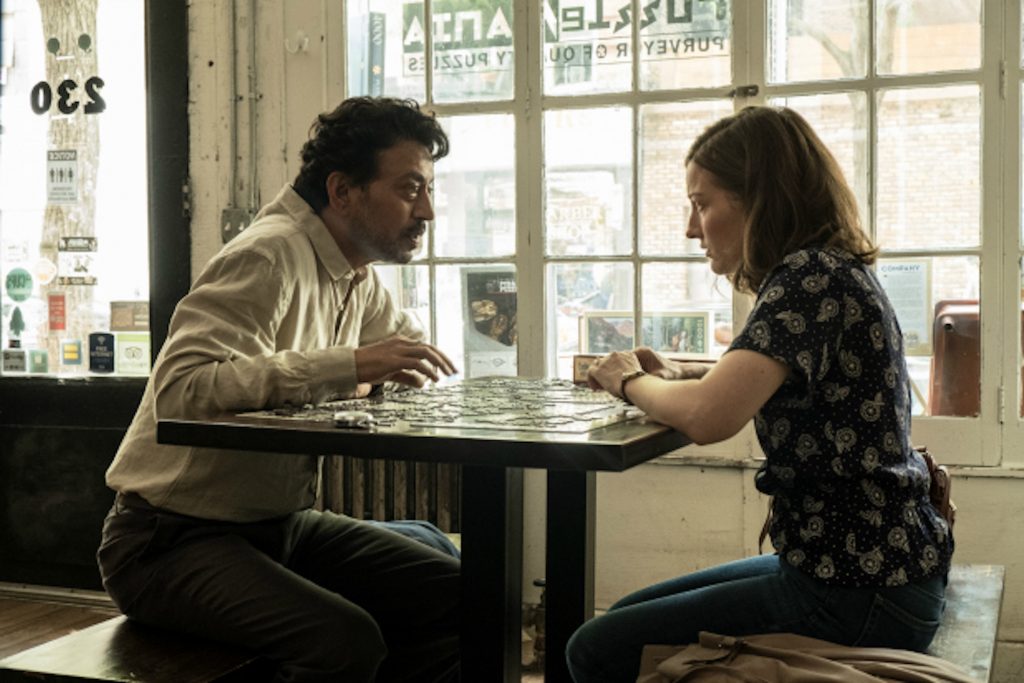 Top Photo: Kelly Macdonald as "Agnes."
Middle Photo: Kelly Macdonald as "Agnes."
Bottom Photo: Irrfan Khan as "Robert" and Kelly Macdonald as "Agnes."
Photo Credits: Linda Kallerus
Q: Does Puzzle pass the Bechdel-Wallace test?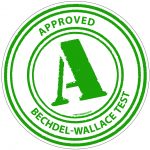 Yes, but barely.
Agnes has a brief visit with her Aunt Emily (Audrie Neenan) and interacts with her female friends at church. However, one of the issues in her life is that Agnes has almost no contact with other women. One typically expects a female lead to have a best friend, but there doesn't appear to be one in her life. Perhaps this is related to her mother's early death?