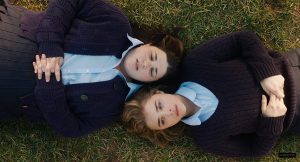 Desiree Akhavan's direction of a Sundance Film Festival winner, The Miseducation of Cameron Post, shows confused teenagers, forbidden romances, and praising the Lord. The movie showcases another ploy to try and 'cure' homosexuality. The film is based on Emily M. Danforth's novel of the same name. Its story explores the misinformation given to teenagers that being gay is a sin. (SYJ: 3.5/5)
Review by FF2 Intern Sophia Jin
The scene is set in 1993, where "Cameron Post" (Chloe Grace Moretz) sits in a bible study group; the leader preaches about how adults are always atoning for their sins made in their teenage years. After the group, Cameron rides home with her friend "Coley" (Quinn Shephard) on their bikes. Once Cameron checks that there is no one home, the pair of girls secretly make out with each other. Segueing into Cameron's prom, there is an awkward image of students either sitting alone, or leaving as couples for some privacy—everything that a prom should be. Cameron and Coley end up getting caught in the backseat of the car, and this is when Cameron's life changes.
Moretz's character is seen driven by her aunt "Ruth" (Kerry Butler) to a Christian institution—a correctional facility for the 'lost souls', where the 'only' restrictions are mailing and decorating privileges. Here she becomes another one of their disciples. Greeted by "Jane Fonda" (Sasha Lane) with a camera, Cameron meets one of her future friends at the facility. Upon entering her room, she meets her roommate "Erin" (Emily Skeggs), and is shocked at the amount of "Vikings" decorations on the walls. This plays into the stereotype of girls being gay because of 'masculine' interests, such as sports.
Post's supervisor, "Reverend Rick" (John Gallagher Jr), is first seen to be playing the guitar as he finishes his sermon. He is the warm-hearted survivor of the 'malady'. During Post's school day at this institution, the psychiatrist, "Dr. Lydia Marsh" (Jennifer Ehle), makes a surprising introduction in front of the entire class. Marsh then swiftly changes from the welcoming head of the facility to the overbearing control freak. For example, she takes it upon herself to use a rubber band to tie up "Adam's" (Forrest Goodluck) luscious locks, so that he would not 'hide away from God'.
What was once Cameron's exciting and riveting life of secrecy with Coley, is now turned into a sad and constricted correction; a correction that seems wrong to Post and her friends. "The Miseducation of Cameron Post" shows a problem that exists in society, where some people truly believe that homosexuality is wrong and should be 'cured'. Post does not lose her mind with rage over the injustice, and does not give in freely to change, but merely observes what is going on in front of her.
Cameron does not seem to have an awful lot to say; Moretz plays her more neutral and reserved. Her facial expressions show how a conservative teenager might express herself. The performances were convincing, and the characters were well portrayed. However, the writing has not, perhaps, met its full potential. The movie left me craving more character development, where the lack thereof made me feel somewhat disconnected to the film.
The title of Desiree Akhavan's movie shows the audience exactly what is being said. The whole 'homosexuality is a malady' is just the misconception and miseducation of so many people throughout the generations. The Bible teaches us to 'love thy neighbor' rather than hating oneself for being gay. If it does no harm, then why harm them? This is another way to send out the same message that so many have tried to send before. On that front, I can only say well done. 
© Sophia Jin (08/03/2018) FF2 Media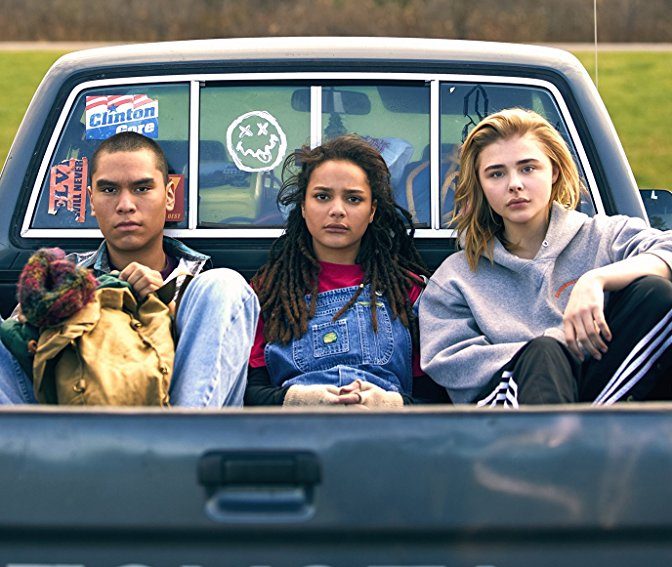 Top photo: "Helen" (Melanie Ehrlich) and "Cameron" (Chloe Grace Moretz).
Middle photo: Cameron.
Bottom photo: "Adam" (Forrest Goodluck), "Jane Fonda" (Sasha Lane), and Cameron escaping.
Photo Credits: Colleen Kwok.
Q: Does The Miseducation of Cameron Post pass the Bechdel-Wallace test?
Yes. There are multiple conversations in which women speak with other women. For example, "Cameron" (Chloe Grace Moretz) and "Erin" (Emily Skeggs) talk about stealing, and Cameron has one-on-one sessions with Dr. Marsh.