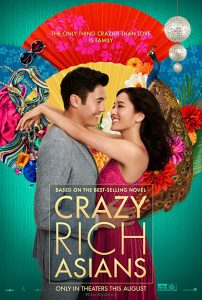 Crazy Rich Asians is a romantic comedy based on the 2013 novel by Kevin Kwan. Adele Lim and Peter Chiarelli co-write the screenplay, and collaborate with director Jon M. Chu for this long-awaited screen adaptation. Constance Wu stars as Rachel, a young professor of economics, who follows her boyfriend, "Nick Young" (Henry Golding), to Singapore for his best friend's wedding. Nick is eager to introduce his girlfriend to his family, but throws Rachel into the deep end when he fails to mention his family's wealth and reputation. (KIZJ: 4/5)*
Review by Contributing Editor Katusha Jin
It is the year 1995, and a very classy "Eleanor Sung-Young" (Michelle Yeoh) enters an upscale hotel in London. The concierge inspects the Singaporean family and firmly rejects their claim for a reservation. Eleanor, annoyed but unfazed, makes a quick call, and proceeds to buy the place. She and her family waltz into their newly acquired hotel.
Skipping to the present year of 2018, "Rachel Chu" (Constance Wu) is a young Chinese-American Economics Professor at NYU. After concluding her class, her students file out and she is met by her dashing boyfriend, "Nick Young" (Henry Golding). The two lead a typical New Yorker style life and go to a dessert bar after work. This is where Nick first suggests they fly together to Singapore for his best friend's wedding. He also pitches it as an opportunity for her to visit her college friend, "Peik Lin" (Awkwafina), and finally meet his family. He does, however, choose to omit any details of his family's status and wealth. An unexpected first-class treatment on the plane tips off Rachel's suspicions, and she grills her secretive boyfriend. Even so, Nick still keeps things relatively under wraps, and it is only during Rachel's visit to Peik Lin's home that she is told of the true societal status of the Young family.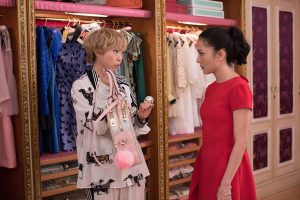 That night, Rachel and Peik Lin drive up to the extravagant house, and they share a jaw-dropping moment of shock and awe. Nick welcomes them warmly into his childhood home, but his mother, Eleanor, is much less inviting. Despite her polite smiles and words, her ice-cold evaluating glances at her beloved son's girlfriend are more than enough to reveal her disapproval. Hereon Rachel is thrown amidst these socialites like a fish out of water, and begins her task of proving her worth.
Adele Lim and Peter Chiarelli write a lovely screenplay adaptation of Crazy Rich Asians. The characters of the movie are memorable and lovable, making it easy for the audience to feel attached to them. The cast consists of a mixture of screen veterans and first time actors, but Jon M. Chu directs them well, creating a perfect balance of comedy and drama where it is needed. Constance Wu and Henry Golding are the starring pair that had the audience rooting for them from the get-go. Michelle Yeoh portrays a chilling antagonist, yet also manages to pull off the role of a loving mother at the same time. Awkwafina makes her role as much more than just the traditional rom-com sidekick, but truly brings a fun-loving character to the screen. All around praise for the leads in Crazy Rich Asians!
I entered the theatre with a mixture of excitement and worry. Excited to see this cultural turning point, but also worried about whether or not I would actually like the movie. There is a lot of pressure on the Asian-American audiences (and others of Asian descent) to love this movie. The future of Asian International big–budget pictures could change depending on the success of this film. However, when the film began to play, I completely forgot about that. I was immersed in experiencing the world that is Crazy Rich Asians.
I read and heard controversies about the film and its casting process being either 'too Asian' or 'not Asian enough', and I want people to put that aside for a moment. To me, this movie isn't about being Asian or not being Asian. I don't think the movie is supposed to represent all Asians or Asian immigrants—how can one movie possibly do that? At its core, Crazy Rich Asians is a wonderfully charming and heart-warming story. This movie created an opportunity for a global collaboration between artists of Asian descent.
When evaluating the film, I reverted back to questioning what it is I wanted and needed the film to do for me, and whether it achieved it? My answer is a big yes. I left the auditorium having experienced a wide spectrum of emotions. Most of all, I am filled with hope that this has helped open the door a little more for the many stories that have yet to come to the screen.
Thank you to the talented team that brought this to life—your work and dedication has made a difference. I hope everyone can join together in celebrating the opportunity for this heartfelt and successful collaboration.
© Katusha Jin (8/17/2018) FF2 Media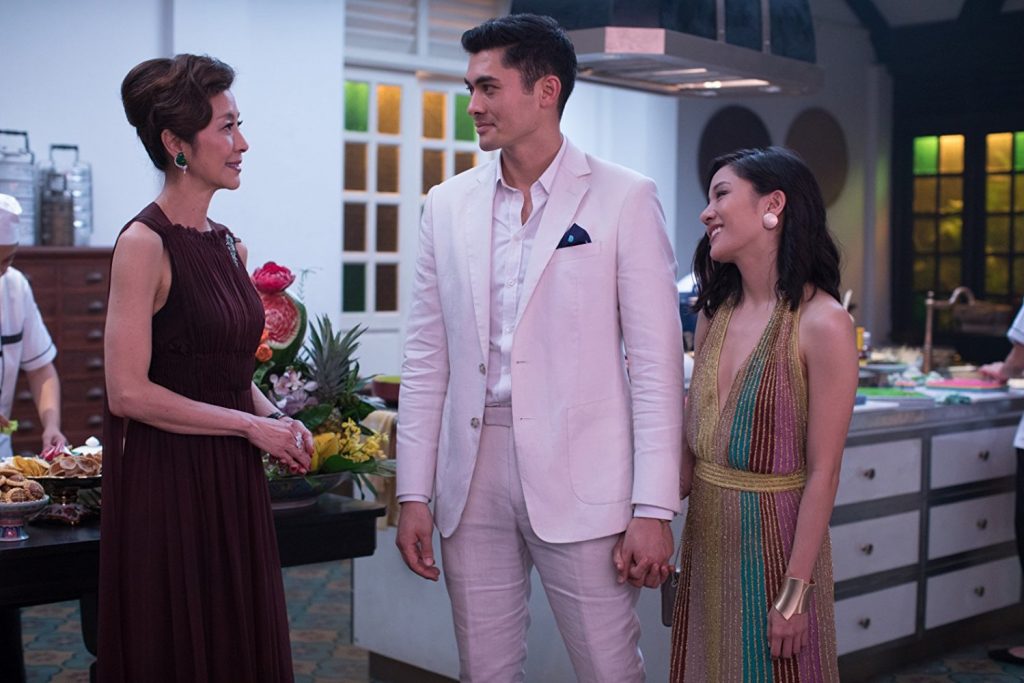 Top Photo: Crazy Rich Asians Poster.
Middle Photo: "Peik Lin" (Awkwafina) and "Rachel Chu" in Peik Lin's closet.
Bottom Photo: Rachel with "Nick Young" (Henry Golding) and "Eleanor Sung-Young" (Michelle Yeoh).
Photo Credits: Sanja Bucko
Q: Does Crazy Rich Asians pass the Bechdel-Wallace Test?
Yes.
"Rachel Chu" (Constance Wu) and her mother, "Kerry Chu" (Kheng Hua Tan), talk about the difference between being American-Chinese versus being brought up in Asia.
***
*Originally the rating I gave was 5/5. Two years later, I rewatched this movie and after reassessing, my rating for this film changed to 4/5.