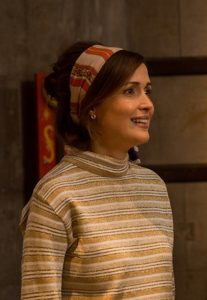 Co-written by Evgenia Peretz and Tamara Jenkins and based on the novel by Nick Hornby, Juliet, Naked tells the story of a woman in a small English town who ends up befriending an old American rock star. Thanks to the filmmakers' handle on the romantic comedy genre, Juliet, Naked is highly watchable, a fun take on a winning premise. (AEL: 3.5/5)
Review by FF2 Contributing Editor Amelie Lasker
Annie (a charming Rose Byrne) has lived most of her life in a quiet English seaside town. She's taken over the family-owned history museum, where she and her sister Rose (Lily Brazier) carry out conversations that are silly and supportive, but that feel worn, as if they've been repeated with little variation for years.
Annie's boyfriend of fifteen years, Duncan (Chris O'Dowd), is obsessed with rock star Tucker Crowe, who is portrayed as something like a soft heartthrob version of Kurt Cobain. Duncan conducts nearly all of his social life on online forums where he and other obsessive men share opinions on Crowe's music and craft fantasies about his life. The rock star disappeared from the public eye years ago amidst scandal, and he left behind only a few albums on which his small cult of fans have desperately speculated ever since.
More than anything, Annie wants to have a baby. She tells a friend she wants "unconventional love" instead of the "mild conditional affection" she has. It sounds damning of her relationship with Duncan for sure. Still, though Annie is dissatisfied with Duncan and his single childish passion, she's never been the type of person to think to change her situation on her own.
A new Tucker Crowe album is released, or a raw version of the old one: it's an original recording of Crowe's old heartbreak album Juliet, now titled Juliet, Naked. Annie is fed up with Duncan and the blind adoration of his online community for this distant figure of Tucker Crowe. Out of frustration, she posts her own review of the album on a forum, saying, perhaps exaggeratedly, just how much she hates it. To her surprise, Annie receives an email from someone who agrees with her about the album. The email, to her shock and initially complete disbelief, is from Tucker Crowe himself.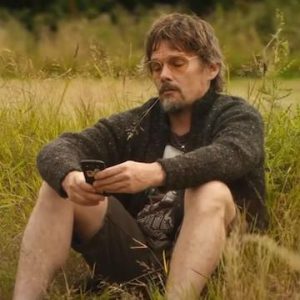 Ethan Hawke, whose name is suspiciously similar to that of his character Tucker Crowe, makes for a perfect comedic device: the image of him is jarring in comparison to his cult portrayal. We find him grizzled and bored living in his ex-wife's house, occasionally checking in on his fans' whimsical conspiracy theories on his whereabouts. He hasn't worked on new music in years. Crowe could be said to have everything Annie wants: almost too many children to keep track of, and memories of a youth fully lived.
Annie quickly learns, however, that everything she wants can't make someone happy. Even the pop star of her boyfriend Duncan's fantasies is actually as confused and insecure as she is. How can she go on from here?
Juliet, Naked is charming, sometimes clever, and always highly watchable. The drama with Tucker Crowe's various exes and children is both funny and heartbreaking, a perfect balance in a romantic comedy. Annie's awkwardness feels very true—with new situations, with her sister Rose's free attitude, or with real-life children like Crowe's son.
Juliet, Naked doesn't quite captivate, and I think I know why. It is voiceover-heavy, which is an easy trap in adaptations from popular books. This is also an indicator of a larger problem: this movie relies too much on the original premise. That premise is excellent, of course, and the story is done well. Still, the filmmakers don't really let that romance play out before us in cinematic form. We are left to laugh at the absurdity of the situation and marvel at the excitement of this rock star figure, but the Byrne-Hawke chemistry, if it is there, doesn't get screen time. This story is undoubtedly poignant, about two people who feel they've wasted their lives being given something simple and real to help them begin again, but the filmmakers didn't take it to its full potential.
© Amelie Lasker (8/20/18) FF2 Media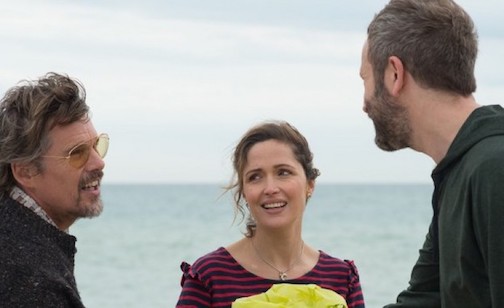 Top Photo: Rose Byrne as "Annie."
Middle Photo: Ethan Hawke as "Tucker Crowe."
Bottom Photo: Ethan Hawke as "Tucker Crowe," Rose Byrne as "Annie," and Chris O'Dowd as "Duncan."
Photo Credits: Alex Bailey
Q: Does Juliet, Naked pass the Bechdel-Wallace test?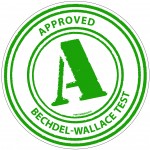 Yes.
Unfortunately, though, it only passes because Annie's sister Rose is a lesbian. The only conversations between women are about romantic interests.