In a small East Anglian town in 1959, Florence Green (Emily Mortimer) is determined to open a bookshop despite resistance from elite members of the town. Florence befriends the outcasts of the town in order to find solace amongst the opposition. Based on Penelope Fitzgerald's renowned novel and directed by Isabel Coixet (known for features including The Secret Life of Words), The Bookshop tells the story of courage in the face of conflict. (MTP: 3.5/5)
Review by FF2 Intern Maiya Pascouche
Film adaptations of bestselling books have and, I believe, always will have a place in the film industry. With huge hits like the Harry Potter series or Gone Girl, fans of popular books often crave seeing their imagined world of choice come to life. Adaptations are a risk, making them a filmmaker's major success or dismal failure.
The Bookshop, an adaptation of Penelope Fitzgerald's acclaimed novel directed and written by Isabel Coixet, is neither of these extremes. Unfortunately, it sits in the middle, with slightly confusing storytelling and acting that is well done though not spectacular. Coixet opens the film with a voiceover that seems to place the audience in a random moment in the book. Therefore, I found myself trying to pick up the pieces throughout the rest of the film. This feeling of not knowing exactly what was happening, who the characters were, or why I should care about their relationships with each other left me feeling apathetic towards the journey of the film as a whole.
Florence Green (Emily Mortimer) is a widow with a dream to open a bookshop in an abandoned house in the center of town. Her dream is met with resistance from the elite grand dame Violet Gamart (Patricia Clarkson), who wishes to display her power by transforming the old house into a community center. Thus, the main conflict begins. For the rest of the film, Florence is left fighting for herself, with the help of a book-loving widower Edmund Brundish (Bill Nighy) and ten-year-old assistant Christine (Honor Kneafsey)–and of her dream of keeping her beloved bookshop alive.
This film is subtle in its acting, well crafted with beautiful shots of rural England, and carefully costumed to convey the 1950s setting. However, it deeply lacks in character development and well-rounded storytelling. It was difficult for me to care about Florence's relationships with her peers and adversaries in the town because I never understood why everyone cared so much about the fate of the bookshop or making a community art center in the old house. I wish I had more context in order to feel more emotionally connected. When tragedy strikes, it is hard to feel incredibly moved by Florence's emotional reaction because the importance of her relationship with Edmund is barely displayed.
Overall, this is a technically well-made film. The acting is satisfactory, the cinematography is satisfying, and attention to detail is notable. Nevertheless, I would only truly recommend this film to people who have read the novel. And maybe that was who this film was made for, the fans asking to watch the words on the page transform before their eyes, unembellished and restrained. Unfortunately, I am not one of those people, and I wish Coixet could have made the story a little more fulfilling for the newcomers.
© Maiya Pascouche (9/6/18) FF2 Media
Q: Does The Bookshop pass the Bechdel-Wallace test?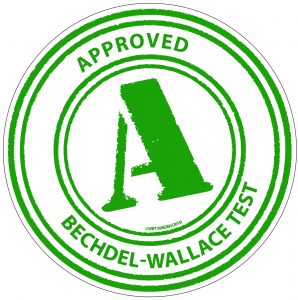 A: Yes! Example: Florence and Violet discuss both of their dreams for the old house in town.