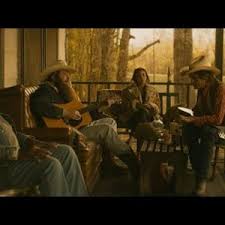 Based on the biography by Sybil Rosen, Blaze recounts the life and death of an unknown legend in Texas music history. Gentle and loving, this biopic celebrates the complexities that made up Blaze Foley's life. (KAC: 5/5)
Review by FF2 Intern Katharine Cutler
Directed by Ethan Hawke, Blaze is a story of love and loss through the kind eyes of Sybil Rosen. Rosen co-wrote the film with Hawke and every moment shows how deeply she loved him. The personal nature of the story draws out feelings of grief and pain over a person whom no one ever really knew. Hearing Sybil's words feels like reading a love letter, and Foley's music serves as his response, equally loving to her.
Despite being about Blaze, the movie exposes the deep impact he had on Sybil's life and the way that she feels about him now. Based on the biography, Living in the Woods in a Tree: Remembering Blaze Foley, written by Rosen, the film feels like her last tribute to him, a way to remember him as he was and then let him go. Blaze is so compelling, you almost fall in love with him as Sybil does and feel the need to mourn his death long after the credits roll.
Many films about figures after their death serve as a way to idolize them, but Hawke and Rosen work hard to reverse that idea. They carefully choose to show idolization in a negative light through the depiction of Townes Van Zandt, another country musician. Van Zandt's group allowed his music to be in the film, despite their objections to the portrayal of Van Zandt's character, played by Charlie Sexton.. Idolization is depicted as problematic, and it is consistently reaffirmed that Blaze is not perfect and that we are not meant to see him that way nor to love every part of him.
The music in the film serves to show both sides of Foley as well. Hawke artfully decides to keep Foley's music (performed by Dickey) for most of the film, and uses little instrumental music to drive the mood. Ben Dickey's voice and Blaze's words drive the story, often shifting from diegetic to non-diegetic. Each song reveals another layer into Blaze's mind and the soundtrack serves as his true point of view. There are few moments without music or conversation in the film and Hawke knows just when to give us only silence.
Easily, Hawke could have fallen into making a film strictly about Blaze, but instead, he adapts the novel without removing the most important part, Sybil. Often, especially in music, artists are described through a terrible vice and a wife, girlfriend, or mother, who stands by their side and props them up. This film gracefully avoids that trope because Sybil gets to be her own person outside of Blaze. She works in theater, writing plays and acting, but most importantly, she leaves. She is not at the mercy of Blaze and his music. She lives outside of him, and while little is shown of her outside life, Sybil is not just there to propel Blaze to greatness. She is there to remember the complex person she knew and loved. Sybil is the true narrator, framing the beginning and end of the film.
This film reads as a biopic but equally as its own narrative because of Dickey's amazing performance. Yet, the film would be nothing without Alia Shawkat, who plays Sybil. We see Blaze through Sybil's eyes, and Shawkat makes us love and appreciate him through her tender performance. Dickey, of course, brings his singing ability to the role, but his true feat is how easily he seems to personalize the character. His eventual death is revealed quickly, yet Dickey brings the tension, making the audience savor every moment of his life.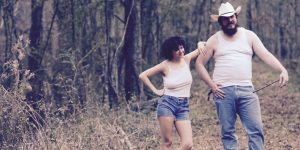 © Katharine Cutler (09/08/18) FF2 Media
Top Photo: Blaze and Sybil lying in the back of a truck.
Middle Photo: Blaze plays his guitar for some friends.
Bottom Photo: Blaze and Sybil living in the woods.
Photo Credits: Sundance Selects.
Q: Does Blaze pass the Bechdel-Wallace Test?
No.
Unfortunately, Blaze doesn't pass because despite Sybil speaking with other women, every conversation revolves mainly around Blaze.