A Simple Favor is a compelling and strange comedy-thriller hybrid from director Paul Feig (Bridesmaids, Spy, Ghostbusters) and screenwriter Jessica Sharzer (Nerve). When Stephanie (Anna Kendrick) meets mysterious fellow mom Emily (Blake Lively) at her son's elementary school, their fast friendship quickly spirals into a wild ride involving missing persons and mistaken identities. While not necessarily unique in plot, Feig and Sharzer's adaptation of Darcey Bell's novel remains consistently unique in tone and entertainment value. (BKP: 4/5)
Review by Managing Editor Brigid K. Presecky
Following their initial meeting, it's immediately clear that Emily is a free spirit – encouraging quirky, "nerdy" vlogger Stephanie to stop apologizing, to loosen up, to drink a strong martini in the afternoon. But Lively shows the audience that there's something more sinister underneath, and her performance saves Emily from becoming a total caricature of a posh suburban working mom.
When Emily later asks Stephanie for a simple favor – to pick up her son from school – she obliges. But Emily doesn't come home. Two days turn into five, and Stephanie finds herself in the role of caretaker for Emily's son and husband Sean (Henry Golding of Crazy Rich Asians). She finds herself enjoying Emily's life a little too much – her walk-in closet filled with designer clothes, the granite counter-tops in the massive kitchen and the handsome grieving husband who relies on her for help. But she quickly learns that Emily's life isn't all it appeared to be, and it becomes her mission to piece together the events that led to her disappearance.
Emily's disappearance unearths a wealth of secrets and Stephanie's world is quickly consumed by them. Kendrick puts her trademark wit on full display as a concerned friend and neurotic lifestyle vlogger, perfectly personifying the type of room mom we've all met. But Emily isn't the only one with a dark past – Stephanie has secrets of her own, and they bring the disturbing undertones of A Simple Favor to a whole new level. Whether that subplot is entirely necessary would be a question for the readers of Bell's novel, where it likely played a more relevant role. But she also provides a substantial amount of humor, setting A Simple Favor apart from other Gillian Flynn-style knockoffs. 
The pace of A Simple Favor seems to move fast – Emily and Stephanie immediately call each other "best friends," a term thrown around loosely, and Stephanie's relationship with Sean escalates quickly after his wife disappears. But though the film's events take place within a short time frame, the two-hour running time does drag in portions where Feig leans heavily on the creep factor. 
Sharzer not only avoids suspense-film cliches, she obliterates them, all complemented by John Schwarzman's sharp cinematography. But the strongest points of the film lie in its exposition, in which Lively and Kendrick both nail the essence of a budding female friendship that takes all the wrong turns. The mystery surrounding Emily's life and backstory is far from earth-shattering, and teeters dangerously close to the ridiculous. But A Simple Favor is a self-aware few hours of fun if you enjoy your gin straight-up and can forgive a weak twist.
© Brigid K. Presecky (9/13/18) FF2 Media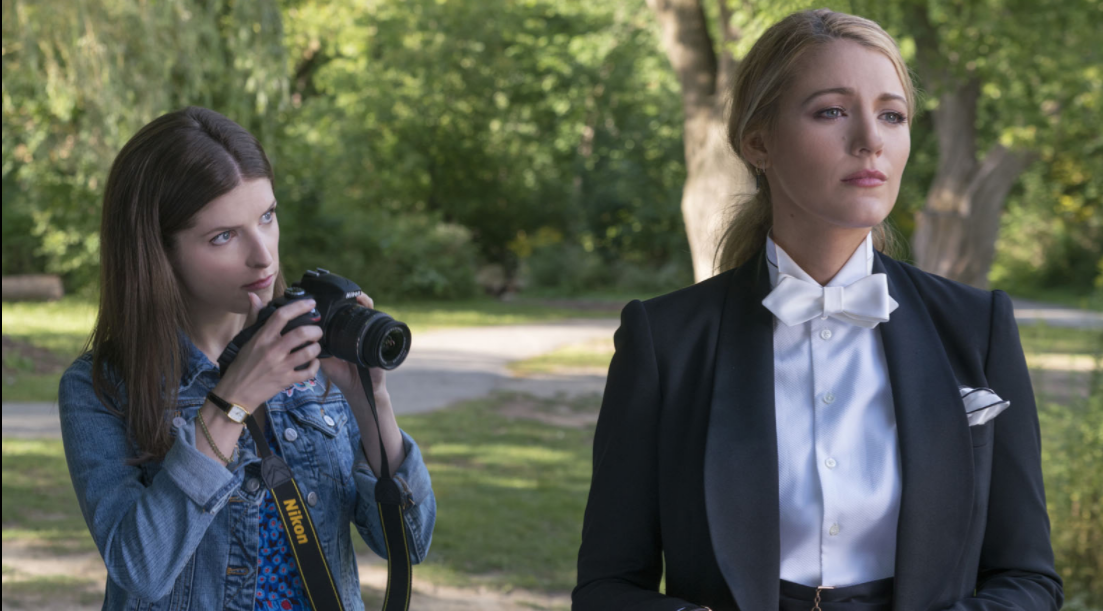 Photos courtesy of Lionsgate
Top Photo: Lively brings the Serena Van der Woodsen vibes in A Simple Favor. 
Bottom Photo: Stephanie gets too close to Emily before she disappears.
Q: Does A Simple Favor pass the Bechdel-Wallace test?
Definitely!