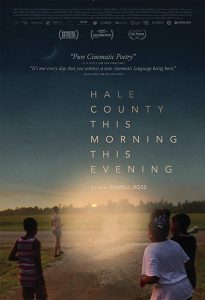 Hale County This Morning, This Evening is a delicate portrait of a way of life. Shot in director RaMell Ross's hometown, Hale County, Alabama, this film contains the beauty and the darkness of passing time. (KAC: 4/5)
Review by FF2 Intern Katharine Cutler
Written by Ross and Maya Krinsky, Hale County is not a typical documentary. Instead of creating a specific point of view or following a clear-cut story, this film is a long, personal essay, letting you stew in each frame. Ross lovingly captures this community – his community – and it's clear he belongs to it. He's able to find beauty in the simplicity of lives that are not typically 'cinematic'.
Hale County, Alabama is not a particularly unusual place; it's ordinary. Ross follows a few different people, yet doesn't really follow anyone. His sparse use of direct contact with any one subject forces the viewer to embrace the atmosphere, ignoring the typical pull towards an enigmatic character or storyline to frame the documentary. Ross's subjects are all black people who are just existing, living their life, doing little to perform for the camera or create any interest. They are just people, not objects for the viewer to study.
Each subject is gracefully framed and the lives are humanized and not made into a plot that begins and ends in the film. Ross's biggest accomplishment is his use of time, letting it pass without a preoccupation with contextualizing each moment. The beginning of the film lets us witness the birth of Kyrie, son to Boosie and Quincy, yet 20 minutes later, he's a toddler with two younger siblings. Even then, life happens and a tragic moment follows. But, it's just a moment; Ross doesn't dwell, but rather portrays the pain and sadness through small moments. To Ross, time is just another thing that passes.
Despite his complete control, Ross doesn't seem to force a point of view. His vision and voice are rarely seen or heard, despite a few moments where he speaks from off-screen or where texts appears alone on screen. Even then, Ross's participation doesn't push your thoughts. The text only adds information, like explaining his background in photography and naming the major actors. His voice is only heard through conversations he has with people interested in his filmmaking, bringing you back into the finite nature of this project.
Ross is a photographer at heart, something written in text at the beginning of the film, and it shows. His visual style is the most developed element of the film. The beauty of a finger tapping or sunlight shining through the smoke of burning tires is captured through the camera. Most shots are still, mimicking photographs. The frame rests, sitting in the image. At times, there lacks a consistent flow, pulling the viewer in at moments and often letting them drift, image after image after image. His ability to find purely beautiful images always comes through, often pulling the viewer back in.
The one let down is the follow-through of the story. Because much of the film is based in imagery and not in a concrete plot, the ending seems at times thrown together. A moment of one of the black men being pulled over by police officers feels like a fundamental moment in the film, yet it doesn't last more than a few minutes. He plays on the expectation of police violence to emphasize the stereotypes, but at the same time, the tension he creates isn't followed through and feels like a bit of a waste. Although it could be read as being the everyday tension for black people in America, there is so little imagery of the actual men being pulled over to examine within these moments and more imagery of flashing lights that it comes off as trying to make a constructed point, rather than looking at reality. This also occurs with the imagery of toy guns and young Kyrie. Despite only being 76 minutes, the film could use some shortening and refinement.
Overall, the film is a gorgeous, loving examination of Ross's home. The personal nature of each place and each person is evident, yet it seems to drag on and at moments, loses what makes it flow. Truly, the feat of this film is creating a new type of documentary, one that relies of imagery and the skills that come with photography. Ross knows how to create series of images to control focus and drive emotion. Each frame is constructed to follow every thought he has and every thought he wants you to have.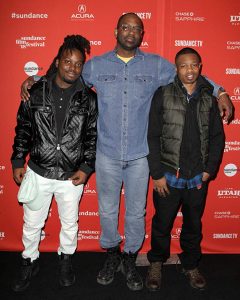 © Katharine Cutler (09/15/18) FF2 Media
Top Photo: A boy gets his hair cut.
Middle Photo: The poster for the film.
Photo Credits: Louverture Films
Bottom Photo: Ross with two of the subjects, Daniel and Quincy.
Photo Credits: Getty Images
Q: Does Hale County This Morning, This Evening pass the Bechdel-Wallace Test?
No.
There is little language throughout the film and only one woman, Boosie, who speaks.