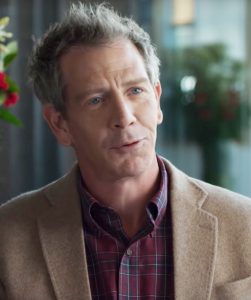 Feeling suffocated by the conventionality of his job and his family life, a man retires and leaves his wife in an attempt to feel alive again. However, after befriending the troubled teenage son of his wife's best friend, he finds that everything he does is met with the disapproval of his community. Based on the novel of the same name, director Nicole Holofcener's The Land of Steady Habits captures the essence of life in a small town both through its visuals and in the on-screen exploration of its characters. (RMM: 4/5)
Review by FF2 Associate Roza M. Melkumyan
We first meet "Anders Hill" (Ben Mendelsohn) in the towel section of domestic warehouse Bed Bath & Beyond. Having decided that he can no longer handle the monotony of his family life or the systematic greed present in his finance work, Anders has left both behind in search of a more meaningful life. But in the small, conventional town of Westport, Connecticut, such a sentiment is frowned upon.
Though ex-wife "Helene" (Edie Falco) was ceded the house in the divorce, she is coping with both Anders' absence and her son "Preston"s (Thomas Mann) lack of work ethic. The 26-year-old graduate of Northwestern University has still yet to find a steady job. Hoping that her son will finally start living his own life, Helene offers him a teaching position at the local ESL center that she runs.
Despite his newfound freedom, Anders feels lonely in his empty condo. Though he'd rather not see the friends from his old married life, he decides to attend a party hosted by family friends, the Ashfords. Helene is less than happy to see Anders, and asks friend "Sophie Ashford" (Elizabeth Marvel) why she invited him. Meanwhile, Anders wanders outside, where he comes across the Ashfords' teenage son "Charlie" (Charlie Tahan) and a group of friends smoking some unknown substance. The two bond over the fact that they'd rather be anywhere but at this party, and Anders takes a hit of what he believes to be weed.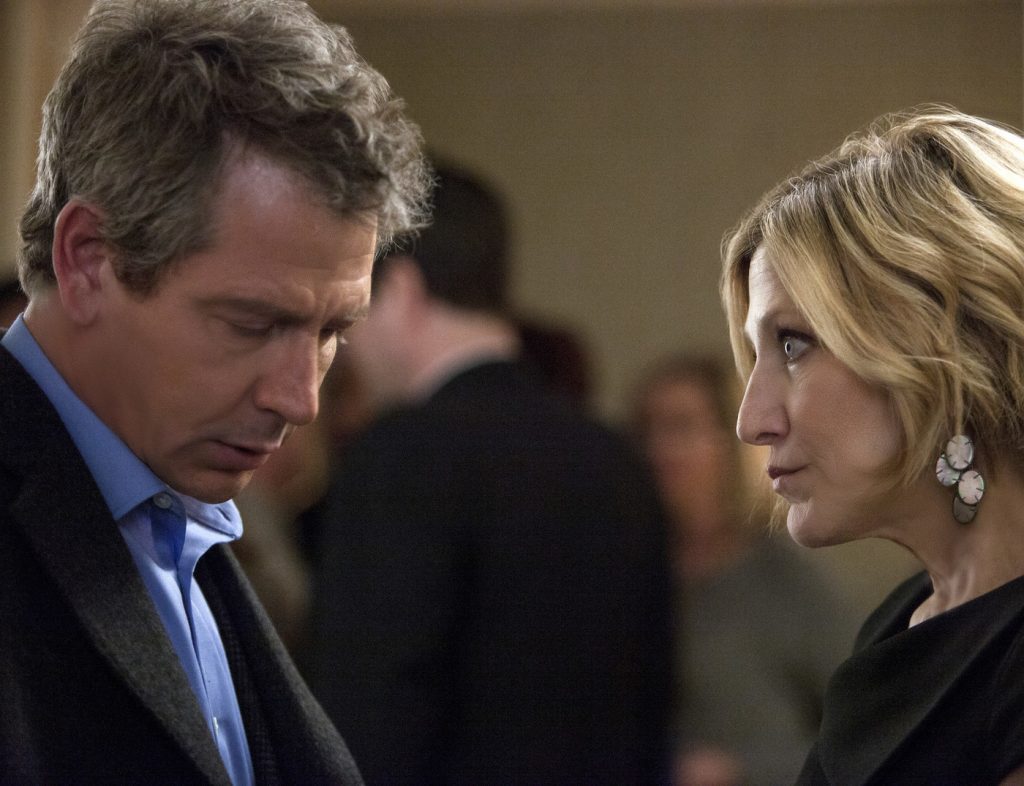 After promising not to tell Charlie's parents about the drugs, Anders shares a tense conversation with Helene, who no longer wants anything to do with her ex-husband. Later that night, Charlie is found passed out among drug paraphernalia, and is sent to the hospital. Sophie is furious at her son, thinking he has acted out to punish her, and promises to send him to a rehabilitation center. She cites Preston's own successful stint in rehab as confirmation that this is the right decision.
At the hospital, Charlie promises Anders that he won't mention his involvement in the drug incident. Struggling to live the free and fulfilling life he left his family and job for, Anders turns to booze, strip clubs, and unsuccessful one-night stands with other women. He manages to find a companion in "Barbara" (Connie Britton), who he meets at the strip club, and the two begin dating. This is perhaps the only successful endeavor in his life, however, as Preston loses yet another job, Charlie runs away from home, and Helene discovers that Anders hasn't been paying the rent for the past six months. In the eyes of his wife, his son, and his neighborhood, Anders can't seem to do anything right.
Director Nicole Holofcener knows how to capture a feeling in a mundane setting like Bed Bath & Beyond. Opening the film in the warehouse sets the tone of the film well, as Anders tries to find the pieces that will make his empty condo feel like the home he left. Here the audience sees the film's poster, where towels organized by color reach from the floor to the ceiling in a shot that is both pleasing to the eye and starkly representative of the life of "steady habits" it encapsulates. This is the same life that Anders can't seem to escape, as evidenced by his newfound loneliness.
Despite Anders' attempted departure from his old life, the unshakeable presence of conventionality rears its ugly head in other ways. His wife wants nothing to do with him and Sophie has turned him into Public Enemy No. 1. His society will not accept his actions, and as a result he feels even more isolated than he did before. Having grown up in a suburb myself, I see the unspoken rules of routine all too clearly. This beautiful, peaceful town suffocates anybody who decides they want to live more autonomously. The story is tinged by sadness as the audience witnesses a man struggle to live a meaningful life while he fails to communicate openly with his loved ones. Such a disconnect is seen even more clearly in the narratives of Sophie and Charlie Ashford, who can't seem to understand each other at all.
A true tragicomic, The Land of Steady Habits' self-deprecating humor saves it from being truly depressing. Though a bit slow paced at times, this is a film worth watching.
© Roza M. Melkumyan (9/14/18) FF2 Media
Featured Photo: Anders and Barbara look disappointed after an unsuccessful attempt at sex
Top Photo: the recently divorced, recently retired Anders Hill
Middle Photo: Anders and Helene have a tense discussion at a party
Bottom Photo: Anders shops at the domestic wonderland that is Bed Bath & Beyond
Photo Credits: Alison Cohen Rosa
Q: Does The Land of Steady Habits pass the Bechdel-Wallace Test?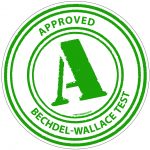 Yes.
Helene and Sophie discuss their lives and their children.