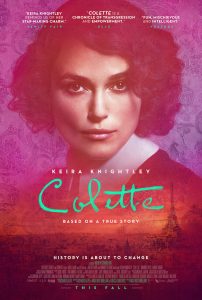 Rebecca Lenkiewicz, Wash Westmoreland, and Richard Glatzer co-write Colette—a biopic starring Keira Knightley and Dominic West. Director Westmoreland's period piece tells the tale of a French novelist, "Colette", whose hunger for life pushes past gender norms. It shows how a girl from the countryside transforms into a pioneering feminist woman of the world. (KIZJ: 5/5)
Review by FF2 Contributing Editor Katusha Jin
It is 1892, and young "Sidionie-Gabrielle Colette" (Keira Knightley) is living at home with her parents "Sido" (Fiona Shaw) and "Jules" (Robert Pugh). The family lives in rural Burgundy, and worry that with no dowry, their daughter will have difficulty finding a husband. The parents try their best efforts to entertain the older and sophisticated Parisian man "Henry Gauthier-Villars" (Dominic West), otherwise known as "Willy", who has been a frequent visitor as of late. Little do the parents know, Willy and Colette have had plenty of their own rendezvous in the barn at the back of the house.
Soon, their heated fling turns into a marriage, and Colette is plucked from her village into the snobbish fancy salons of Paris. Rejecting the stuffy, expensive gown her husband bought for her, Colette wears a more casual gown to a public event. Her out-of-style fashion choice attracts many disapproving glances from Willy's Parisian friends, and Colette is labeled as the country bumpkin.
Professionally, Willy is a writer who has proudly established his own brand "Willy". However, instead of doing his own writing, he hires a number of ghostwriters to write under his name. When he pushes back their payments, Colette witnesses the ghostwriters chasing him down and challenging his work ethic. It isn't long into the marriage before Colette also catches her husband with another woman. Willy's response is a feeble argument that he is only doing what all other men do. Between the riots in his office-flat and his thrifty lifestyle, Colette cannot understand how the once-mature husband she saw could be so foolish. In desperate need to leave her husband and the city, Colette returns home for a breath of fresh air. After Willy successfully convinces her to return to the city with him, whilst also managing to talk her into writing her childhood stories under his name.
Colette's first novel, Claudine at School, flies off the shelves, and Willy not only takes sole credit for the writing, but also forces her to write continuation novels. This self-limiting position that Colette is forced into through her marriage is the perfect setup for the bigger-than-life protagonist to awaken and start her transformational journey.
Rebecca Lenkiewicz, Wash Westmoreland, and Richard Glatzer's writing is very witty and timely. The beginning misleads the audience into a Pride and Prejudice-esque setup, where it seems as though the good daughter is waiting for the perfect husband to pick her. The first hint that this story will go in another direction is when we realize that Colette has already taken control of securing her marriage. The film is scattered with many more daring pieces of dialogue that differentiate it to previous period dramas. Whether it's a smart comeback, which garnered multiple laughs in the auditorium, or a dramatic monologue piece, the writing felt not only relevant to Colette's situation, but also applicable in 2018 too.
Keira Knightley stars as "Colette", and does an impeccable job portraying a believable transformation of a woman who grows to take control of her own life. She undoubtedly leads the piece and has created a truly memorable character. She deserves applause for her representation and dedication to the character. Dominic West was also a great choice for the role of "Willy". His fluffy, brazen personality builds a multi-dimensional character where the audience sits on a fine line between wanting to punch and forgive this unfaithful, foolish husband. Susie Figgis did an excellent job with casting; the editing by Lucia Zucchetti was smooth, and music by Thomas Adès delightfully fitting.
Colette shatters our expectations for a period drama; it is an easy and enjoyable watch. The film has brought a wonderfully bold and admirable literary figure to the forefront of our attentions.
© Katusha Jin (09/21/18) FF2 Media
Top Photo: Colette poster.
Middle Photo:"Henry Gauthier-Villars" (Dominic West) celebrating a victory.
Bottom Photo: "Sidionie-Gabrielle Colette" (Keira Knightley) at a train station.
Photo Credits: Robert Viglasky
Does Colette pass the Bechdel-Wallace test?
Yes, Colette has multiple encounters with women where they talk about work, love, and life in general.