Directed by Susan Lacey, Jane Fonda in Five Acts explores Jane Fonda's life to date divided into five movements: her childhood, her three marriages, and finally herself. Emotional, honest and strikingly brave, this film is a masterpiece. (JRL: 4.5/5)
In Jane Fonda in Five Acts, Jane Fonda recounts her life experiences in five distinct parts. As a woman, for most of her life Jane found herself defined by the men who surrounded her; first her father, then her three husbands (coupled with other men she worked with during her acting and modeling career). It makes sense, then, that the first four parts of the film are defined by these men as well. However, in the last act, entitled "Jane", she defines herself, finally allowing herself to explore her true identity on her own.
In Jane Fonda in Five Acts (which is cut from twenty-one full hours of interviews with her!) Fonda speaks openly about what she's been through, from her mother's suicide to her eating disorder to having a famous father and much more. A mélange of home videos, clips of several of her old films, and interviews with Fonda and her friends and family, Jane Fonda in Five Acts is a deep, intimate and brutally honest look into Fonda's world.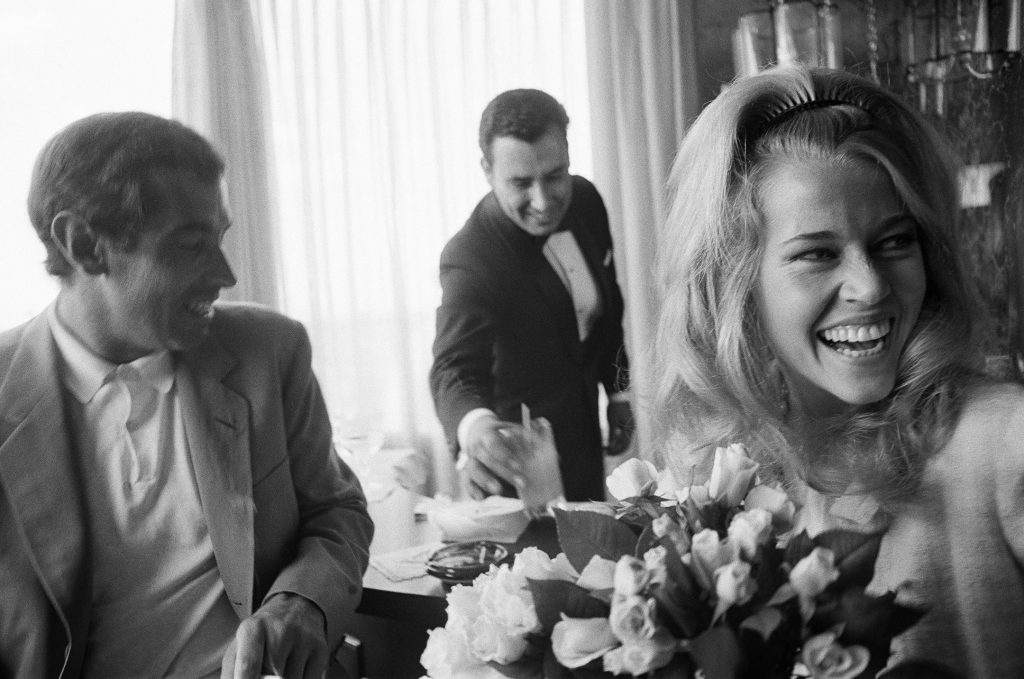 The most striking thing about the film is that honesty. There are moments in the formal interviews in which Fonda stumbles over her words, holding back tears and overcome with emotion, yet nothing about it feels curated or staged. Fonda acknowledges her imperfections—i.e. wanting to be strong enough to not get plastic surgery but still getting it—and speaks of her mental illnesses, such as postpartum depression and an eating disorder, bravely. Because she is so honest in discussing her imperfection, her words and her experiences resonate with the audience. She is not an untouchable superstar; she feels pain, she has hardships, she's struggling to figure out who she is. She's just like us. It's brave of her to take herself off the pedestal with this film, but to me, it actually makes her much more amazing. I am now far more in awe of Fonda than I ever was.
Lacey's use of home videos and movie clips is masterful. The home videos capture Jane at her rawest, from a giggling child to a tired and beaten down young adult to an energized and empowered older woman. The movie clips capture her undeniable talent and commitment to her art, despite all that she was going through. This combination makes for a complete and awe-inspiring portrait of this incredible woman.
This is a feminist film, but it is unlike any I've seen. While most feminist films either portray the deepest struggles of womanhood – overt sexism, sexual assault, marital abuse – or the best of womanhood – strength, intelligence, quick wit – Jane Fonda in Five Acts is somewhere in between. Fonda shows what it's really like to be a woman, especially one that grew up in the time she did. She is not a perfect role model of feminism because she tried to define most of her life through men, but she captures the nuances and subtleties of how it feels to be a woman and the thoughts and feelings that ruminate within us all the time (not just in moments of outright oppression). For example, she discusses her experience recovering from her eating disorder by striving to feel strong and fit instead, a story I've heard countless times from my own peers. I found that so many subtle things she mentioned captured womanhood so astutely that I felt instantly connected with her. She asserts that we don't have to be beacons of feminist strength to be strong, that we don't have to be constant champions of the cause, because sometimes it's enough just to try to be our own people. The film is feminist in its solidarity with women.
In the film, Fonda references her past use of movies as a political tool, to deliver a pointed message to those that needed to hear it. She also describes the film she made with her father, On a Golden Pond, as an attempt to find emotional closure for their estranged relationship. I believe that Jane Fonda in Five Acts is itself is both of these things—it's political and emotional in purpose. It makes a powerful statement about womanhood over time, and Fonda's emotional journey as she reflects on her life is palpable. Though most documentaries aim to exhibit real life, few are this honest. Jane Fonda in Five Acts is a triumph, for Fonda herself and for everyone who sees it.
Top Photo:Jane Fonda speaking at an anti-war rally in San Francisco, 1972. (HBO).
Middle Photo: Jane Fonda and Roger Vadim in Las Vegas on their wedding day, 1965. (Dennis Hopper/HBO).
Bottom Photo:"Jane Fonda's Workout," early '80s. (Steve Schapiro/HBO).
Photo Credits: HBO; Dennis Hopper; Steve Schapiro.
Does Jane Fonda In Five Acts pass the Bechdel-Wallace test?
Yes! Fonda is interviewed by a woman and discusses many of her own experiences outside of the men in her life.