Directed by Rory Kennedy, Above and Beyond showcases NASA's 60-year history. It documents NASA's many important milestones and mystifying discoveries, then brings it all back to our own planet that we must now save. Above and Beyond is not only a beautiful exposé' of our universe, but an invigorating push to restore the Earth. (JRL: 3.5/5)
Review by FF2 Media Intern Julia Lasker
Above and Beyond documents NASA's 60-year journey, highlighting its pinnacle achievements from the moon landing to Mars exploration. The film explores NASA's ups and downs, successes and failures, and everything in between. Piecing together stunning photos from outer space, footage of NASA's dedicated workers, and interviews from impassioned experts, Above and Beyond is a portrait of all that is NASA.
The film traces NASA's history, from its initiation through its many world-shifting discoveries to its fight against the rapid decline of the environment today. This is not just another outer space documentary—it's actually about our own planet. Above and Beyond explores the way in which all of NASA's research and discoveries come back to provide a greater knowledge and awareness of our Earth. The film documents one of NASA's lesser-known fields of research: coral reefs, which can be used to determine the health of Earth. Using information from the ongoing coral reef investigation and a culmination of all of NASA's knowledge of the universe, the film makes a convincing case for the need to save the Earth from the destruction it's heading towards.
Above and Beyond is visually stunning. Kennedy makes full use of the vast reservoir of pictures NASA has captured over the years. The film is generously interspersed with photos of supernovas, nebulas, the planets, the surface of the sun, our own Earth and so many other mysterious and magical features of outer space. These photos serve to show, rather than tell, the wonder of the universe. They are humbling, demonstrating the vastness of the universe and how many amazing things are within it that we aren't even aware of. Yet they also bring a sense of connectedness to and intimacy with the universe—a sense of knowing what's out there, when it can feel so impenetrable.
Though the film is beautiful, it has some issues with effectively delivering its message. The presentation of information feels a bit scattered, lacking a comprehensible build to its conclusion. This may be due to the fact that the film follows NASA's history chronologically, but it feels as though the film jumps from milestone to milestone without a discernible underlying connection between them. Kennedy also seems to instill in each segment the same level of excitement and importance—the music, for example, is an upbeat instrumental that remains the same throughout– rather than pulling some of them back in order to build to the most important points. The film's central message (about the need to save Earth) is also somewhat randomly interspersed, rather than driven home in a climactic way, which to me obscures its importance. 
Despite the fact that the message is somewhat obscured, I admire that the film takes a political stand, setting it apart from other outer space documentaries. Above and Beyond shows us NASA's heroic work and then explains how it applies to us. It shows us the beauty of our planet, a small but far from insignificant part of the magical place that is outer space, then emphasizes our job to save it. It is a call to action to stop our destructive practices and work to rebuild something far bigger, far more important than us. This is, of course, a message we are all familiar with. However, the fact that it's put in the context of the majesty of the universe (and thus of our own planet) makes it uniquely striking. This is not just an outer space movie, merely showcasing the beauty of our world. Rather, Above and Beyond is saving it.
© Julia Lasker (10/30/2018) FF2 Media
Photos: Above and Beyond: NASA's Journey to Tomorrow
Photo credits: Discovery Channel
Q: Does Above and Beyond pass the Bechdel-Wallace Test?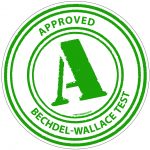 Yes! Not only is the film narrated entirely by a woman, but it also features several interviews with women who discuss all things NASA. My favorite is the interview with a female astronaut who talks about life on a rocket ship.