Kelly Marcel co-writes superhero flick Venom with Jeff Pinkner and Scott Rosenberg. Directed by Ruben Fleischer, the film hails actors Tom Hardy, Michelle Williams, and Riz Ahmed. A troubled journalist's life becomes entangled with a parasite-like alien, "Venom". The two must act as one, as they take on a dangerous organization threatening the lives of humankind. (KIZJ: 3/5)
Review by FF2 Contributing Editor Katusha Jin
A spaceship crashes and unleashes an alien on the earth. Hopping from one human carrier to another, the creature, also scientifically called "symbiote", searches for its perfect human host. A smart and chillingly heartless scientist, "Carlton Drake" (Riz Ahmed), develops a foundation that researches the process of combining the symbiote with the human body. Whilst maintaining a pristine image of curing illnesses, the super villain's organization experiments on kidnapped homeless people whose lives are unwillingly sacrificed.
Also on the streets of San Francisco, is a locally famous investigative journalist, "Eddie Brock" (Tom Hardy). Boasting his own show, "The Eddie Brock Report", the reporter is known for his direct questionings and no-nonsense attitude. Eddie reluctantly takes up an interview job with Carlton Drake. However, he comes across confidential information about his subject and steers the questions towards the foundation's secrets. As a result, Eddie is fired by the network, he loses his lawyer-fiancé "Anne Weying" (Michelle Williams), and gets her fired too. He loses his apartment and finds himself living next to a noisy musician; the journalist has hit rock-bottom.
Even so, Eddie is still a kind man who shows compassion to the local homeless and is friends with the deli owner from down the street. One of the foundation's research scientists, "Dr. Dora Skirth" (Jenny Slate), approaches Eddie during one of his visits to the deli, and pleads him to help her with a case. She explains the horrific deaths she has seen at work, and convinces Eddie to look into the matter deeper.
Their covert mission is unsuccessful as Eddie lands in a fight with a test subject and a symbiote escapes. The alarms are triggered and officials begin to chase the intruder. Desperate to run away from danger, Eddie springs into action and begins to flea the scene. To his utter shock, he finds that he can now run inhumanly far and climb unbelievably high. Unbeknownst to him, his body has been taken over by an alien, "Venom".
Kelly Marcel, Jeff Pinkner, and Scott Rosenberg's Venom is an unusual movie that stems from the comic book world, but does not stretch far enough to be considered a full-blown superhero movie. This haphazard story hangs on the talent of the actors, which is unsurprising given their impressive credits. Tom Hardy brings in elements of comedy in his delivery, and his acting is kept at a high standard throughout. Riz Ahmed also performs the role of a young tech-scientist genius very convincingly. With all the criticism surrounding the story, the overall mediocrity, and lack of surprise elements, my main complaint is that I did not see more of Michelle Williams and Jenny Slate. These two brilliant actresses were greatly underused, and more development in their characters could have brought depth to the story.
Nevertheless, I must say that I enjoyed the effects and fighting scenes for the most part, and the movie had me laughing in a relaxed manner. The lack of heavy emotional scenes in the script made it an easy light-hearted watch. Even though critically this may not be the top tier movie that Sony Pictures probably hoped for, but its success at the box office can be easily explained—regardless of what many critics have said, it is very enjoyable with great performances. Venom has many scenes that could lead to a cult following.
© Katusha Jin (10/05/18) FF2 Media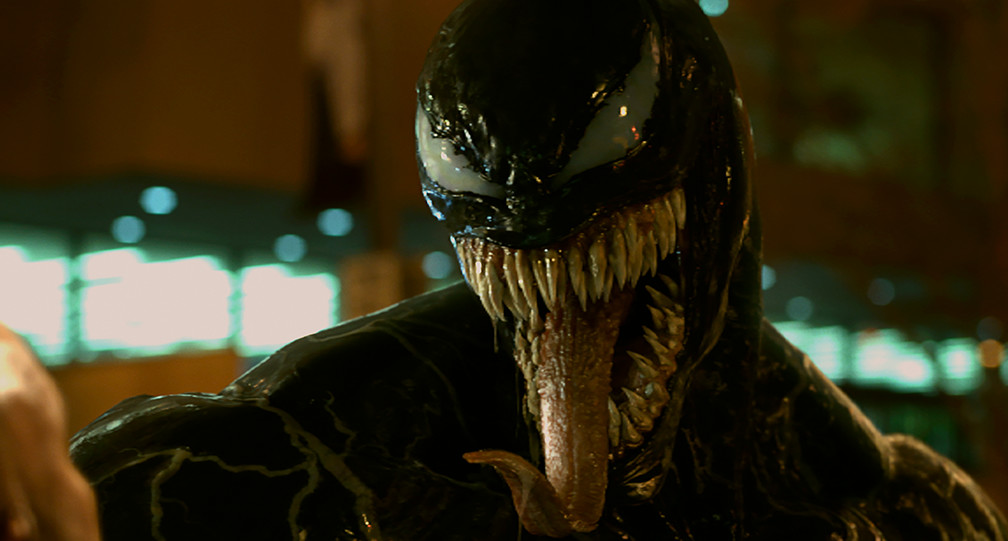 Top Photo:"Eddie Brock" (Tom Hardy) and "Anne Weying" (Michelle Williams).
Middle Photo: Eddie Brock at the hospital.
Bottom Photo: "Symbiote".
Photo Credits: Justin M. Lubin and Frank Masi
Does Venom pass the Bechdel-Wallace test?
Unsure.
There is no moment that stands out.