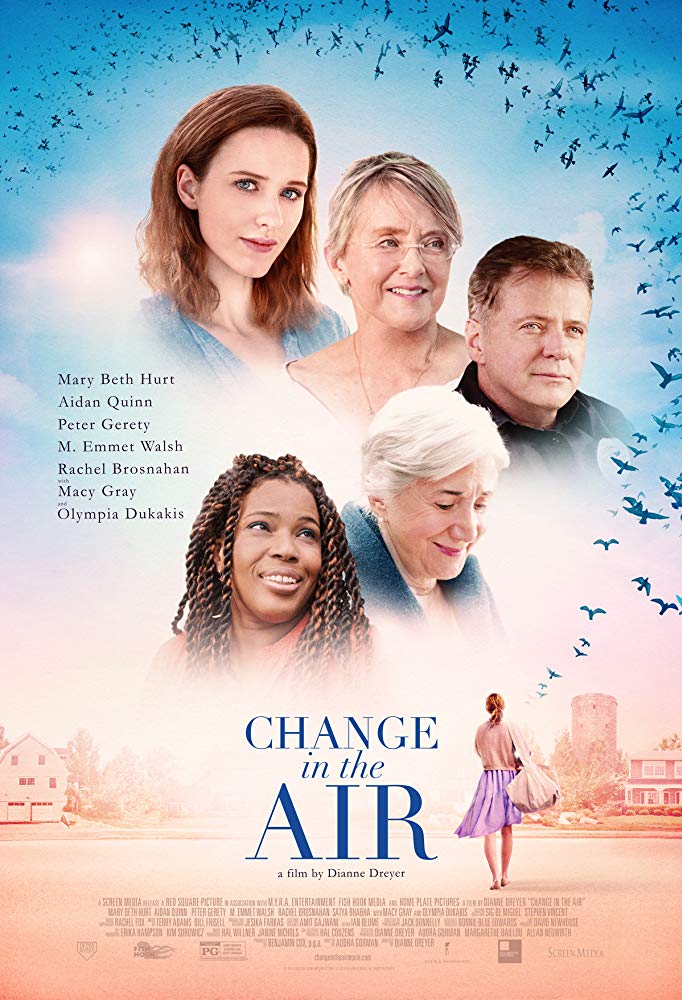 Change in the Air is a quaint neighborhood drama directed by Dianne Dreyer and written by Audra Gorman. Rachel Brosnahan stars as a secretive lady who moves in to a community of retired elderlies. After an accident occurs, rumors spread about this new neighbor and the mysteries begin to unravel. (KIZJ: 3/5)
Review by FF2 Contributing Editor Katusha Jin
An anonymous female voice makes a 911 call about an accident. "Margaret Lemke" (Olympia Dukakis) calls out to "Walter Lemke" (M. Emmet Walsh), her husband, from the downstairs of her house asking what he would like for breakfast. Walter ignores Margaret and proceeds out of the house to the street side. He waits until he sees a car coming towards him before walking in front of it. The accident causes worry amongst the neighbors, and a police officer comes to question the witnesses. He tries to find "Wren" (Rachel Brosnahan), who called to report the event, but when he knocks on her door, she hides between the windows silently.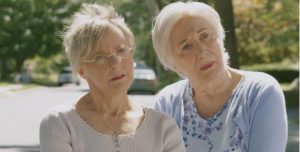 "Jo Ann Bayberry" (Mary Beth Hurt) and "Arnie Bayberry" (Peter Gerety) return from their month-long trip away and are greeted by fellow neighbor "Donna" (Macy Gray). They discuss the accident and reveal that it's not a solo incident—Walter has tried to kill himself multiple times. In their conversation Donna also brings up the that she found a new tenant for the apartment above, Wren, who is a secretive young lady whom she does not want to know anything about. Jo Ann, on the other hand, is the polar opposite to her uninterested friend; she cannot stand still at the whiff of a mystery. During the night, she comes down to get some water, and sees that Wren's light is still on across the street.
At a local mailroom, a positive life-loving young mailman, "Josh" (Satya Bhabha) is given the task of taking an unusually large bag of letters to Wren's address. Whilst Jo Ann drags her chair to Walter's front yard to keep him company, Arnie catches sight of Josh hoisting the big bag over to the apartment. Whilst Arnie is flipping through his photographs of birds, Wren approaches him from behind and catches sight of his photograph of a pygmy falcon. The two introduce themselves to each other and Arnie is also left mystified by the young lady. With all this mystery, Jo Ann could not stop herself from hurrying on over to Wren and introducing herself too. She puts it upon herself to find out about all the mysteries of the new neighbor, and maybe even bring the young and single Josh together with her, and so her investigation begins.
Dianne Dreyer's film has a great cast, starring Rachel Brosnahan, Mary Beth Hurt, Peter Gerety, Aidan Quinn, Olympia Dukakis, Macy Gray, Satya Bhabha and many others. Their soulful performances are what bring to life the quiet neighborhood environment. The writing by Audra Gorman, however, is questionable. Although the dialogue was very well-written, the overall narrative is unclear. Change in the Air is a sweet neighborhood drama where a newcomer awakens the community and brings its secrets to the surface. Nevertheless, despite its strong cast and the curious mysteries that occur in the town, the narrative is not strong enough to entice the audience.
© Katusha Jin (01/14/19) FF2 Media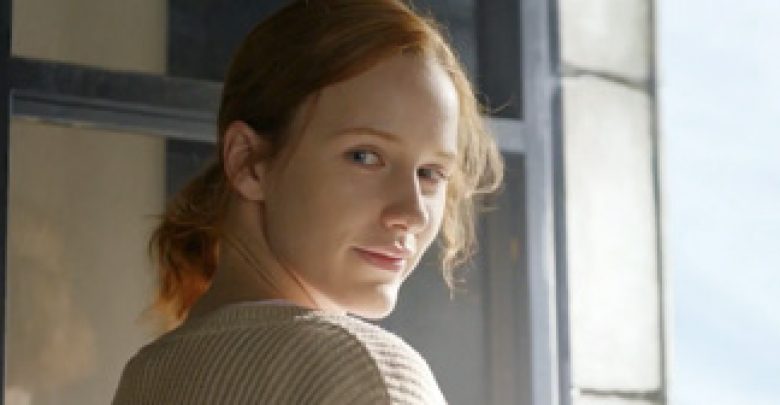 Top Photo: Chang in the Air Poster.
Middle Photo: "Margaret Lemke" (Olympia Dukakis) and "Jo Ann Bayberry" (Mary Beth Hurt).
Bottom Photo:"Wren" (Rachel Brosnahan),.
Photo Credits: Screen Media Films
Does Change in the Air pass the Bechdel-Wallace test?
Yes, "Jo Ann Bayberry" (Mary Beth Hurt) and fellow neighbor "Donna" (Macy Gray) talk about the new tenant,"Wren" (Rachel Brosnahan), who has moved into the apartment.