Created by first-time writer and director Elizabeth Chomko, What They Had is a heart-wrenching family drama about the family of a woman with Alzheimer's. With a raw and emotional storyline portrayed by excellent actors, What they Had is certainly a successful first film for Chomko. (JRL: 4 / 5)
'What They Had' is a Masterful Family Drama
Ruth (Blythe Danner) and her husband Burt (Robert Forster) live together in a house in Chicago. At the start of the film, Ruth slips out of the house and into a snowstorm in the middle of the night in her pyjamas. When she doesn't return, Burt sets out to find her, enlisting the help of their two children, Nick (Michael Shannon) and Bridget (Hilary Swank), who brings her own daughter Emma with her.
The police find Ruth riding a train to nowhere in particular and is transported to a hospital, where the family retrieves her. Ruth, we discover, is in the late stages of Alzheimer's, and Nick sees  this incident as a clear indication that it's time to relocate her to a nursing home. Burt, deeply in love with his wife and in denial of the seriousness of her mental illness, will not even consider the possibility of living apart from her and resists Nick's counsel entirely. Nick entreats Bridget to help him convince Burt to move Ruth, but Bridget, having ducked her head and obeyed her father her whole life, has a hard time going against his wishes.
The family must figure out how to work together to do what's best for Ruth, while at the same time grappling with their long-standing dysfunction, brought to light by the issue at hand.
The most blatant appeal of this film is its incredible cast. Hilary Swank strikes a beautiful balance between strength and vulnerability in her performance as Bridget, acting as the glue that binds the family together while at the same time displaying the pain and loss of self that comes with playing that role. Her moments of emotional fragility, which she so often masks to take care of those around her, are incredibly real and brave. Taissa Farmiga, who plays her daughter, echoes this hidden sorrow in her portrayal of an angry and emotionally unavailable teenager masking overwhelming internal struggles. Like Swank, the moments in which she lets her guard down and shows her inner sadness, or her tender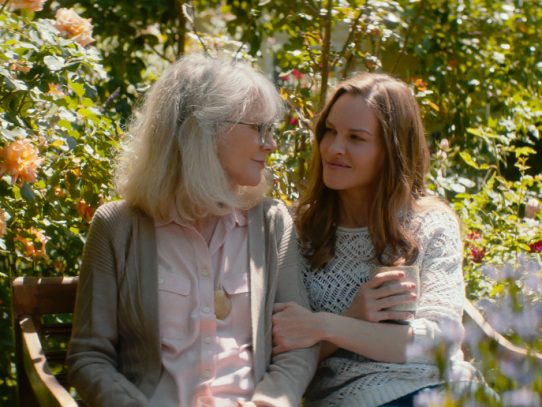 affection for her grandmother, are heart-wrenching. Blythe Danner delivers a respectful and believable portrayal of Alzheimer's. Though her situation itself is quite melancholy, Danner is so innocently joyful and sweet that her presence brings light to many otherwise dark moments. Michael Shannon's performance as Nick is perhaps the most awe-inspiring of them all. His dry wit constitutes the majority of the film's humour, but beyond that, he is able to make himself loveable despite his rough and ill-tempered exterior. This is not easily done, and yet he nails it.
The all-star cast is, of course, only able to shine because of Elizabeth Chomko's writing. In several moments, Chomko is able to find nuance and depth in situations that could be one-note. For example, she breaks up the incredibly dark subject matter of the film with comedy, especially via Michael Shannon's dry and critical wit. These moments of comedy not only make the film's gloomy plotline more palatable, but also more realistic, because so often pain does not exist in a vacuum. The characters Chomko creates are also artfully nuanced, each one with shortcomings and personality flaws balanced by heart and emotional vulnerability. Though there is uncomfortable and somber tension in many of the relationships within the family, the tender love they all display for Ruth counteracts it.
It's clear that this film was created by a woman. Much of the story centers around Bridget, who grapples with a lost sense of self and an overall dissatisfaction that comes with having spent her whole life looking to please others. This, I believe, is a uniquely female experience that is hard to capture, and yet Chomko does it with grace.
Though the film is not groundbreaking in any aspect, every element of it is masterful. It is so real and so heart-wrenching that it doesn't need flashy gimmicks or a breakout narrative to be worth watching.
Bechdel-Wallace Test: Yes! There are a few, but my favorite is the intimate and vulnerable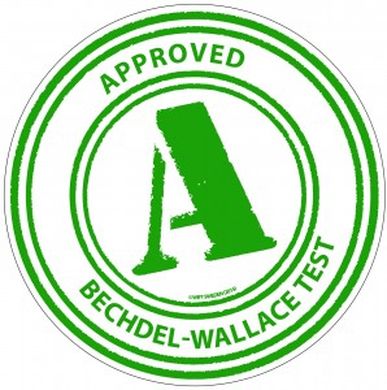 conversation between Bridget and her daughter Emma about each of their mental health.
Photos: Bleeker Street Media
© Julia Lasker FF2 Media (1/21/19)