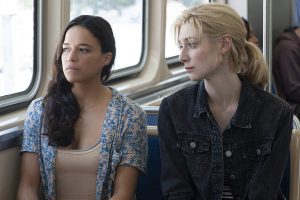 In writer Gillian Flynn's latest film Widows, she tells a story of four widows from very different backgrounds in contemporary Chicago. Widows allows women, and women of ethnic minorities, to take power and control in an almost all male action story. (SYJ: 3/5)
Review by FF2 Media Intern Sophia Jin
Based in a modern day Chicago, there is a happily married mixed-race couple, opening with the pure scene of laying in bed on a normal morning. Little does the wife, "Veronica" (Viola Davis) know, this is the day that her husband "Harry Rawlings" (Liam Neeson) dies along with his heist buddies. Harry and his three friends are thieves, who plan and carry out major theft professionally. The group is in the middle of a job that is going dangerously wrong, and an unexpected explosion takes all their lives. This devastating event leaves four women with two things in common—a dead husband, and a devastating debt in the millions to "Jamal Manning" (Brian Tyree Henry). The Mannings and the Mulligans are competing in the upcoming mayoral election, in which the Mulligans have held the title for generations, thus Jamal needs his money for the campaign. Veronica is led to Harry's journey containing the details of a job including $5 million. So, the ladies hatch up a plan to complete the final heist that Harry had planned out in robbing $5 million from the Mulligan house.
The four women are very unsuspecting characters. Veronica, with a teaching background, is seen as the main leader of the widowed ladies. As we later find out during the movie, she has lost a son. "Linda" (Michelle Rodriguez) is a mother of two, and owned a fancy dress shop until her husband's debt collectors trashed the place and took everything valuable. "Alice" (Elizabeth Debicki) was in an abusive relationship with her husband, who provided for her financially. After his death, her mother (Jacki Weaver), who also abused Alice, forcefully suggested for her to take  a job on a prostituting site that she had started. "Amanda" (Carrie Coon) was a mother of a four month old baby, and decided against joining the other three women in the heist. Instead, the fourth position was taken by "Belle" (Cynthia Erivo), who was an athletic woman working multiple jobs including hairdressing and babysitting. She was a mother who had no choice but to put her jobs before her child.
Widows is a well acted and well produced film. Viola Davis' performance as a badass black woman who doesn't need a man in her life is empowering, and after so many films where he is a positive protagonist, Liam Neeson plays a deceptive role. Michelle Rodriguez and Elizabeth Debicki both perform spectacularly as two hesitant and desperate widows. The film accentuates cultural and class diversity with each widow being of a different ethnicity and different societal status. However, the script writing is not clear – based on a book, the script was confusing to follow during the film, feeling like too much was happening in the space of one movie. This leaves viewers wondering what will happen to each character. Despite the excellent performances from the actors and the high quality of the music, sound design, and the visual effects, the writing really brought down the quality of the film. From director Steve McQueen's and writer Gillian Flynn's previous award winning films, this came as a shock to the audience members who had much higher expectations, especially with an all-star cast.
© Sophia Y. Jin (12/13/18) FF2 Media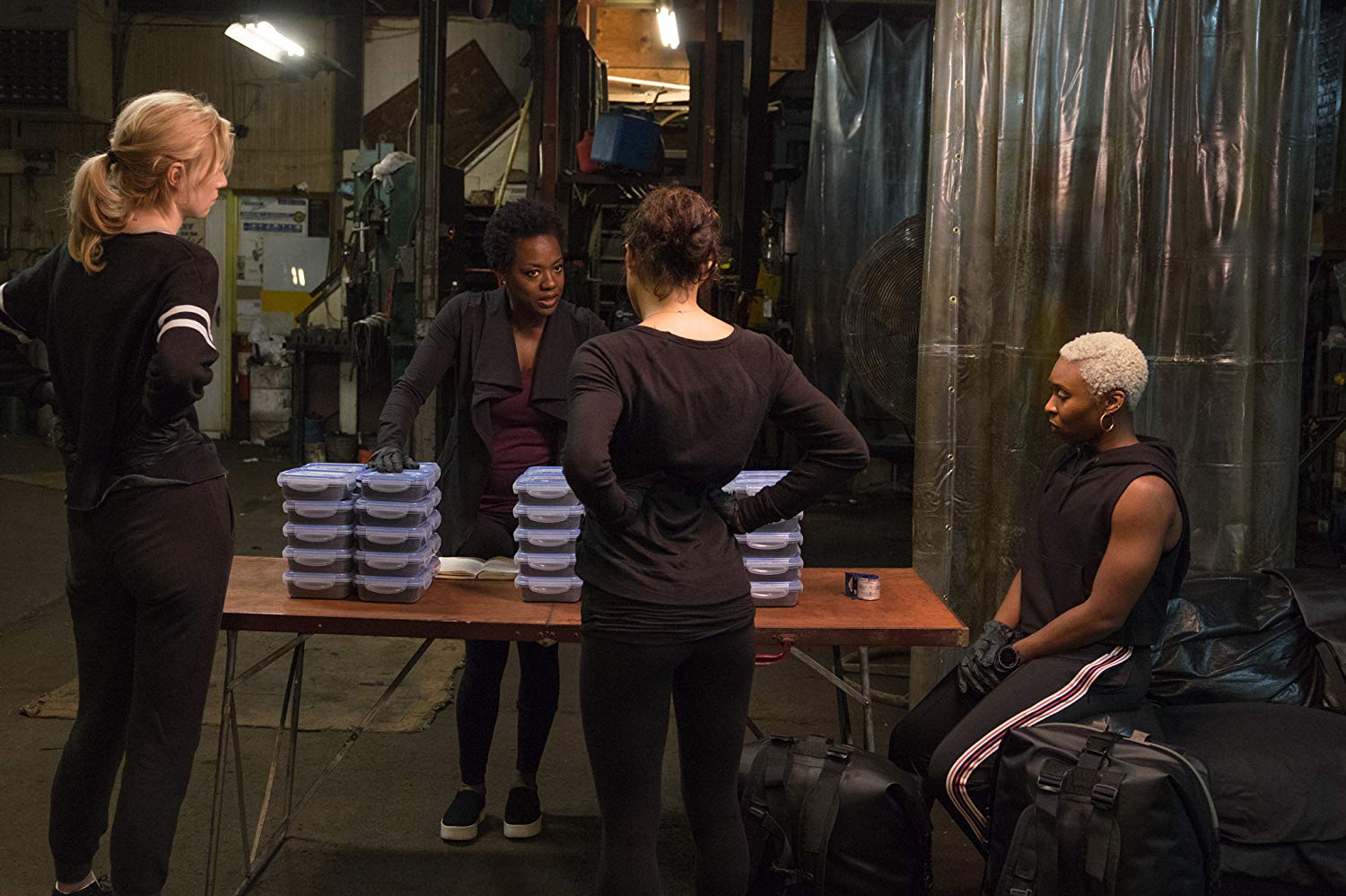 Photo Credits: IMDB
Top Photo: "Linda" (Michelle Rodriguez) and "Alice" (Elizabeth Debicki) discussing whether or not to take the job
Middle Photo: "Veronica" (Viola Davis)
Bottom Photo: Linda, Alice, Veronica, and "Belle" (Cynthia Erivo) preparing for the job.
Does Widows pass the Bechdel-Wallace test?
Yes! The four widows talk about a heist, and proving that these four women are more than capable of the job.