Co-writer Deborah Davis and (ahem) three-way stars Emma Stone, Rachel Weisz, and Olivia Coleman serve up a stylish tale of intrigue in the court of Queen Anne, played by Coleman. Both the humor and the power-grabs are brutal in this exceptional period drama. (GPG: 5/5)
Review by FF2 Contributor Giorgi Plys-Garzotto
Two cousins fight for a queen's affections in The Favourite, and the whole English court is shaken to the rafters! This film is a no-holds-barred slugfest between Sarah Churchill, Queen Anne's best friend since childhood, and Abigail Masham, a destitute noblewoman looking to find her way back to a comfortable life. The initially sweet Abigail quickly shows her sneaky side as she insinuates herself between Sarah and Anne to become the queen's new "favourite." These royal affairs are by far the best-written love triangle of 2018, elevated by transcendent performances from all three actresses!
As Abigail intrigues, Sarah has to deal with another theater of war as she deals with Parliament, acting as the immature and infirm Queen Anne's proxy in affairs of state. Her main political rival, Robert Harley, is played by Nicholas Hoult of Mad Max: Fury Road with a calculation that belies his comical foppishness (he is never seen without high heels, a full face of white makeup, and powdered wig). While the lives of thousands are at stake, they play power games involving smashed vases and more than a few utterances of the c-word, which viewers will remember is much less vulgar in England.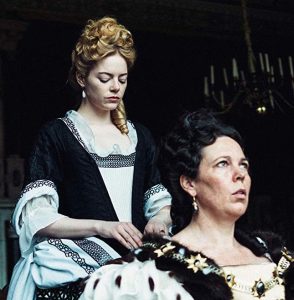 The court of Queen Anne is portrayed with historical accuracy but shot through a caustically modern lens; the result is a period piece with all of The Lobster's deadpanning absurdity. 18th century men's fashion is perfectly accurate on characters like Harley, but to our eyes it is patently absurd, highlighting the caprice of the royal court without changing a thing. Rather than Sofia Coppola's Marie Antoinette, which was scored with music from the present, The Favourite sticks to the facts, except for one scene at a ball where the dance moves become decidely non-period. Touches like this are more affecting for their rarity. Another is a wink to the audience when Abigail mentions in passing the decadent new delicacy she is about to try: something called a "pineapple."
All in all, The Favourite was so good that I saw it twice within the same 24-hour period. Like I literally saw it one night for this review, then made plans with a friend to see it again the very next night. The Favourite is a triumph; the ideal filmic alchemy is achieved in how it brings its writing, direction, and performance together. And for those of us in the LGBT community looking to see ourselves in film, Rachel Weisz in 17th century men's clothing is just about the best thing I've seen in a long time.
© Giorgi Plys-Garzotto FF2 Media (11/29/18)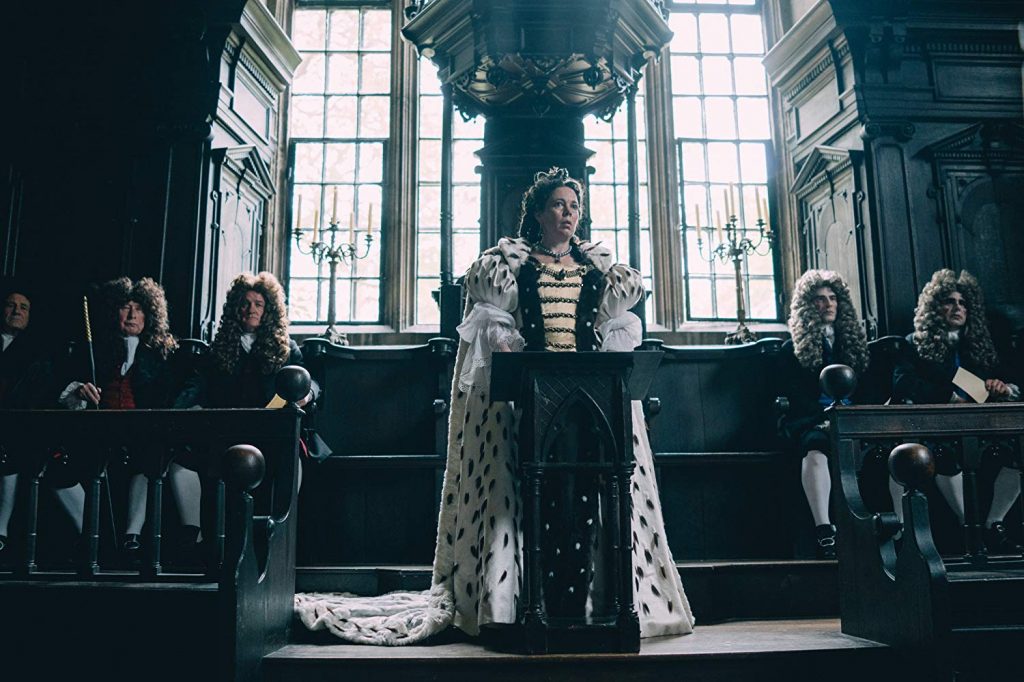 Featured Image: Emma Stone as Abigail.
Top Photo: Lady Marlborough, Queen Anne's closest confidante.
Middle Photo: Abigail seduces Queen Anne.
Bottom Picture: Queen Anne making a speech to her court.
Photo Credit: Element Pictures.
Q: Does The Favourite pass the Bechdel-Wallace test?
With flying colors! Come to think of it, if there were a reverse Bechdel-Wallace test for the male characters, The Favourite might not pass that!