In Alex O Eaton's directorial and writing debut, award winning Mountain Rest brings an aging actress and estranged daughter and granddaughter together to reconcile. (SYJ: 2.5/5)
Review by FF2 Media Intern Sophia Y. Jin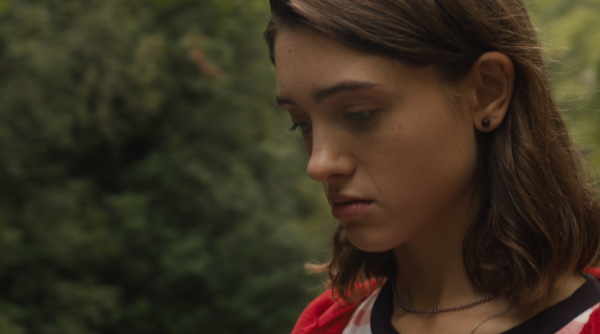 Spending years apart from each other, "Ethel" (Frances Conroy) calls her daughter "Frankie" (Kate Lyn Sheil) to come back home to a mountain town for the weekend to attend an extravagant party. When Frankie arrives with her own daughter "Clara" (Natalia Dyer), they find out that Ethel is sick with a brain tumor. Ethel meets her granddaughter Clara for the first time. "Bascolm"/"Bas" (Shawn Hatosy) is Ethel's carer as well as her much younger husband and who has taken on the responsibility of looking after Ethel after Frankie left the mountain town. Throughout the film, he is the one trying to mediate between everyone and their conflicts.
As Clara goes around the mountains to explore, she bumps into some young people who offer her beer and a joint. This is where she learns about her grandmother—someone who's a "legend" but also a "town whore." Even so, Clara continues to maintain and develop the relationship between her and her grandmother, who until recently she didn't realize existed. When she is taken to the waterfall by the other youths, she has a moment of panic, as though she is remember something traumatic. Snapping back to reality, she leaves and heads back home.
Throughout the film, you see the difficult mother-daughter relationship between Ethel and Frankie as well as between Frankie and Clara. It doesn't seem to matter whether they are estranged or living together, a mother-daughter relationship, like with any other, can be easily ruined. Due to Frankie and Clara's already strained relationship, Frankie's dislike towards her own mother Ethel seems to push Clara closer to Ethel. Clara is drawn to Ethel's past and eccentricity, which Frankie has struggled with her entire life. Clara's relationship with her mother worsens as Clara is drawn deeper into Ethel's fantasies and disillusionments.
Alex O Eaton's directorial and writing debut film Mountain Rest has a slow pace, which means it can be difficult at times to focus or follow the movie. Although it does manage to build tension, it doesn't result in anything. It isn't clear what the characters are trying to say, literally, which could be due to the imbalance in sound design. A lot of the background noises, such as crickets, were louder than the dialogue. This definitely made it more difficult to understand the meaning of the movie. Moreover, the moral of the story was a little difficult to grasp. The movie is underdeveloped, and could have more clarity in the writing. The film highlights familial importance, and Frances Conroy's character, a delusional sick old woman, points out a core moral—to rethink how people affect each other, in turn thinking about what a family is worth as a whole.
© Sophia Jin (12/20/18) FF2 Media
Photos: Kate Lyn Sheil and Frances Conroy Mountain Rest
Photo creds: IMDb
Q: Does Mountain Rest pass the Bechdel-Wallace test?
Yes!