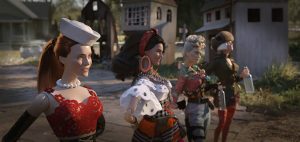 In Caroline Thompson's new screenplay Welcome to Marwen, Steve Carell stars in a story based on true events—a biographical film about how a man finds solace in making beautiful stories out of his dolls and photographs after a brutal attack. (SYJ: 4/5)
Review written by FF2 Media Intern Sophia Y. Jin
A brutal gang attack leaves a man almost incapable of writing his own name. In this emotional and harrowing tale, "Mark Hogancamp"/"Cap'n Hogie" (Steve Carell) suffers from PTSD, and is left in constant paranoia and fear. For a sense of safety, Mark carries his dolls around with him, and when triggered, Mark escapes from reality into his animated fictional world of Marwen as Cap'n Hogie. At the beginning of the film, Cap'n Hogie is in Belgium during World War II. His plane performs an emergency landing and he is stranded in a foreign field, shoeless, as an American. Upon passing a crashed Nazi car, he sees a pair of women's heels and puts them on. When confronted by a group of Nazis holding weapons, he is saved by the 'women of Marwen'.
Mark used to be an artist who drew illustrations, so his hands were his life line. Yet, the injuries he suffered during the beating caused him to completely lose the ability to hold a pen and draw. As a result, he turns to photography, and creates stories with his dolls set in a small town he created called "Marwen". All the figurines are inspired by real people in his life, for example, "Carlala" (Eliza Gonzalez) is one of the women of Marwen, but she is based on one of Mark's coworkers.

"Nicol" (Leslie Mann) is based on a new resident across the street, whom Mark instantly has feelings for. Even Nicol's possessive ex-boyfriend, "Kurt" (Neil Jackson), has a role in Marwen as a Nazi soldier after he frightens Mark with a German salute. "Roberta" (Merritt Wever) is based on Mark's friend who owns a hobby shop and provides Mark with his toys. She looks after Mark as much as she can, possibly in hopes of a romance. She also stresses the importance of Mark going to the trial against his attackers. The offenders used Mark's obsession with high heeled shoes against him, naming him 'queer', thus Mark's presence would prove that this was a hate crime.
Along with his attackers, Mark has demons that he fears. "Deja Thoris" (Diane Kruger) is a Belgian witch and major demon, the character that only exists in the fantasy of Marwen. She wants Mark all to herself, feeding him his medication and trying to kidnap him when he's in Marwen. Since no one else is able to see her wiles and powers, it is up to him to defeat and expel her from Marwen as well as his mind.
Caroline Thompson's screenplay creates an emotional recovery story that people resonate with. Welcome to Marwen isa story about a hate crime that should not have happened, but in the divisive and judgmental world that we live in, it did. All the actor performances were outstanding, in both the animated and the reality sections. The effects were compelling, and the differentiation between reality and fantasy was made clear through the effects too. The movie has a sad sympathetic feeling where the audience watches a man's life turned upside down after a gang attack. Welcome to Marwen was well written and well acted, and an enjoyable film to watch.
© Sophia Y. Jin (12/30/18) FF2 Media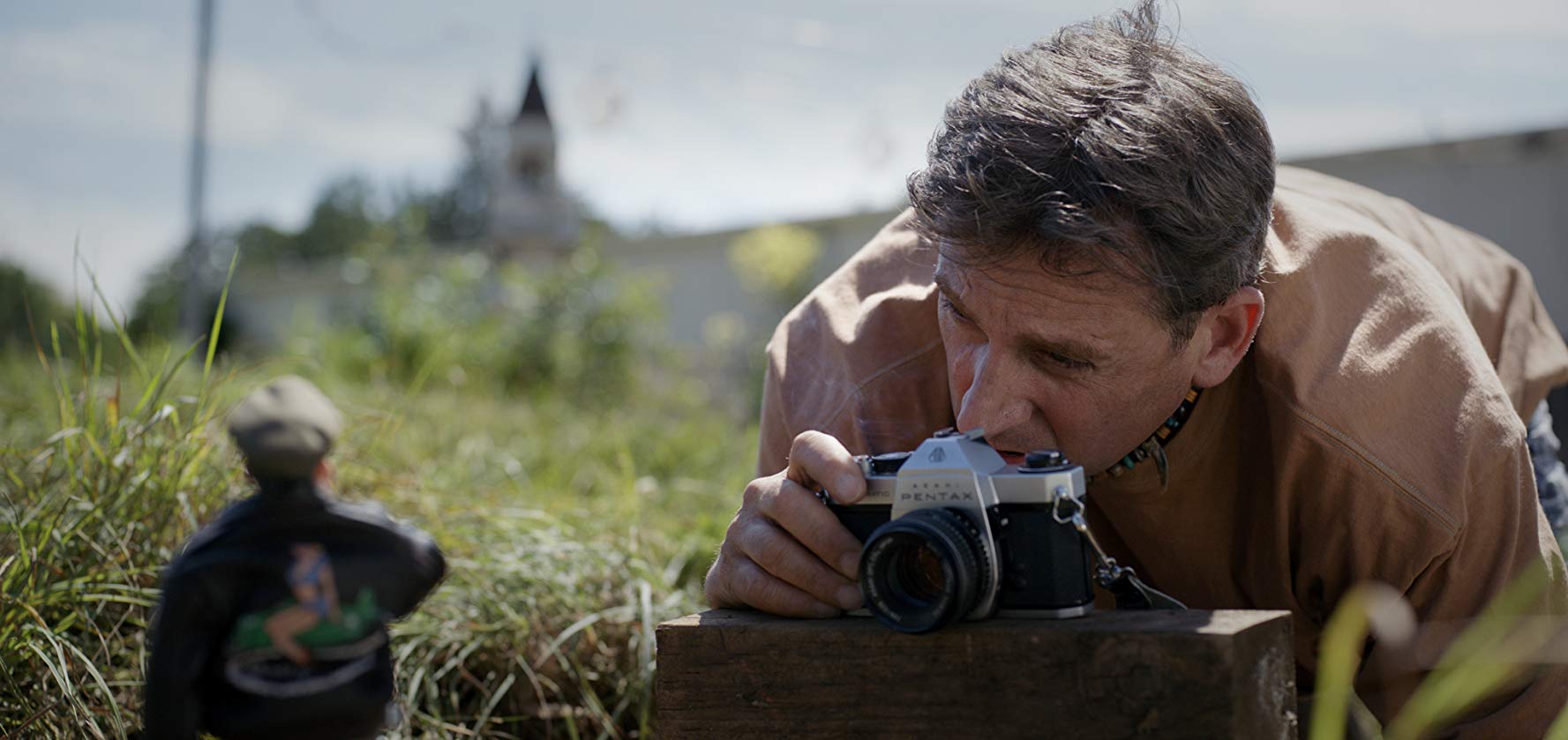 Photo Credits: Universal Pictures
Top photo: "Nicol" (Leslie Mann), "Carlala" (Eliza Gonzalez), "Roberta" (Merritt Wever) and "Anna" (Gwendoline Christie) as the 'Women of Marwen'
Middle photo: "Mark Hogancamp" (Steve Carell)
Bottom photo: Mark Hogancamp taking photographs of his fantasy world
Does Welcome to Marwen pass the Bechdel-Wallace Test?
Not really.
The only time there were women talking amongst each other were the animated women of Marwen, and they would talk about the Nazi soldiers or about Cap'n Hogie.