Writer Cathryn Michon's A Dog's Way Home is probably enjoyable for children, but it's definitely not one of those kid's movies (like those in Pixar canon) that people of all ages will like. The animals are cute, but the plot and characters are wooden in the extreme, and the film makes a bizarre attempt at political awareness that left me scratching my head. (GPG: 2/5).
Review by FF2 Contributor Giorgi Plys-Garzotto
A Dog's Way Home centers on a stray dog who is found by a boy named Lucas (Jonah Hauer-King), who names her Bella. Bella was originally raised by a family of stray cats, all of whom live in an abandoned building on a lot across from Lucas's house. Act One is mostly taken up by Lucas's defense of this lot against an evil developer who wants to oust the cats and build luxury housing. This developer, trying to get under Lucas's skin, gets Bella, a mutt, certified as having enough pitbull blood in her to be illegal in their city—Bella has to go live with Lucas's relatives or risk being captured by animal control. Unable to stand being away from Lucas, Bella escapes from these relatives and goes on a cross-country journey to find him.
Bella ends up meeting a lot of different people and animals on her journey, and each vignette is a fun little romp, but it's kind of bizarrely tied up at the end when Bella returns home. Lucas's mom is a veteran and Lucas works at the VA, so they are at the VA when the police ominously roll up to apprehend Bella. Lucas, his mom, and a bunch of the veterans who know Bella prepare to get into a standoff with the police, when the chief of police, who unlike the rest of the force in their town doesn't seem to be in the nefarious developer's pocket, comes to resolve the situation in Bella's favor. It's basically only by this guy's good graces that Bella gets to stay with Lucas, as he calls off the rest of the force and introduces a technicality whereby Bella gets to be the official dog of the VA and therefore not within the police force's jurisdiction.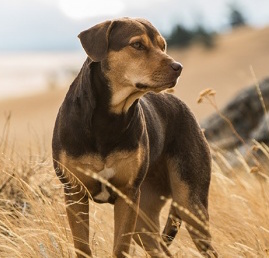 This raises a bunch of questions, the main one being why the developer would buy seemingly every individual police officer's loyalty but not the actual police chiefs?! A more abstract problem with the plot's resolution is that it basically implies that everyday people are dependent on enlightened authority figures to save them from predatory capitalists who have undermined traditional justice. Does A Dog's Way Home have any further answers for how people like Lucas can fix their broken system, or did it just introduce this whole plot to inject fake tension into the plot and give Bella a reason to have a bunch of cute adventures on the run?
One last, miscellaneous thing about A Dog's Way Home that I found borderline unbearable was the saccharine narration by Bella, who is voiced by Bryce Dallas Howard. Howard's voice-acting was in such a high vocal register that it felt like nails on a chalk board, and her little-girlish tone was irritating on its own without being accompanied by the uninspired script's actual words. Most of Bella's narration comes from the rapidly tired-out gimmick of Bella struggling to understand the way humans operate, ex: she doesn't understand why Lucas leaves the house for most of the day every day, so she remarks to us that she doesn't like it when he plays "go to work" with her instead of "fetch the stick."
All in all, A Dog's Way Home has its cute moments, including a cougar who Bella befriends in Yellowstone National Park who Bella refers to as "Big Kitten," but the plot's half-hearted politics and frankly terrible writing don't make it worth your while.
© Giorgi Plys-Garzotto FF2 Media (1/14/19)
Q: Does A Dog's Way Home pass the Bechdel-Wallace test?
No, though most of the scenes between Bella and other female animals in the movie don't really involve conversation.
Top Photo: Bella.
Middle Photo: Bella finds her way home.
Photo Credit: Columbia Pictures.