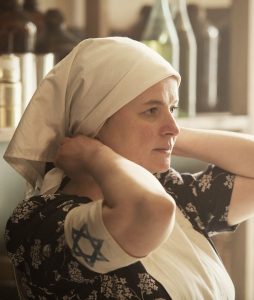 During WWII, Polish Jews were locked away and left to die in the infamous Warsaw Ghetto. Through the work of daring souls like Emanuel Ringelblum, Hersz Wasser, and Rachel Auerbach, their accounts of life and death were written down and preserved in the Oyneg Shabes Archive. Based on the book of the same name by historian Samuel Kassow,  Roberta Grossman's documentary Who Will Write Our History? chronicles the atrocities of the Holocaust while bringing to life the words of those whose lives it altered forever. (RMM: 5/5)
Review by FF2 Associate Roza M. Melkumyan
War is on the horizon in early 1930s Poland. In the predominantly Jewish section of Warsaw, whispers of doom spread like wildfire and many people flee the city. Through the narrated words (Joan Allen) of Rachel Auerbach's diary, we learn of Rachel's own attempt to leave Warsaw. But after hearing the entreaties of historian and social worker Emanuel Ringelblum, Rachel (played by Jowita Budnik) decides to stay and be a source of strength during the storm that will come.
As Jews from all over the city are rounded up and dumped into the now-official Ghetto, Polish officers take to its overpopulated streets. Video cameras in hand, they make sure to get close-ups of every poor, starving, and dirty looking Jew they find to feed their carefully-crafted rhetoric on the Jewish people; they are filthy, disease-ridden lowlifes. We quarantine them to protect you, the good Polish people. Propaganda films flash the words "dirt," "lice," and "typhus" across movie theater screens, subliminally teaching people to hate and fear.
If the Jewish people are dirty and starving, it's because of those very soldiers, that very system, that has kept them from their work places outside of the Ghetto and left them poor and homeless. Those who try to leave its walls for a potato or two are severely beaten or shot dead. Hunger rules the street. Hunger has forced people to sell their belongings to non-Jews for far less than what they're worth. Soon, Jews from the surrounding towns and areas are deposited into the Ghetto until there are more than 500,000 bodies packed into just one neighborhood.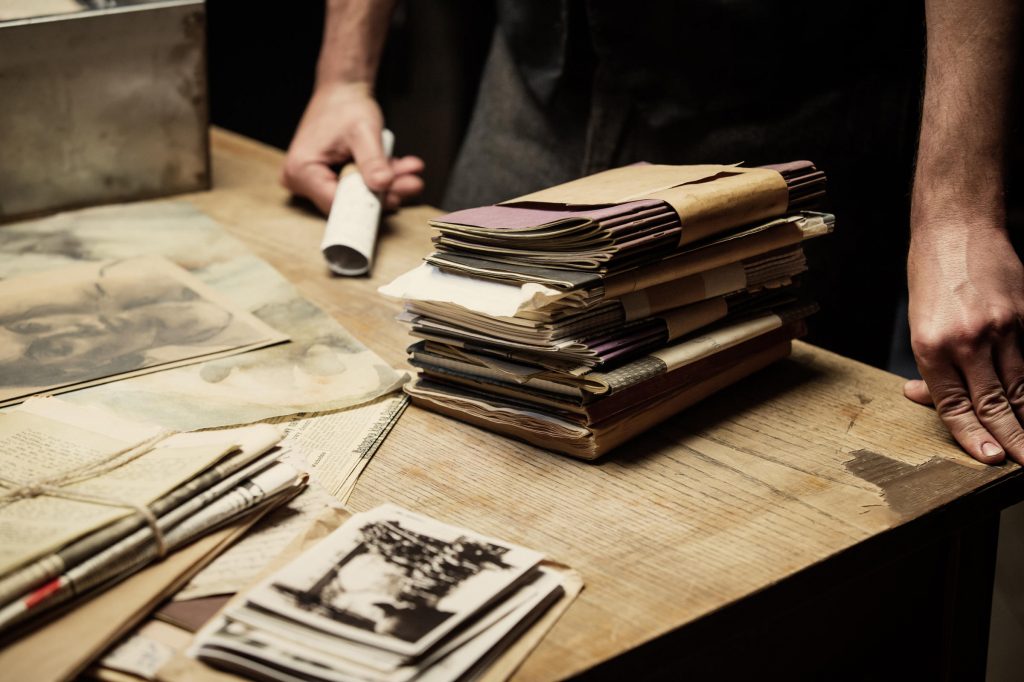 While Auerbach runs a soup kitchen for the hungry, Ringelblum (Piotr Glowacki, voiced by Adrien Brody) gathers a small group of writers, journalists, and other men to join him in creating the Oyneg Shabes Archive. They will dedicate themselves to encouraging Jews of all ages and classes to write about their experiences – hunger, hardship, life, and death – in the Ghetto. As well as contributing their own writings (director Roberta Grossman uses the diaries of Ringelblum, Auerbach, Hersz Wasser, and Abraham Lewin extensively in telling this story), the members will collect first-hand accounts as well as newspapers, propaganda posters, and other documents to tell their side of an historical rhetoric which seeks to erase them from this world.
Based on historian Samuel Kassow's book of the same name, Who Will Write Our History? found me feeling both heartbroken and uplifted. What I find impressive is that it doesn't feel like a documentary. With heavy commentary from historians and subject experts, such films often examine their historical topics with a retrospective lens bogged down by facts. Director and writer Roberta Grossman does utilize facts – footage from the Ghetto, propaganda posters, and photos. However, she weaves these with writings from the Oyneg Shabes archive itself. Grossman spins most of the film's story with the narrated texts of the people who lived and died in the Warsaw Ghetto. Outside commentary is used sparingly and the diaries and writings of people like Ringelblum, Auerbach, and Wasser are brought to life with beautifully rendered re-enactments of history. The documentary itself melts away and you are drawn into something that feels very real. A man's first-hand account takes you through a day in the Ghetto and you are made to feel the persistency with which hunger reminds one that he is hungry.
After watching this documentary, I am again reminded of just how horrible the Holocaust was. As children, we first learn about its history in textbooks. We are taught that it was perhaps the greatest human atrocity committed. We grow up reading books and watching films, both fictional and factual, about every terrible event, every camp, every perspective. We reach a point where we feel so well-acquainted with this history that we don't need to react to it anymore. We move on.
And then, a film like this comes out and we, I, feel the fear and terror and the tears come rushing back. I think of my own history, of my Armenian ancestors on my father's side who died for their race and religion. Not having received an education on the Armenian Genocide, I barely knew about it growing up. But after just one hour inside Yerevan's Armenian Genocide Memorial Museum, I felt my heart wrench. These might be moments in history that we are not proud of, that remind us too much of the atrocities that humans are capable of. But we have to know that they happened. What people suffered cannot go un-grieved. There is a particularly chilling scene in this film where Auerbach walks through the now-vacant Ghetto and steps around the various piles of abandoned belongings. Mattress and pillow feathers drift through the air like snow. As Auerbach grieves the pictures that no longer have owners, we too feel the unbearable weight of loneliness.
© Roza M. Melkumyan (1/19/19) FF2 Media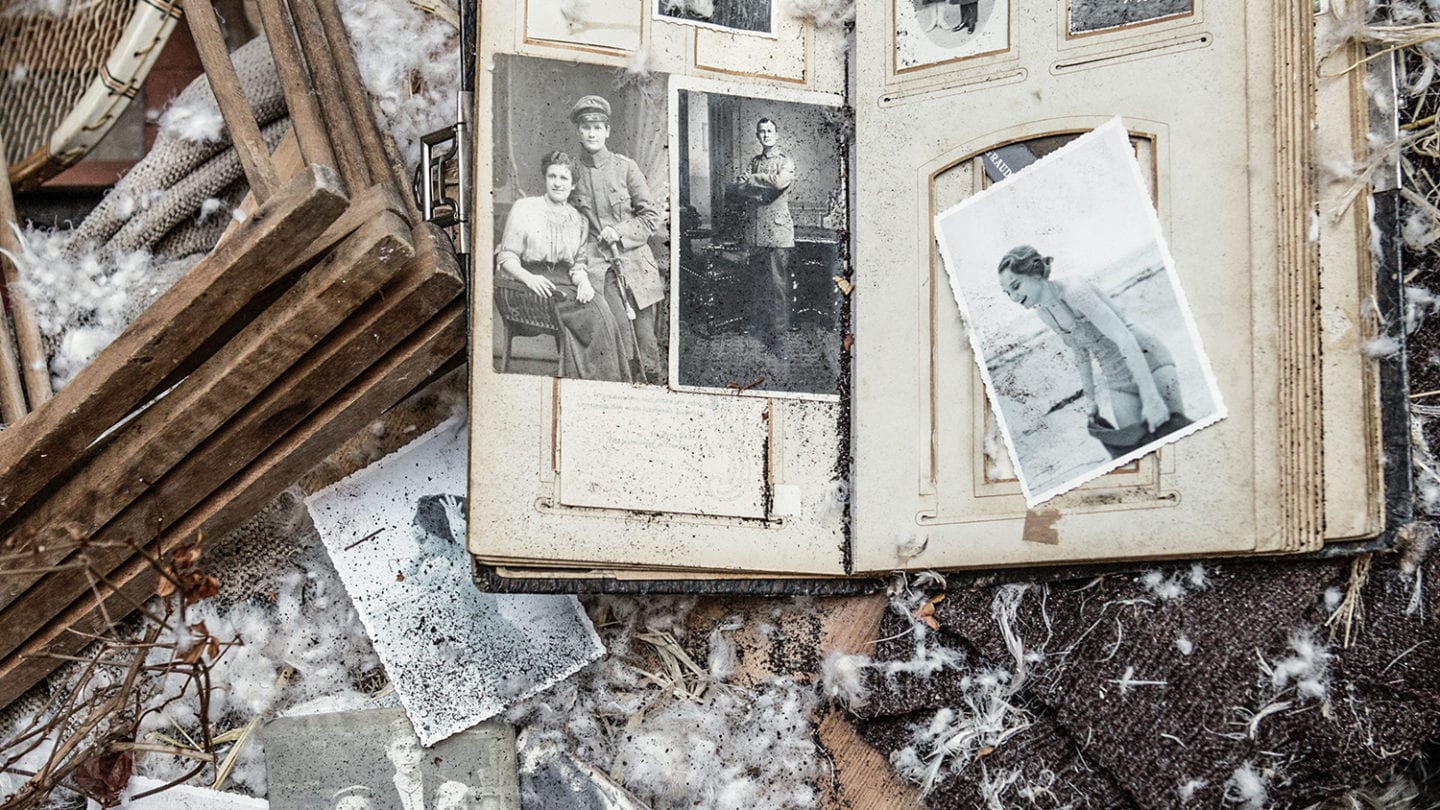 Featured Photo: Residents of the Warsaw Ghetto cut planks of wood.
Top Photo: Rachel prepares for another day at the soup kitchen.
Middle Photo: Written accounts of life in the Ghetto are added to the archive.
Bottom Photo: Abandoned memories of Ghetto residents are left to wither.
Photo Credits: Anna Wloch
Q: Does Who Will Write Our History? pass the Bechdel-Wallace Test?  
Yes. Rachel and the other women running the soup kitchen talk with both and women about their hardships, especially hunger, but also hope.