Manikarnika: The Queen of Jhansi (2019) follows the story of Rani Lakshmibai, a leader and warrior who fought against the British occupation of India in the Indian Rebellion of 1857. (4/5)
Review by FF2 Intern Anika Guttormson
Manikarnika: The Queen of Jhansi (2019) was co-directed by Krish Jagarlamudi and Kangana Ranaut. Ranaut's directorial debut takes place after Jagarlamudi decided to leave the film to shoot a NTR biopic, leaving his protagonist to step into the dual role of director and actress. This Rs 125 crore production (the equivalent of 17.6 million US dollars) would have been a huge feat for any first time director but Ranaut handled her new position with the conviction of a seasoned filmmaker and created a film that incredibly honors its muse.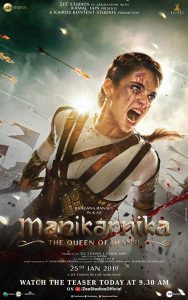 The film follows the story of  Maniakrna, later renamed Rani Lakshmibai (meaning Queen Lakshmiabi), who was the queen of Jhansi and a rebel who fought valiantly to end the British occupation of India in the Indian Rebellion of 1857. At the point of her inauguration Jhansi was one of the only remaining states in India that had not been infiltrated by British Raj. Manikarnika: The Queen of Jhansi takes liberties in following Manikarnika from her youth to her adulthood, opting to allow the audience an intimate look into the warriors life. The film establishes Manikarnika's incredible skill early on when she bests three men in a swordfight in front of her father. After her marriage to King Maharaja Gangadhar Rao (played by Jishu Sengupta) the new Queen storms her way onto a British base and demands that all of stolen livestock be returned to the people. The British leaders were appalled by her brazen nature but held their response until after Manikarnika had given birth to her son Damodar Rao, at which point they poisoned both the child and the King. From here, the tension between the people of Jhansi and the British Raj escalated until the British decided to attempt a military occupation of Jhansi.
Through the film we watch Manikarnika grow from a naive and playful young woman into a brave soldier and defender of her people's rights. Kangana Ranaut shines here as she masterfully captures Manikarnika's evolution. Her shift into a commanding officer is tangible and believable. She performs her warrior battle scenes with an anger and vehemence that forces the viewer onto the edge of their seats: totally engulfed in the action. These more fantastical elements of film are usually reserved for male heroes while their female counterparts are relegated to the background, but Ranaut frontlines the moments where women shine in battle. It serves as a thrilling twist on the warrior archetype that was incredible to watch.
On top of Ranaut's superb performance her directing also payed attention to many elements that male directors often leave out or gloss over. The most notable example is that the film prioritized love between the relationship of Manikarnika and her husband instead of basing their relationship solely on sex or a sense of duty. Due to the time given to flesh out the caring relationship between Manikarnika and King Maharaja Gangadhar Rao the trials that he faces and her subsequent reactions to them feel based in truth. When Manikarnika does endure pain she is given the space to grieve and grow in a way that American audiences are not used to seeing. It is common for American male directed films to overlook or undermine women's trauma, turning it into a spectacle, but Manikarnika: The Queen of Jhansi approaches these moments with understanding and compassion.   
Although the film honored the creative liberties of Ranaut's female perspective, Manikarnika: The Queen of Jhansi nevertheless sports a supporting cast that is dominated by men and sidelines some of the more important female characters. Mishti Chakraborty, who played the role of Kashi Bai, was specifically upset by the minimal development of the other female characters. She cites Ranaut's promise that there would be plenty of screen time alloted to the other women of the cast, saying "After watching the movie, there is no scope for other characters. So there was no need to make fake promises.1" This seems a harsh review for a film that is centered around a single heroine: however, there was certainly room to allow for some of the supporting women to be developed in greater detail. Another major weak spot of the film is that parts of the dialogue were too overt and unoriginal. The English soldiers in particular often speak so candidly about their plans that it's surprising when no one overhears them.
Despite these slight oversights Manikarnika: The Queen of Jhansi offers an insight into the Indian Rebellion of 1857 that pays homage to its source material while also taking necessary and genre-bending risks in its filmmaking. Kangana Ranaut shines as both actress and director in this film that highlights a female warrior and hero.
© Anika Guttormson (1/31/19) FF2 Media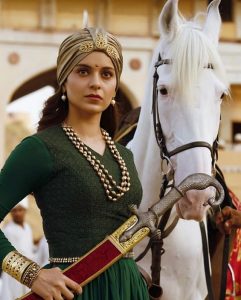 Photo credits: IMDB
Q: Does Manikarnika: The Queen of Jhansi pass the Bechdel-Wallace Test?
Yes.
Manikarnika has many conversations with her female friends where they discuss her life and her plans for the future.