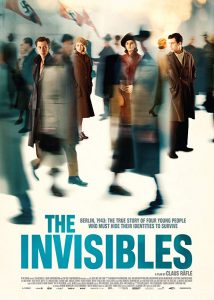 A documentary-drama hybrid, The Invisibles tells the realities of four young Jewish men and women attempting to live under the nose of the Gestapo in Nazi-occupied Berlin, Germany. Though packed with the intensity expected of a World War II documentary, it fails to go further in bringing the audience closer to the events and characters. (HRM 3/5)

Review by FF2 Intern Hannah Mayo
We are introduced to our four storytellers at the beginning of the war, as the Nazis are deporting masses of Jews from Berlin. In order to survive the genocide, each must avoid deportation and go into hiding by separating from their families and homes and jumping from one safe location to the next as their security is compromised. When Joseph Goebbels declares Berlin free of Jews in 1943, our four survivors are living undetected, right under the Gestapo's nose.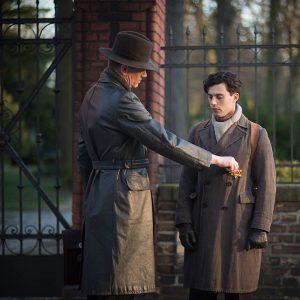 The live-action depictions of their stories are accompanied by 2009 interviews with each survivor as they talk through what life was life trying to survive in Berlin under the Nazis. These accounts bring a level of authenticity to the film as a whole that most narrative films about World War II lack. However, paired with the reenactments, the interviews only made me more aware of their exaggerated nature. This combination gives the whole film a generic History  Channel tone, trying so hard to be accurate it ends up losing authenticity.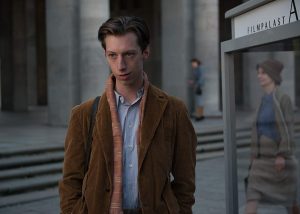 Almost all the aspects of the film are well-done. The cinematography in the reenactments looks great and the acting is great, though the music is subpar. What really makes the movie slightly hard to absorb is the amount of information that was packed into it. On one hand the four stories that are told convey a wider range of experience than if it were only one story, but on the other hand they are reduced down to fit into an hour and 50 minutes. Four times as many plot points means a quarter of the the detail for each story, leaving any smaller plot lines and characters underdeveloped. Much of the tension World War II films usually carry was also diffused since we know from the beginning that our storytellers survived. This left me feeling emotionally disconnected from what was happening on screen and overall dissatisfied.
Together, the stories make for a historically informative film, and their subject matter allows for emotional build. But the amount of narrative information that was packed into The Invisibles was simply too much to allow any deeper substance to be conveyed to the viewer. It is interesting on a factual level, but dissatisfying as a cinematic experience.
© Hannah Mayo (31 January 2019) FF2 Media
 Photo Credits: Peter Hartwig
Q: Does The Invisibles pass the Bechdel-Wallace Test?
Yes! Two of the main female characters Ruth and Ellen spoke to each other about wartime life, as did Hanni with the woman who ended up sheltering her.