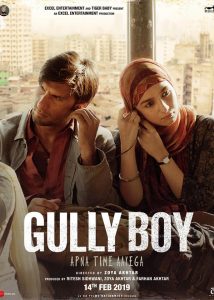 Gully Boy is a monumental and inspiring story about following your dreams in a world going against you. It follows street rappers trying to make it in Mumbai. (HRM: 4/5)
Review by FF2 Intern Hannah Mayo
"Murad" (Ranveer Singh) is a 22 year old boy living in the ghettos of Mumbai who has a passion for rap music, but is limited by the career expectations placed on him by his father. He is uninterested in his studies at school, and has been hiding his relationship with his childhood sweetheart "Safeena" (Alia Bhatt) from his parents for years. After being impressed by local rapper/DJ "MC Sher's" (Siddhant Chaturvedi) authentic rap performance at a university festival (as opposed to traditional, timid Indian rap music), he follows him on facebook and meets up with him at a rap battle. The two become fast friends and begin making music together, using Murad's talent for lyrics and Shad's ear for beats.
Murad's first song and music video is an instant hit and many people take notice, specifically "Sky" (Kalki Koechlin), a musician studying at Berkeley Music in America who is looking to record a track in India. She instantly connects with Murad and they begin working on his next track, but at the same time he struggles to study for his exams and maintain his relationship with Safeena. Street rapping becomes a tool that can free Murad from the constraints of his normal life, but he learns he must balance this passion with his long time relationships with Safeena, friends, and family.
When I first saw the length of this movie (153min) I had the normal reaction of thinking dear god this is gonna be a rough one. If a movie is gonna last any longer than 2 hours it better have a good reason, and Gully Boy certainly did! The story it tells, although simply about one man pursuing a passion, stretches much further into the political and social climate of the streets of Mumbai. It captures the zeitgeist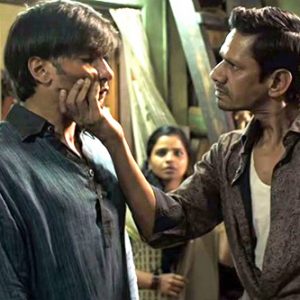 that allowed street rap to strive like it never had been able to before.
This film tells the stories and struggles of many different characters brought to life with excellent acting. Many of the main characters are known Bollywood stars, and even those who are not bring a vividness to their roles that fill out the monumental film. It doesn't feel like you're watching a movie, but that these are real people experiencing life.
Gully Boy is an incredibly inspiring story about following one's dreams despite everything going against you. It has a great momentum that, supported by the captivating writing, music, and acting, keeps the viewer engaged in every moment. It balances ideas of love, career, and larger social action for a monumental cinematic experience.
© Hannah Mayo (February 26 2019) FF2 Media
Photo Credits: Zee Music Company
Q: Does Gully Boy pass the Bechdel-Wallace Test?
Yes! Safeena and her mother have conversations about her career path and schooling.