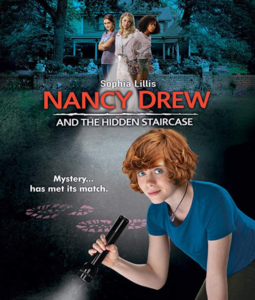 In Nancy Drew and the Hidden Staircase, directed by Katt Shea and written by Nina Fiore, Nancy Drew and her friends partake in a spooky summer adventure as they investigate a seemingly haunted mansion and expose a hidden conspiracy. (BV 3.5/5.0)
Review by Intern Beatrice Viri
Nancy Drew and the Hidden Staircase introduces the titular character Nancy (Sophia Lillis) as a fun-loving if somewhat mischievous tomboy prowling for entertainment after moving from the big city to an old-fashioned town. She and her best friends George (Zoe Renee) and Bess (Mackenzie Graham) decide to pull an elaborate prank on a notorious bully, Derek (Evan Castelloe), as revenge for embarrassing Bess on social media. The friends break into his gym and spray-paint his entire body blue, only to be caught in the act. Nancy is forced into half-hearted community service where she overhears Derek's preppy girlfriend Helen (Andrea Anders) and her great Aunt Flora (Linda Lavin) pleading with the sheriff (Jay Devon Johnson) to investigate Flora's house, the Twin Elms estate. At night, strange mishaps keep occurring, leading Flora to believe that her mansion is haunted.
Nancy, a meddler unable to sit still, is curious about Flora's predicament, and asks her father (Sam Trammell) if she can sleep over to see this 'haunting' for herself. Ever a skeptic, Nancy is shocked when the supernatural seems to come to life when she stays at Flora's home. Still, she remains unconvinced, standing by the notion that logic trumps above all. She spends her summer vacation trying to uncover the real mysteries of Twin Elms with George and Bess, while trying to get along with Helen… and discovers that maybe this ghostly ordeal goes deeper than she once thought.
The movie overall was entertaining and fun to watch. The thrills were somewhat predictable, and easy to pinpoint due to obvious foreshadowing, but the movie did a good job of keeping the viewer interested, and some moments, such as the plot twist, were surprisingly climactic. Some parts were cheesy due to unrealistic situations and exaggerated acting, but Nancy Drew and the Hidden Staircase is, after all, primarily a kid's movie. Watching movies like this as an adult makes these embellished scenes seem ridiculous, but we must remember who the intended audience is.
Nevertheless, most of the main characters were likable and charismatic, if somewhat cliche– Helen in particular had a good heart despite initially coming off as shallow. Though the "mean girl turned friend" trope is extremely predictable, it's a personal favorite so I enjoyed her arc immensely, and it's always heartwarming to see girls put aside their differences to become friends. One thing I would nitpick is that most of the main cast is still white, and there was a token sidekick black friend, but the casting director at least tried with diversifying crowds and side characters more than the older films.
The film was female-oriented and female-driven; all action was solved by girls working together and displayed close friendships, empowering and sending a wonderful message. I haven't read the original Nancy Drew books, but if you're looking for a nostalgia binge, Nancy Drew and the Hidden Staircase takes an old series and adds a modern flair with social media and iPhones. If you want to take a niece, younger sibling or daughter to see an uplifting film with positive female relationships, this movie is one to consider for your list.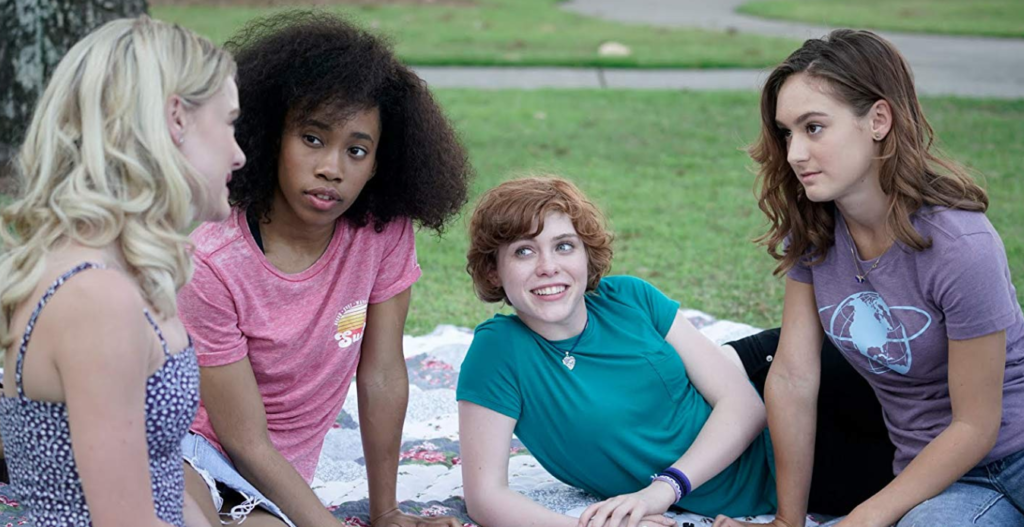 Commentary by Review Coach Giorgi Plys-Garzotto (GPG: 4/5)
I looooooooove Nancy Drew, from the original Carolyn Keene books to the gloriously cheesy Her Interactive computer games that ate up pre-dawn hours at so many of my middle school sleepovers. What can I say; stories about young girls who love learning and questioning authority always strike a chord with me! This
movie is no exception to the extant body of work that is the Nancy Drew empire, featuring Nancy's proficiency in everything from lock-picking to plumbing to anticapitalist direct action. After all, what else do you call foiling a land-grab plot by a local capitalist by personally protecting other people from being terrorized, even when the police have refused to step in?
Not only that, but in a choice not always taken by other Nancy media, this movie develops the characters of Nancy's friends Bess (a chem lab nerd who reveals in a throwaway line that she knows an awful lot about psychoactive substances) and George (who tells off the most popular girl in school right to her face, and exercises the Neville Longbottom virtue of standing up to her friends as well as her enemies). You'll find these two are just as well-developed as Nancy! Both of them are right by Nancy's side as she flouts the law to do what's right, and I was rooting for them the whole way.
I especially loved that this version of Nancy Drew took something about Nancy that I had always had in the back of my mind, and made it even more obvious: Nancy just isn't straight, you guys. The beginning montage that shows Nancy skateboarding around River Heights, and the abundance of plaid flannel, are more than enough to make it clear. However, I do wish it was actually brought out in the open instead of being left in a gray area where Republicans can pretend it doesn't exist (or the production company can if the Republicans call them to complain). Even as subtext though, it's good to finally have a somewhat-openly gay Nancy Drew in 2019!
Photos: Promotional poster for Nancy Drew and the Hidden Staircase (top), Sophia Lilis, Zoe Renee, Mackenzie Graham, and Andrea Anders (middle) as their roles in Nancy Drew and the Hidden Staircase, and Sophia Lilis as Nancy Drew (bottom right)
Photo Credits: Erika Doss
Does Nancy Drew and the Hidden Staircase pass the Bechdel-Wallace test?
With flying colors! Female characters run the show.