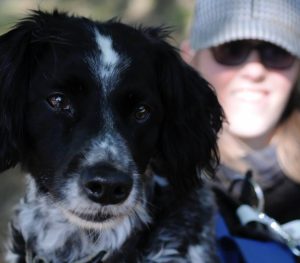 Directed by Heddy Honigmann, Buddy is more than just a movie about dogs; its emotional depth and respect for the subjects propels it miles above its peers. Buddy takes a long look at the special relationship that people have with their dogs. (KC: 4.5/5)
Review by FF2 Intern Katharine Cutler
Buddy is an emotionally intense movie. Not only does it have dogs in it, it has deep, loving relationships between these dogs and their owners, who happen to have disabilities. This film does something unique in this genre – it sees the dogs as the intelligent, helpful creatures they are, but it also can see that sometimes they just want to run around on the grass and be dogs.
The documentary follows a group of people who have dogs as service animals, with disabilities that range from blindness to autism to PTSD. Heddy Honigmann clearly has a deep respect for dogs, and you can easily see how much she loves them with this movie. She treats them as more than helpful tools for their owners and she treats the owners as more than their disabilities.
The film follows many people in the Netherlands who have dogs to assist them with their day-to-day lives. Each person has a differing disability and their dogs do different things for them, but we can see how clearly each person loves their dog because of the companionship they have. The dogs act as helpers and do things that their owners can't, from waking them during nightmares to guiding them down the street, to simply comforting their owner's anxiety in any situation.
Not every moment in this film is "cute," but Honigmann can see the value of the moments when dogs are just being dogs. They don't always show us their emotions and sometimes they just want to lie down. Honigmann interferes very little throughout the documentary, but when she does, we can see ourselves in her. She asks the questions we want to know the answers to and she looks for those moments full of expectation. These simple moments are captured and shown alongside the dogs spending all their energy and intelligence helping their owners survive. She puts these side-by-side to complete the picture of what it is to be a dog owner. She's not looking for a movie moment, but rather something more real.
The largest issue with the film comes with its pacing. While a few of the stories have naturally-progressing arcs, some feel more one-note: a description of the relationship between owner and dog. These are still meaningful, but they slow the pace of the film greatly. The short hour and 26 minute runtime saves the film. At the end, it feels right to conclude. I wish the stories that flowed had a bit more screen time over the others.
While watching Buddy, I felt like I was constantly crying. I rarely cry when watching movies, but Honigmann brought out my emotions because she knows exactly what it means to really love your dog. The documentary captures the feelings every person with a dog has, but somehow takes the extra step of capturing a dog's love for its owner. She captures every little moment and makes them as important as the big moments.
© Katharine Cutler (03/29/19) FF2 Media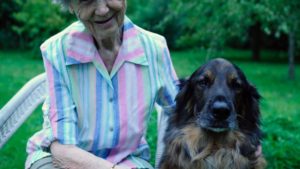 Top Photo: Kaiko and her owner, Erna.
Middle Photo: Kay and her owner, Annebel.
Bottom Photo: Makker and her owner, Edith.
Photo Credits: Stills from Buddy.
Q: Does Buddy pass the Bechdel-Wallace Test?
Yes.
The director speaks to her subjects, about half of whom are women.