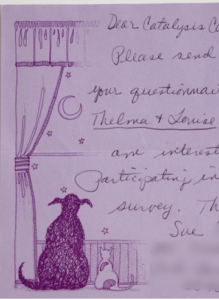 In Catching Sight of Thelma and Louise, fans and members of the original cast and crew share their experiences with the iconic film. Documentarian Jennifer Townsend enlists a group of fans to explore the film's funniest and most difficult moments, and to appreciate the cultural significance the film retains. (AEL: 4/5)
Review by FF2 Contributing Editor Amelie Lasker
When Jennifer Townsend first saw Thelma and Louise in theaters in 1991, she was compelled to keep engaging with it in some communal way. She sent out questionnaires to a group of academics, educators, writers and psychologists, gathering their impressions of the movie. Townsend received many enthusiastic responses, but she stored them away, knowing she would revisit this idea when it was the right time.
Recently, Townsend invited the questionnaire participants back to make a documentary about the continuing legacy of Thelma and Louise. Although some people didn't remember having filled it out decades ago, they were so charmed by the idea that they agreed to be part of it. Even some of the original creators of the film joined in, caught up in the energy of this new project.
For her documentary Catching Sight of Thelma and Louise, Townsend pulls together audience interviews, text from the original questionnaires, news clippings, and reviews that illustrate the film's impact when it was first released. The clips from the original film are particularly compelling in this context. Alongside the protagonists' most emotional moments, we hear audience members' stories of the frustrations and traumas that made these particular scenes of revenge and liberation so satisfying.
The interviewees tend to agree that these impressions haven't changed. They note the heartbreaking reality of scenes of sexual assault and of women demeaned by men. Christopher McDonald, who played Thelma's insufferable husband Darryl in the original film, observes that he knows people in marriages like that to this day. These viewers' common frustration is that these scenes and portrayals still resonate, that the catharsis of watching attackers pay for their crimes remains just as strong almost thirty years later.
One interviewee, June Dunn, a continuing education advisor, questions her original feeling of catharsis. She recalls that when she first saw the movie screened in 1991, the whole audience stood up and cheered at Louise's revenge on the rapist. Thinking about it now, Dunn says, she's not sure this is the kind of feminism she can be excited about. Why should Louise have to kill someone to feel safe and empowered? Why should anyone?
This documentary is great at raising these kinds of questions, at exploring the variation in their answers. For some people, the original movie provides healing that is highly personal. For others, it is heartwarming, funny, or tragic. To me, Thelma and Louise's feminist impact is most profound when the movie can just be what it's meant to be: not a political essay or an educational piece, but a great adventure story.
I haven't seen Thelma and Louise, but after Catching Sight, I can appreciate that story. I have a strong sense of what it would have been like to see these women holding guns and standing up for each other when the film was first released in 1991. The beauty of the original film's last moments is transformed in this new documentary context. Here, we see the clips within Townsend's community of moviegoers, through the lenses of their stories.
© Amelie E. Lasker (4/2/19) FF2 Media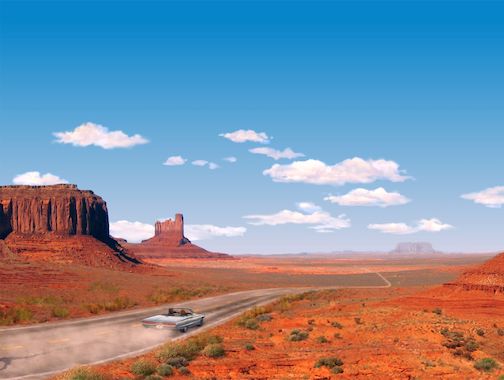 Top Photo: A letter from someone requesting to be part of Townsend's questionnaire.
Middle Photo: Robin DiAngelo, one of the original questionnaire participants.
Bottom Photo: Thelma and Louise on the open road.
Photo Credits: Far Beyond Film (PressKit)
Q: Does Catching Sight of Thelma and Louise pass the Bechdel-Wallace Test?
Definitely!
Most of the interviewees are women, talking with the female filmmaker off-camera. Scenes from the original film feature prominently, and Thelma and Louise share conversations about their plans and their futures.