Written by Emelie Mahdavian and directed and recorded by the film's subjects themselves, Midnight Traveler is a beautiful documentary about a family who must leave their home in Afghanistan to flee the Taliban. They film the whole journey on their smartphones, creating an incredibly intimate and honest portrayal of life for refugees. (JRL: 4.5/5) 
Review by FF2 Intern Julia Lasker
Midnight Traveler is a documentary about Hassan Fazili, a filmmaker from Afghanistan who must take his family and flee his home because he's being sought out by the Taliban. Without the possibility of a concrete plan, the family embarks on an incredibly long and harrowing journey to safety, from Tajikistan to Hungary. Timestamps and locations written in the corner of the screen are all that distinguish one dilapidated and cramped temporary living space from the next. Sometimes, the family travels the bumpy road in a car, but other times they must walk astonishingly long distances (especially for the young Fazili girls), wading through shrubbery and running when they feel they're in danger. 
The film covers a span of over three years, the amount of time it took for the Fazilis to find somewhere safe to live. As time progresses, the sheer exhaustion and frustration of the experience begins to overtake the family. They begin to wonder if they'll ever find a home and return to the happy family life they had before their lives were upended. 
Hassan, whose filmmaking is what got him into trouble in the first place, rebels by creating this documentary, which is his escape from those who oppress him. Hassan and his wife film everything on their cell phones, allowing for a charmingly intimate look at the family. It's a bit like a family vlog, but with much more somber and serious undertones. Still, there is plenty of adorable footage of the girls; my favorite is one of Nargis, who sings along to pop music while dancing around the room. There's footage of family shoe shopping, of them playing in the snow, of an innocent quarrel between Hassan and Fatima: moments that really emphasize that this is just a regular family placed in horrendous circumstances. As the girls grow older, they begin taking their own footage, showing their perspective on the journey from adorably low angles with cute, high-pitched commentary. The up-close and personal feeling that comes with this is powerful; I felt the deepest empathy for them. In our modern political climate, where the question of refugees is contentious, Midnight Traveler delivers a strong argument in favor of the refugees: they are just people, with families whom they love, trying to survive but unable to do so without the help of others. 
There are drawbacks to the first-person style of narrative. Exposition is only given in short bursts, usually when Hassan has a strong opinion on it. Whenever Hassan or Fatima did explain what was happening, I was fascinated (and horrified) by it, which leads me to think more consistent exposition throughout would've really driven the film's point home. On the other hand, there is something so moving about being thrown right into the chaos and feeling just as confused and lost as the people behind the camera. 
Midnight Traveler manages to be both extremely charming and deeply upsetting, full of laughter and full of tears (on everyone's part). But most importantly it is a rebellion, of Hassan against the Taliban, and of all refugees who've been dehumanized, separated from each other and driven to absolute misery by those who aren't empathetic enough to help them.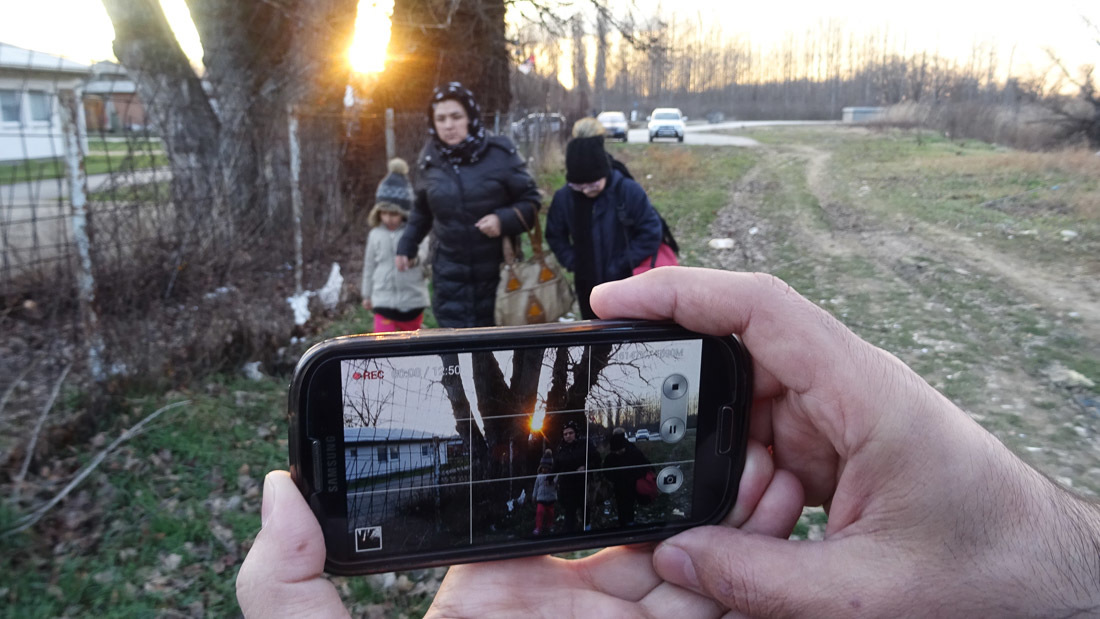 Q: Does 'Midnight Traveller' pass the Bechdel-Wallace test?
A: Aside from the fact that Hassan is present in every scene because he's the one filming, I say the film does pass because there are many scenes that focus just on the girls.
Photo by Lutfallah Bakhtary, Courtesy of Sundance Institute.
© Julia Lasker (9/27/19) FF2 Media