Official selection at Berlin, Sundance and Toronto International Film Festivals, feature documentary Anthropocene: The Human Epoch examines the massive effect that humans have had on Planet Earth. A 10-year journey with international researchers and scientists, filmmakers Jennifer Baichwal, Nicholas de Pencier and Edward Burtynsky uncover the relevant, revolutionary scope of man's footprint. (BKP: 4.5/5)
Review by Vice President and Managing Editor Brigid K. Presecky
Anthropocene: The Human Epoch is like the 87-minute version of Disney Parks' Soarin' – which is basically how long you wait in line, anyway. Narrated by Alicia Vikander, the documentary journeys through the expansive globe; a mix of art and education as viewers learn about how the Holocene Epoch gave way to the Anthropocene Epoch that scientists think occurred during the Mid-20th Century. If that sentence does not make complete sense to you, see below: 
Anthropocene (An·thro·po·cene/ˈanTHrəpəˌsēn/ adjective): relating to or denoting the current geological age.
Epoch (ep·och /ˈepək/ noun): a period of time in history or a person's life, typically one marked by notable events or particular characteristics.
The third film in a documentary trilogy (the first two being Manufactured Landscapes in 2006 and Watermark in 2013) this bigger-and-better view of the planet takes place on six of seven continents in 20 countries and 43 different locations. "The film required a global perspective to drive home the fact that we humans, who have really only been up and running in modern civilization for about 10 thousand years, now completely dominate a planet that has been around for 4.5 billion," Baichwal said in a statement.
The sheer amount of landscape the filmmakers cover is what sets Anthropocene apart. Filmed over three years with 29 cameras, the directors captured 202 hours and 57 minutes of material.  The soothing, slow-moving drone shots ease you into a tranquility – and uneasiness – all from vantage points viewers only occasionally find themselves. Like on a plane ride after you take off but before you're immersed in clouds? That in-between is the essence of the documentary.
At times, the pacing comes to a point of complete tranquility – one that takes the occasional loud noise of a musical number or a church being demolished to snap you back into a state of alert consciousness. But the REM-like state is not necessarily a negative; it's what makes it beautiful. Whether it's floating through forests or panning across wildflowers, Baichwal, Pencier and Burtynsky capture the awe-inspiring beauty of the planet we inhabit – one that we are not appreciating. 
Anthropocene: The Human Epoch captures not only the beauty of land and sea, but the disheartening ugliness of man-made structures destroying them. The vibrant colors of a thriving coral reef juxtaposed to the refineries, toxins, pollutants that contribute to global warming is gut-wrenching. It's a reminder that in this era of climate change crisis, this is more relevant, more necessary than ever before. 
© Brigid K. Presecky (9/26/19) FF2 Media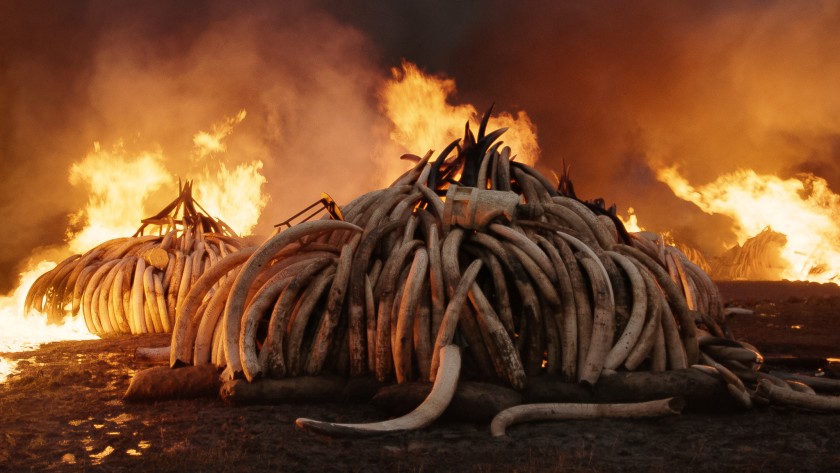 Photo Credits: © 2018 Anthropocene Films Inc.
Q: Does Anthropocene: The Human Epoch pass the Bechdel-Wallace test?
No.