With screenplay by Pamela Pettler and Matt Lieberman and story co-written by Erica Rivinoja and Conrad Vernon, the animated revival of The Addams Family is perfect for celebrating the fun and light side of Halloween spook (any time of year). In this rendition, a town has popped up just down the hill from where the Addamses live. In this little suburb, residents are proud of their sameness, and they get a shock when the Addams family come to visit. With a muddled sense of humor, the movie feels generally frenetic, but ultimately tells a successfully sweet story of accepting our differences. (AEL: 3.5/5)
Review by FF2 Contributing Editor Amelie Lasker
In a flashback origin story, the ghoulish Addams couple, Gomez (voiced by Oscar Isaac) and Morticia (Charlize Theron), decide to make their home in an abandoned asylum on a stormy cliff. For years, they are happy, enjoying the gaudy atmosphere and the company of their servants, a zombie Lurch (Conrad Vernon) and a disembodied hand called "Thing." They've even developed a personal relationship with the house itself, which is very haunted.
Wednesday (Chloë Grace Moretz) and Pugsley (Finn Wolfhard) are born, and begin to take up their own kooky interpretations of the Addams tradition, playing with magical animals and sentient trees and tormenting each other in grotesque ways. As they have grown older, however, the children are starting to diverge from their roots. Wednesday is tired of living inside the Addams mansion's gates, and Pugsley feels inadequate at following family tradition, pressured by his father to perform a very difficult sword dance for his "Mazurka" (a coming-of-age ceremony that resembles a bar mitzvah).
Down the hill, a bright town called "Assimilation" has been built, and flashy real estate agent Margaux (Allison Janney) has taken up the mission of selling the rest of the houses as quickly as possible. At first, the Addamses are thrilled about their new neighbors, but they quickly find that the neighbors are scared of them. Margaux is disgusted with the Addamses, and determined to make them fit in so as not to disrupt her marketing plans.
I did some research on the Addams Family canon, since I felt like my exposure to it had been patchy. The characters originated in comics created by Charles Addams in 1938. The cartoons were one-panel, and highlighted the irreverent, contrary quality of a family who delighted in everything morbid. This new animated film feels like an extension of the characters' cartoon roots: the gags are self-contained, often violent, and rely heavily on the ironic effect of the Addamses' macabre tastes ("I'm so disappointed to see you," says Morticia, when she greets extended family).
The cleverness of the cartoons doesn't carry so well to this medium, and the zany animated rendition of these gags is clunky and frenetic. Though the movie is clearly meant for children, many of the spooky visions and instances of violent physical humor feel seriously frightening. The calmer jokes feel aimed at adults, but tend to be drowned out by the high energy of a pace clearly set for children. The effect isn't unentertaining, but it's difficult to settle into the role of an audience member when it feels like the movie isn't serving any particular audience well.
The underlying plot is the most successful element of these characters' adaptation for an animated children's movie. The Addamses are especially sympathetic as a disruptive, unsavory presence in a uniform town. At school, Wednesday meets Parker (Elsie Fisher), the daughter of the interior designer, who also feels stifled by the insular culture of her family. The two of them appreciate each other even though they are completely different, and eventually lead the way as their families and the town move toward acceptance, too. The wisdom comes from the children, and the story that emerges feels pure and sweet.
© Amelie Lasker (10/17/19) FF2 Media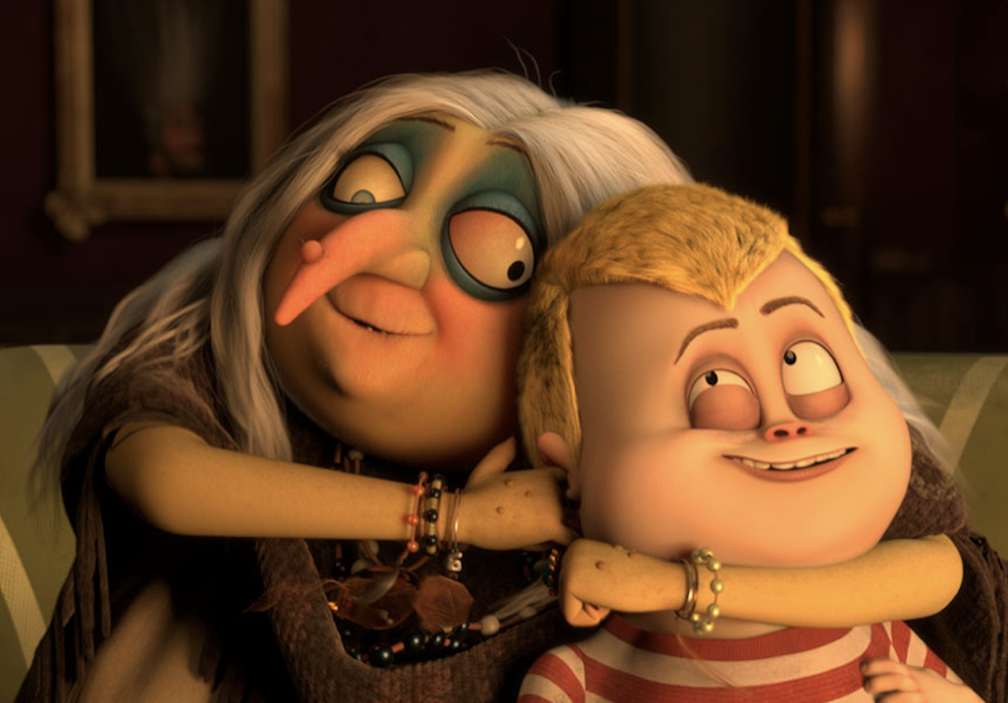 Top Photo: Morticia (voiced by Charlize Theron) and Gomez (Oscar Isaac)
Middle Photo: Pugsley (Finn Wolfhard)
Bottom Photo: Grandma Frump (Catherine O'Hara)
Photo Credits: United States Releasing
Q: Does The Addams Family pass the Bechdel-Wallace Test?
Yes!
This film is partly about mothers and daughters: we see Morticia and Wednesday, and Margaux and Parker, talking about growing up. In some of my favorite scenes, we see Wednesday and Parker plotting shenanigans.