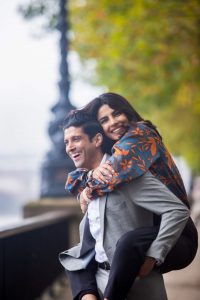 Director Shonali Bose delves into a subject personal to her as well as to the real-life subjects of her film with The Sky Is Pink. However, the issues of class and of reproductive rights rear their heads in the background of this brightly colored and upbeat film, making the experience a bit less enjoyable for critical viewers. (GPG: 3/5).
Review by Contributing Editor Giorgi Plys-Garzotto
If you've ever seen The Fault In Our Stars, then The Sky Is Pink will probably feel very familiar to you. This isn't to say that The Sky Is Pink isn't its own brand of the same genre, using flashy Bollywood set design and the larger than life world of its characters to works sentimental magic all its own. I also don't mean to say that The Sky Is Pink is just a cheesy tearjerker–though there are some moments in this movie that could fit that description. Instead, I mean this comparison in the best possible way; this film might not be "high art" or a "triumph of cinema," but it's a fun time with likable people.
Anyone looking for a sweet and comedic family film will find what they're looking for in The Sky Is Pink, though there is also a high level of tragedy in this movie as well. Aisha Chaudhary, the main character and narrator of the film, was diagnosed with SCID when she was born. It makes her likely to have a short life plagued by illness, but her parents, who she affectionately calls "Moose" and "Panda," are determined to do everything they can for her. They move from India to London to get her the best care possible and raise over 100,000 pounds for her treatment by fundraising on the radio. Why developed countries fail their citizens to the degree that they have to beg each other for money to treat their sick children is another story.
In many ways, this story is more about Moose and Panda than it is about Aisha. The couple, played by the resplendent Priyanka Chopra Jonas and Farhan Aktar, go through all the typical struggles of marriage and then some as they fight for their daughter's life, and Aisha tells the story of their courtship in flashbacks to make us like them even more. I genuinely felt for both them and the other characters, especially in scenes like the one where Aisha's brother, nicknamed "Giraffe," reassures her that they'll be together in their next reincarnations, or when Moose begins to cry during a family rendition of "Silent Night" before Panda abruptly switches them to "Jingle Bells."
There was just an issue or two about the politics of this film that make it a bit harder to watch if you're thinking about it on more levels than just the simple family story. For one thing, Moose and Panda raised 100,000 pounds on the radio to help Aisha get her chemotherapy and it's made out as though money is going to be a huge issue for them for Aisha's entire life, but then Panda gets a new job and the whole problem goes away. They suddenly become super-rich and Aisha is able to have all the treatment she needs; they even take her on vacation to the Bahamas to take care of her mental health! While the story is based on a real family's struggles with SCID, it was still less than believable for me as a viewer and kind of shorted the public on an all-too-real way for them to connect to this family.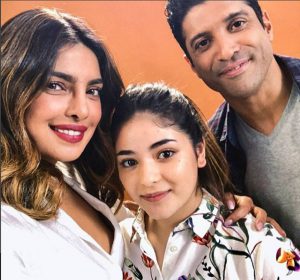 Another issue comes from the brief discussion Moose and Panda have over whether or not they should have Aisha at all. When Moose tells Panda she is pregnant, she tells him that she can't have an abortion because she's recently become a Christian. Of course, I don't think parents should abort their children just because those children might have disabilities or illnesses; children with disabilities or genetic conditions are just as valuable as others. After all, while eugenics against people with genetic disorders like SCID is nightmarish, the issue of medical debt in the West is a huge one, and it would be hard to blame parents in dire financial straits for choosing to care for the children they already had rather than carrying medical debt with the for the rest of their lives.
I could expand the above paragraph above into a full essay about how lack of humane medical care forces people into dystopian choices (such as whether to abort their children due to their more demanding health needs or make it harder to care for their whole family due to medical debts). Suffice to say that this debate doesn't even get a sentence in The Sky Is Pink. The film makes Moose's point on abortion into a statement that doesn't just apply to this particular section of the abortion debate; what she specifically says is that she could never abort a child. It was hard for me as a feminist to avoid being disturbed about the anti-choice message this movie was sending, even considering how cute the two hours after it were at many points.
That said, if you can watch a movie like Juno, you can probably make it through this section of The Sky Is Pink to the more fun and moving parts. I for one was not sorry I had seen it, and did not leave the theater wishing I had walked out in protest over abortion rights. But as a part of the film that is glossed over within a minute or two, that needed to be put out there on the table before I made my full recommendation to you to see this film.
© Giorgi Plys-Garzotto (FF2 Media 10/15/19)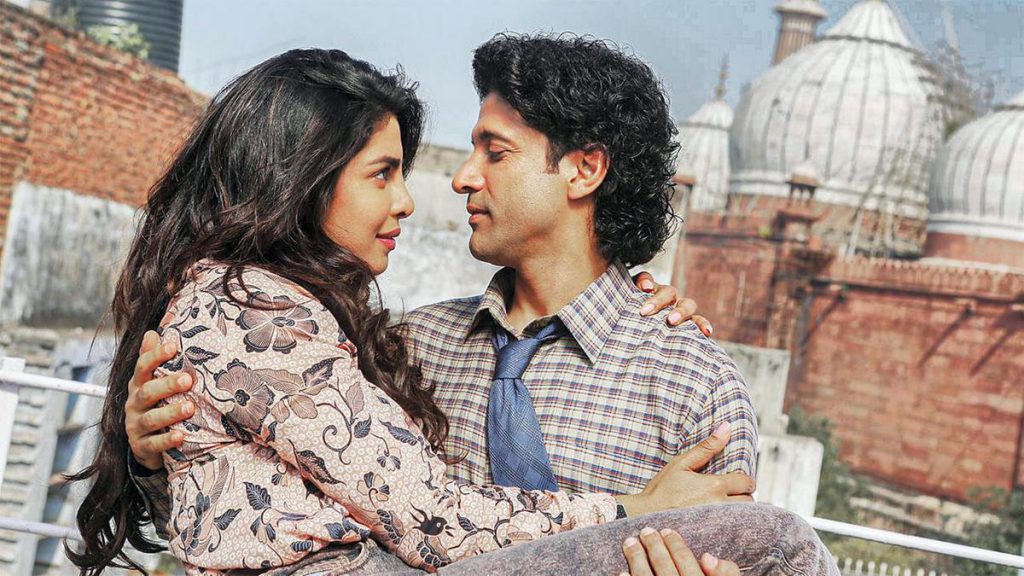 Does The Sky Is Pink pass the Bechdel-Wallace test?
In addition to the story being told by a female voice, there is also plenty of interactions between Priyanka Chopra's "Moose" and Aisha's living self that the film passes the Bechdel-Wallace test.
Photo Credit: Ivanhoe Pictures
Top Photo: Moose and Panda during Aisha's adolescence.
Middle Photo: Moose, Panda, and Aisha all together.
Bottom Photo: Moose and Panda during their courtship.