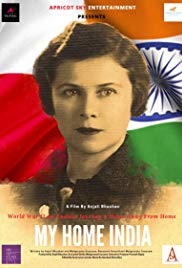 Written by Malgorzata Czausow and Anjali Bhushan and directed by Bhushan, My Home India is a documentary about a settlement for Polish refugees in India. Filled with joyous archival footage and interviews of Polish people who were saved by this settlement, My Home India is a heartwarming account of the kindness that can be extended to those in need, regardless of who they are or where they come from (JRL: 3.5/5). 
Review by FF2 Media Intern Julia Lasker 
In the midst of World War II, Poland had a refugee crisis. Heroically, India opened its doors to thousands of the refugees, bringing relief to the issue. My Home India tells the story of one such settlement which, built in Valivade, Maharashtra, became home to over 10,000 Polish refugees. The settlement was something of a utopia for its inhabitants; throughout the film are interviews of people who lived there, who, now in their old age, recall memories of Valivade fondly. One man describes the place as "Heaven", and another as a "home away from home". In a touching moment, some of the prior refugees return to India and are brought back to a place of peace and happiness that they experienced in the settlement. The interviews are interspersed with archival footage from the actual settlement, sourced from the personal collection of Dariusz Sobiczewski. 
My Home India also spotlights the leader of the whole endeavor, Kira
Banasinska, who convinced the Maharaja of Kolhapur to donate land on which to build the settlement, and spearheaded its construction. She also dedicated herself to making Valivade a happy, safe, and productive environment for the refugees.  She is truly a hero for the Polish people who came to Valivade, and the film does a wonderful job of paying tribute to her. 
Only spanning 45 minutes and jam-packed with archival footage, My Home India feels more like an episode on the History Channel than a full documentary. The footage that accompanies the interviews is informative and makes sense with the scope of the film, but artistic cinematography doesn't seem to be a priority here. So, though the archival footage is intriguing, the doc is not overall all that visually captivating. 
At the same time, cinematography is not a priority because, I think, spreading the information and the doc's message takes precedence over it. There is no fluff in this film (which is, again, a shocking 45 minutes in length): it shows India's heroic efforts to alleviate Poland's exploding refugee crisis, specifically that of Kira Banasinska, and nothing more or less. If that's all that it set out to do, it does get the job done. 
Despite its brevity, My Home India has a beautiful sentiment: in a world that can be quite cruel, we can put our differences aside and help each other out. This is a film of love and of humanity, of what we are willing to do for each other (which, though you don't expect it, actually turns out to be a lot), and of the joy and the gratification that comes with leaning on one another in times of need. 
Commentary by Review Coach Giorgi Plys-Garzotto
I agree with Julia that this felt more like an episode of TV than a movie. The whole production had a distinctly History Channel vibe, which isn't altogether a bad thing. I was unclear on what kind of resources the production had to work with, but the sense I got was that they mainly got footage of the refugee children returning to India after being shipped to England after the war. The rest was filled in with archival footage and interviews. In general, the production values for this film are not great, though it definitely makes up for its production values with the subject matter.
Kira Banasinska seems to have been quite the lady from this film's perspective! I had never heard of her before seeing this film, and the introduction made me glad that I had chosen to come see it. I will definitely be seeking out a book about Banasinska in the future to find out more about this forceful and tenacious woman. In general though, I wished I had found out more about Kira, since all they really had were some eyewitness accounts and some pictures. Since Banasinska has passed, that is all that must have been available, but there was something lacking in the film that did not bring her to life the way she might have wanted.
Overall, this film has a great message about a great subject. However, it seems like whoever funded this really should have given the filmmakers more money to execute their vision. The low budget on this documentary makes the interesting subject matter less able to shine on-screen.
Q: Does My Home India pass the Bechdel-Wallace Test? 
A: Indeed!
© Julia Lasker (11/13/19) FF2 Media