Co-written by Emma Thompson and Bryony Kimmings and directed by Paul Feig, Last Christmas is a hodgepodge of a romantic dramedy with its big twist given away in its marketing campaign. Despite its wildly unnecessary subplots and disjointed tone, the talented and overqualified Emilia Clarke shines brightly as the Christmas lights surrounding her. (BKP: 3.5/5)
Review by Vice President and Managing Editor Brigid K. Presecky
Alongside Crazy Rich Asians stars Henry Golding and Michelle Clunie, Game of Thrones leading lady Emilia Clarke takes a comedic turn in this holiday dramedy from Thompson, Kimmings and Feig. When we meet 26-year-old Kate, she's floundering in adulthood – hooking up with strangers, sleeping on couches and not showing up to work at a London Christmas shop. 
If that isn't enough to kill her jolly holiday spirit, Kate has a sister who guilt trips her, friends who are impatient with her, and an immigrant mother (played by Thompson) from the former Yugoslavia who smothers her. It's a lot of information and exposition to give our protagonist, who skulks around the city with smudged mascara, wet hair and a rolling suitcase. The point is hammered home: Kate is lost and she's going nowhere, fast. Thankfully, a handsome stranger (Golding) rolls into her life via bicycle and tells her to "look up," – again and again, like how John Wayne would insert "pilgrim" into every sentence of every movie he ever made. Golding's onscreen charm and chemistry with Clarke keeps the movie moving, albeit at a disjointed pace – he comes in and out of her life at random moments, taking her on ice skating adventures and wisely teaching her life lessons. 
The identity of the film gets lost in its highs and lows, an uneven balance of comedy and drama that might have been better suited for a novel. In one scene, we are supposed to laugh at Kate's coworker (named "Santa") who has a boyfriend who loves sauerkraut and in the next scene, we are pummeled with the political ramifications of Brexit. There are themes of romance, sisterhood, sickness, added to subplots of friends who are expecting a baby, a Christmas play at a homeless shelter, and a dad who takes on a ride-share job so he can avoid going home. There is also a burglary and two female cops who have their own bantary subplot. 
Although I may sound like an Ebenezer Scrooge film critic, there are many things that Last Christmas has going for it – most notably, cinematographer John Schwartzman (A Simple Favor, Jurassic World, Saving Mr. Banks). In taking bicycle-man's advice, I "looked up" at the screen and basked in the breathtaking beauty of London at Christmastime, something Schwartzman captured perfectly within the camera's framelines. The warm, colored lights, the city streets, the trees, the parks – so much of the film was a pleasure to see, if not necessarily feel.
You can easily picture Emilia Clarke taking on any role in a holiday classic and make it believable (Mary Bailey in It's a Wonderful Life, Ellen in National Lampoon's Christmas Vacation). She would make the role her own and you would love her in it – it's part of her natural likability and warmth. And she does the same in Last Christmas, making you care about Kate's messy life. It's too bad the messy script, itself, gets in her way.
© Brigid K. Presecky (11/8/19) FF2 Media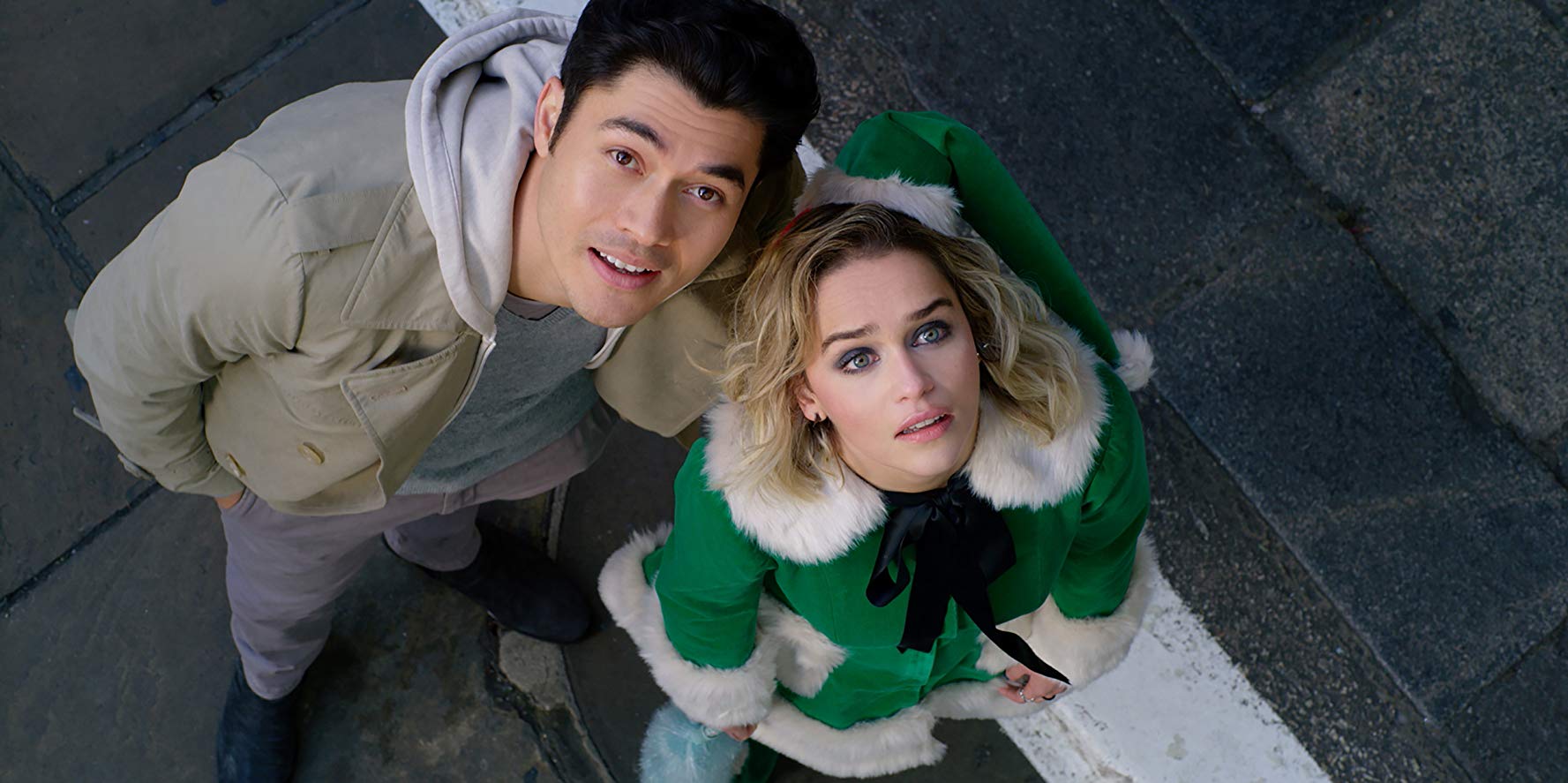 Photos: Last Christmas, Feigco Entertainment
Q: Does Last Christmas pass the Bechdel-Wallace test?
Fortunately, yes! Kate has multiple scenes with her sister, mother, friend and boss – it's a highlight of an otherwise predictable, chaotic plot.