Written and Directed by Annabelle Attanasio, Mickey and the Bear is about a teenage girl who is navigating boys, college, and her future, all while dealing with her difficult father, who relies on her completely. Mickey and the Bear is enthralling, heart-wrenching, and absolutely worth watching (JRL: 4.5/5)
Review by FF2 Intern Julia Lasker
At the opening of the film, Mickey (Camila Morrone) wakes up to raindrops tapping her face from a leak in the ceiling above her. As she smokes a cigarette and fries eggs, she calls for "Hank," to no avail. This is explained when a cop approaches their trailer, and with an air of friendliness and comfort between them–this is the thousandth time they've done this–they go to the police station to retrieve Hank (James Badge Dale), who is Mickey's father.
As the dynamic between Mickey and Hank becomes clearer, we realize that the parent-child relationship has been reversed. It's Mickey who takes care of Hank, cooking for him, helping pay his bills with her job at a taxidermist's shop, and acquiring and portioning out his oxycodone, which clearly is not just for his physical pain. Hank is an Iraq War veteran suffering from PTSD. Looming over him and Mickey both is the loss of Mickey's mother. His trauma and crippling addictions render him largely helpless, while the newly 18-year-old Mickey is the only family left to care for him. 
However, like any teenage girl, Mickey has dreams for the future. Her deadbeat boyfriend, Aron (Ben Rosenfield), is anxious to settle down with her and start a family, but Mickey yearns for something more. She applies to college on the West Coast, but the prospect of leaving her clearly dependent father colors every decision. When she meets the mysterious new British boy Wyatt (Calvin Demba) who shares her desire to do bigger things, the stakes get even higher. With a way out and the will to get there, and a floundering hope that her father will ever get any better, Mickey must now make a decision which is potentially life-or-death for her father: staying and prioritizing her family, or building a new life and prioritizing herself.
Mickey and the Bear has the powerful capacity to make drama out of the ordinary. The situation between Mickey and Hank feels unfortunately common, and the plot consists of the day-to-day. Yet, the film's tone of urgency and desperation makes it just as riveting as any action movie. Subtle moments are made to feel monumental through skillful cinematography and a powerful soundtrack. One of my favorite moments is when Hank and Mickey are dancing together on her birthday. The colorful lights around them cast an air of magic and bliss, and close shots emphasize the intimacy of the moment and the connection between them that this intimacy reveals. Relationships are discovered through these everyday moments just as powerfully as they are through dramatic events, and what appears inconsequential from an outside perspective can feel incredibly high-stakes for the people in it. Attanasio capitalizes on this idea, giving powerful and moving sentiments about people and about life through otherwise ordinary circumstances. 
The acting in Mickey is also A-grade. While James Badge Dale as Hank could have so easily fallen into the stereotype of the alcoholic father, he never once lets the character be simplified that way. Besides the angry, messy addict that one would expect, Dale brings nuances of cheerfulness, grief, fatherly love, and even a sort of seductive charm. Equally compelling is Camila Morrone, who brings ferocity, intelligence, and overall incredible depth to the dedicated daughter character. 
Mickey and the Bear is beautifully written, directed and acted. I look forward to what Attanasio does next.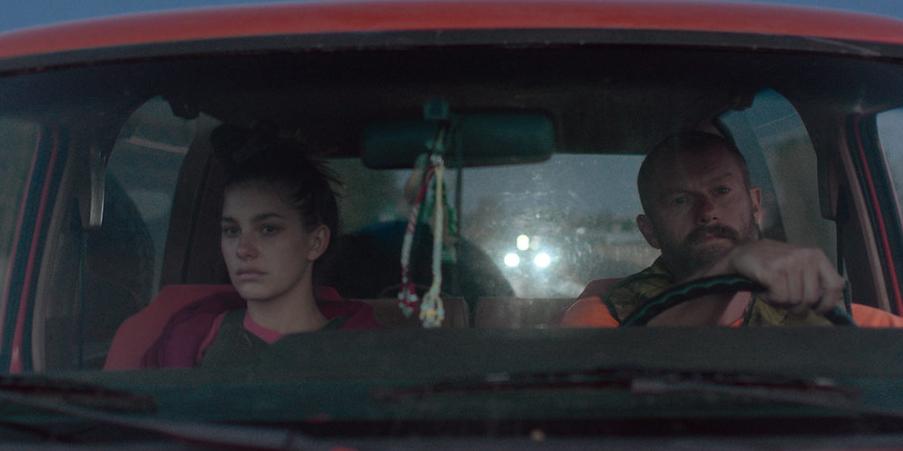 Does Mickey and the Bear pass the Bechdel-Wallace test?
A: Yes. Although much of the movie centers around Mickey's relationships with various men, she does also have a nice relationship with a female psychiatrist who talks to her about her own self and her future.
© Julia Lasker (11/20/19) FF2 Media