Maxine Trump takes on multiple roles as the Director, Writer, and Cinematographer of documentary To Kid or Not To Kid. With many official selections already under its belt, the film is a brave attempt to open up conversations about reproductive choice. In a world where freedom of choice is increasingly important, why should people still feel afraid to talk about not having children? (KIZJ: 4/5)
Review by Contributing Editor Katusha Jin
Earth's resources are running low, people are spreading the word about vegan and waste-free lifestyles, and climate change is on the tips of our tongues. With a growing human population of 7.7 billion that's eating away at the remaining resources, the next question is whether having children should still be seen as the norm.
Maxine Trump has scars across her abdomen, and we see them in intimate detail as she explains what they're from. One of them was from a gangrenous fallopian tube that had to be taken out at 15. During that operation, the doctors found issues with her womb and realized they would have to operate on the womb too. They explained that she would go through a number of miscarriages before she would be able to conceive.
Trump grew up as a free-spirited woman who never wanted to be tied down. She has back-packed across Europe, slept on the streets, and lived in Paris, London, and New York. Although Trump had never dreamt of having kids. She took on a job that required traveling and never thought of settling until she met her current husband. Becoming a mother was not something she dreamed of as a child, and she doubts that the medical problems with her womb had anything to do with her decision to not have children.
"What's the number one life experience?" asks a TVT male interviewee from a video clip, "It's to have kids." Photos and videos of Pope Francis describing those who choose to not have kids are making "a selfish choice" are also shown. Engulfed in media that constantly condemns those who do not have children, as a woman in her 40s, Trump feels her clock is ticking and she now needs to revisit her decision. Pope Francis' comment hit her hard because she comes from a religious family and was always taught to pray about her questions and problems. But where should she turn when it comes to not wanting children?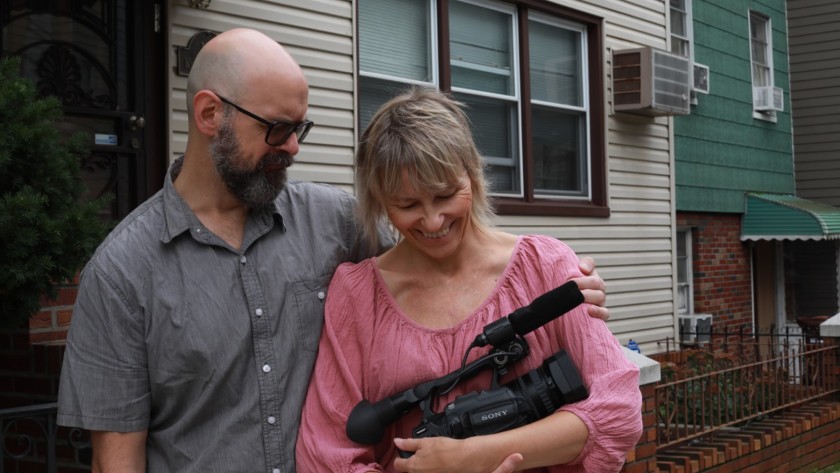 Trump and her husband did not talk about whether to have kids or not before marrying. After scouring the internet, Trump found someone who could understand her–Megan Turner. Megan is a 25-year-old who is so certain that she does not want kids, she will soon be seeing her gynecologist about a sterilization procedure called tubal ligation. As Trump goes to Wales to visit Megan, she drops by to visit her mother who also lives there. Trump has a heart-to-heart with her mother about the topic, and it is clear that her mother does not like talking about her daughter being child-free. A lingering concern is that Trump would not have someone to look after her at old age.
Young Megan is so sure about her decision, she told the doctors she "would rather die on the operating table" than have a child. But the doctors encouraged her to continue taking birth control and await her next appointment. When Megan thinks about her own mother, she remembers a woman who missed out on a life she could have had. Her experience at the doctor's makes her feel "emotionally shattered" and as though she just experienced a breakup.
Trump feels pressure from a torn friendship and the responsibility to make her mother happy, but also looks closer at the media we have been fed. She talks to a number of women about their experiences, and follows Megan with her appointments, as she continues to question what is the right choice for herself.
Director, Writer, and Cinematographer Maxine Trump looks at a very personal topic and presents it in the intimate framing of her own life. We are able to look closely at her relationship with her friends, family, and her body, and what it means to be a woman who does not want children. This is a documentation of Director Trump's personal road to discovery–one that she wants to share with people around her. It is an easy viewing and shows how polarized the views can be in many cultures. She enlightens and frees people with her honest and open mindset, emphasizing the importance of creating dialogue through mediums such as film. The editing is consistent, and the music chosen compliments the piece very well.
To Kid or Not To Kid is a film that approaches a touchy subject in a friendly manner. There is a tendency for the format to be lacking in structure as we bounce around the topic. This characteristic makes it more akin to a diary or self-taping of her train of thought as she ponders through the subject herself. Although this softens the impact of the movie, I don't think it affects its delivery as a whole. I watched it with ease and it left me with a pleasant somewhat thoughtful aftertaste. A good choice of topic and one that many young women are sure to think about more and more in the future.
© Katusha Jin (11/14/19) FF2 Media
Q: Does To Kid or Not To Kid pass the Bechdel-Wallace test?
Yes, absolutely. The film includes many, many conversations between women. So a 100% pass!