Directors Jennifer Lee (Walt Disney Animation's first and only female director on an animated film) and Chris Buck take Elsa and Anna back to the big screen with Frozen II, a bigger, sometimes better sequel to the 2013 blockbuster – one that became the highest grossing animated film of all time in worldwide box office. Although it casts a wide net of themes (sisterhood, grief, etc.) the stunning animation and soundtrack will be another surefire hit for the wonderful world of Disney. (BKP: 5/5)
Frozen II opens in U.S. theaters on Nov. 22, 2019.
Review by Vice President and Managing Editor Brigid K. Presecky
"Just do the next right thing; Take a step, step again," Anna sings to herself in a moment of quiet desperation, wondering how she will find a way out of a dark cave and into the light of the enchanted woods. In classic Disney form, these heavy-hitting messages will resonate with children and adults, alike, moving them to tears while whisking them away on an action-packed adventure. "Take a step, step again" is also what directors Lee and Buck have accomplished, expanding on the story originated in Hans Christian Andersen's "The Snow Queen" fairytale and reimagined for the 2013 juggernaut starring Idina Menzel and Kristen Bell as Elsa and Anna, respectively. Thankfully, their second step is just as entertaining as the first.
The story picks up with the sisters living life in the magical, snowy world Arendelle – charismatic sidekicks in tow (the usual suspects Kristoff, Sven and Olaf). But when an unhappy Elsa hears a calling to an ancient, autumnal forest of an enchanted land, she sets out looking for answers to who she is, what happened to her parents and how she can save her kingdom. The exposition is laid out ballads similar to "Do You Want to Build a Snowman?" and "For the First Time in Forever," but in refreshingly fun way. Like Home Alone and Home Alone 2, it is the same story and story structure, but that only ensures viewers that they are in for a good time with old friends. 
The six-year gap between films, too, is an unexpected emotional hook that will hit differently for every viewer. Moms with little ones who loved Frozen are now moms of middle schoolers, tweens who bought the CD with allowance money are now in college. Yet, the unchanged voices of Menzel, Bell and supporting actors like Jonathan Groff and Josh Gad are a welcome homecoming. And like a six-year gap in life, there are new characters who add their own brand of humor and personality to the story; voices like Sterling K. Brown, Jason Ritter and Evan Rachel Wood, to name a few. 
Although the story itself can delve into dark, complicated themes – some that will have to be explained to children later – it is honorable for screenwriter Jennifer Lee to give kids the option of asking questions. If they are confused about the film's take on the genocide of indigenous peoples – good. Those questions should be asked and they should be answered. Transparency and inclusivity, on and off screen, is only beneficial here – as mentioned above, Lee is the only female director to ever work on an animated feature film for Walt Disney Animation (Brenda Chapman co-directed the 2012 Disney/Pixar film, Brave). 
Serious themes aside, Frozen II has more than enough uplifting spirit to provide viewers with laughs, fun and good tears. It might even thaw an icy heart or two. People who try to find faith in fiction will find it and for those with cynical, critical eyes? Well, it will be entertaining for them, too, if only for the music. Having previously won an Academy Award® for best animated feature film of the year and best achievement in music written for motion picture for its original, iconic song "Let It Go," with music and lyrics by Kristen Anderson-Lopez and Robert Lopez, the film will undoubtedly be an Oscar contender.
If Frozen II does not meet your standards of quality entertainment, you can find 500 other movies and 7,500 episodes of television on Disney+ for $6.99/month. 
© Brigid K. Presecky (11/13/19) FF2 Media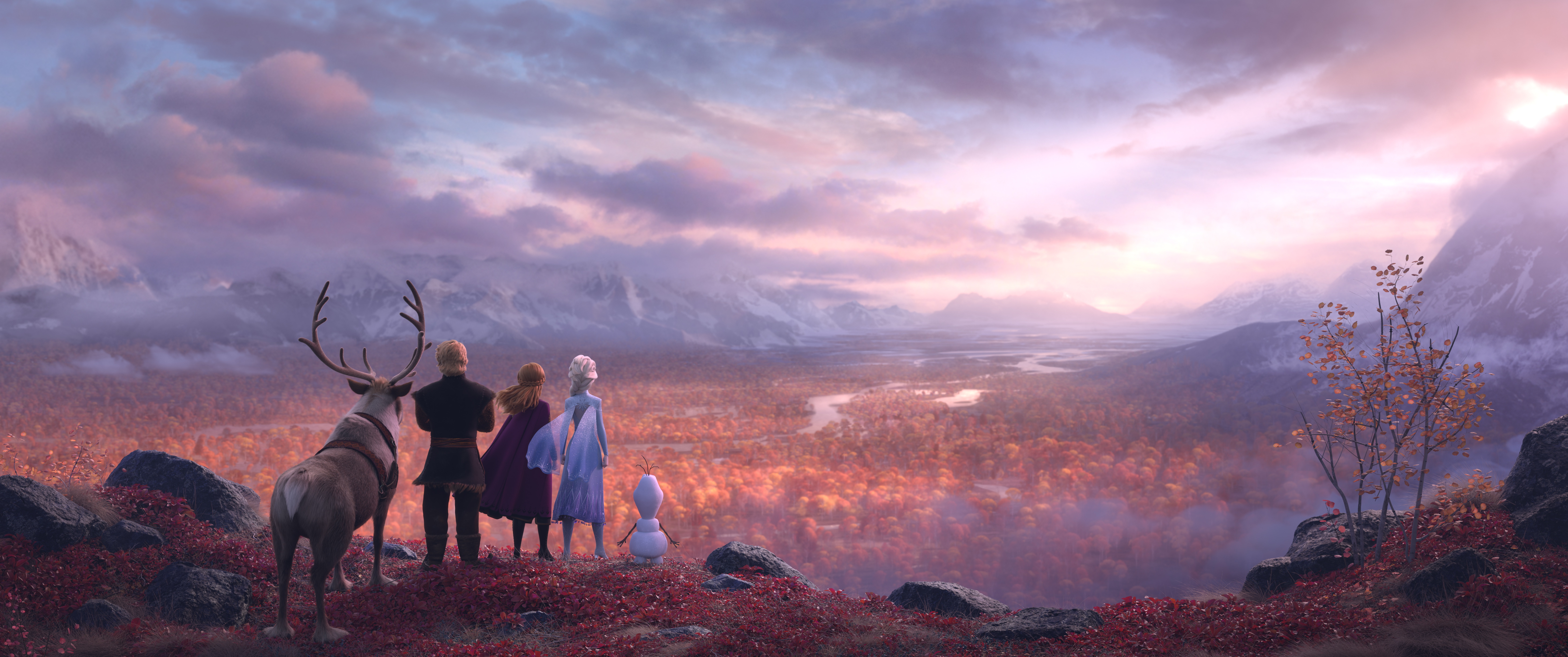 Photos courtesy of Walt Disney Studios
Featured photo: ENCHANTED FOREST — In Walt Disney Animation Studios' "Frozen 2," Elsa (voice of Idina Menzel) finds herself in an enchanted forest that is surrounded by a mysterious and magical mist. "Frozen 2" opens in U.S. theaters on Nov. 22, 2019. © 2019 Disney. All Rights Reserved..
Q: Does Frozen II pass the Bechdel-Wallace test?
With flying, icy colors.
This story is about sisters, a rare feat in not only animation, but in filmmaking in general.